Homemade Hamburger Helper
Homemade Hamburger Helper is a delicious and convenient one-pan meal that is quick and easy to make. It consists of pasta, seasoned ground beef, and a flavorful sauce, making it a satisfying and filling dinner option.
With a few simple ingredients and a short amount of time, you can create a delicious, homemade version of this classic dish customized to your taste preferences.
I love making homemade food and copycat recipes because sadly, most boxed foods have yellow food color in it…and I'm allergic to food colors (red and yellow).
WHAT YOU SHOULD KNOW ABOUT HOMEMADE HAMBURGER HELPER
If you don't know what Hamburger Helper is, it's a brand of packaged, dry food mix that provides the ingredients for a quick and simple one-pan meal, typically consisting of pasta, seasonings, and sauce.
The product is designed to be combined with ground beef and a few additional ingredients, such as water and milk, to create a complete meal. Hamburger Helper has been a popular brand of instant meals for over 50 years and offers a variety of flavors and meal options.
HOW SHOULD I STORE LEFTOVER HOMEMADE HAMBURGER HELPER?
Leftover homemade hamburger helper should be stored in an airtight container in the refrigerator. It is recommended to consume the leftovers within 3-4 days for the best quality and food safety.
Before storing, let the dish cool down to room temperature, then cover it tightly and place it in the refrigerator. Reheat thoroughly before consuming until the internal temperature reaches 165°F (73°C).
CAN I FREEZE THIS HAMBURGER HELPER DISH?
Yes, you can freeze hamburger helper. To freeze, let the dish cool down to room temperature, then place it in a freezer-safe, airtight container or wrap it tightly with plastic wrap or aluminum foil. Label the container with the date and name of the dish, and freeze it for up to 2-3 months.
When ready to eat, thaw the dish in the refrigerator overnight and reheat it as directed above.
WHAT CAN I SERVE WITH MY HOMEMADE HAMBURGER HELPER?
Hamburger helper can be served with various side dishes to make a complete meal. Some popular options include:
Salad: A simple green salad with lettuce, tomatoes, cucumbers, and your choice of dressing can complement the pasta dish nicely.
Vegetables: Roasted or steamed vegetables, such as carrots, green beans, or broccoli, can provide a healthy and tasty side.
Bread: Garlic bread, dinner rolls, or a crusty baguette can be served as a simple and delicious accompaniment.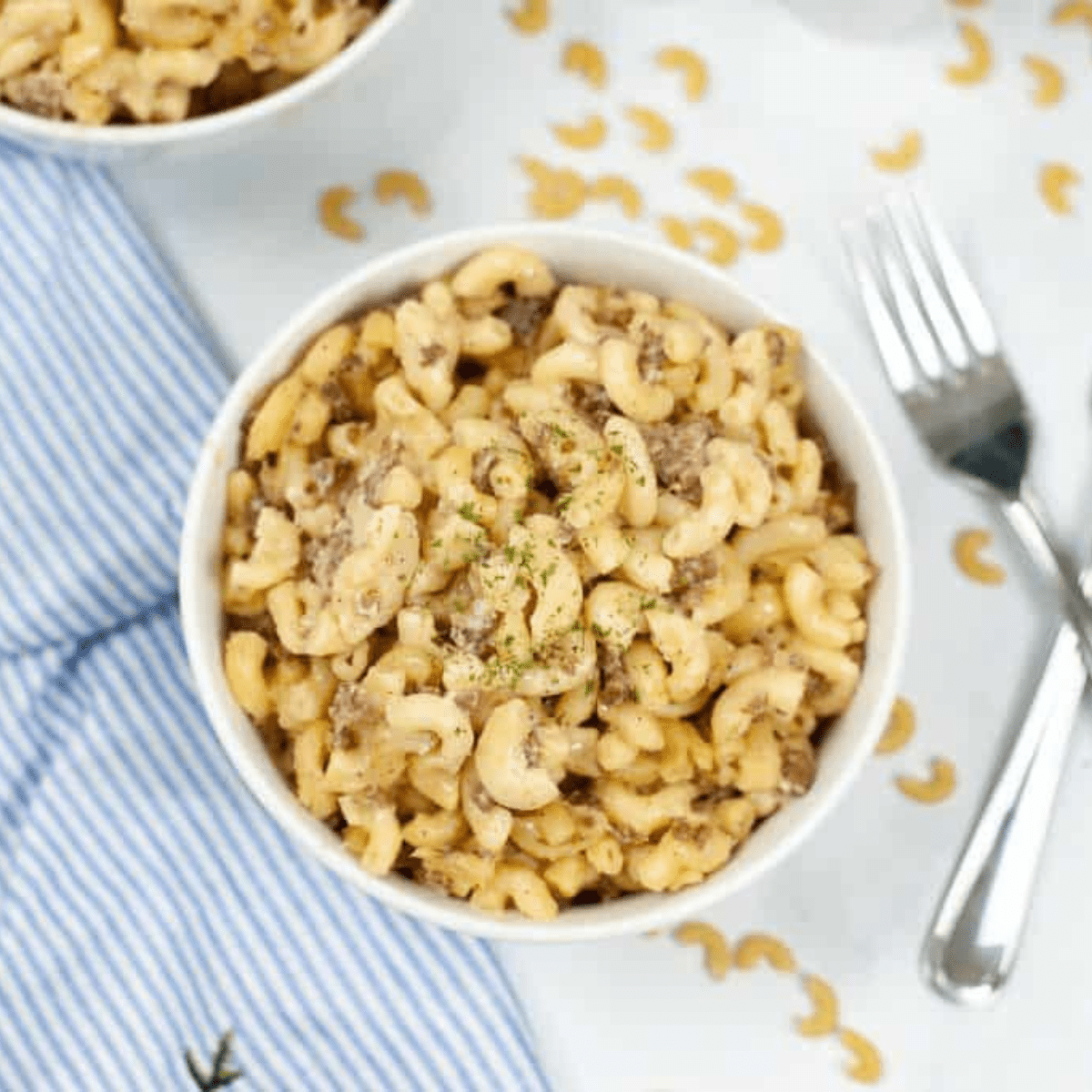 WHAT VARIATIONS CAN I MAKE TO HOMEMADE HAMBURGER HELPER?
Meat: Use ground chicken, turkey, or sausage instead of beef for a different flavor.
Vegetables: Add chopped onion, bell peppers, mushrooms, or other vegetables to the dish for added nutrition and flavor.
Spices: Experiment with spices and herbs, such as cumin, thyme, or basil, to enhance the dish's flavor.
Sauces: Try using different sauces, such as marinara, alfredo, or a spicy tomato sauce.
Toppings: Add toppings, such as crushed tortilla chips, breadcrumbs, or sliced green onions, to add texture and flavor to the dish.
TIPS FOR MAKING HOMEMADE HAMBURGER HELPER
Browning the beef before adding the other ingredients will add flavor and texture to the dish.
Don't overcook the pasta. Overcooked pasta will become mushy and will not hold up well in the dish. Cook the pasta until it is al dente, or just barely cooked, before adding it to the dish.
Make this dish the night before for an easy midweek family meal.
More Easy Meals You'll Love to Make