This Crockpot Pizza Recipe is incredibly easy to make with just 6 ingredients that can be customized to suit your preferences!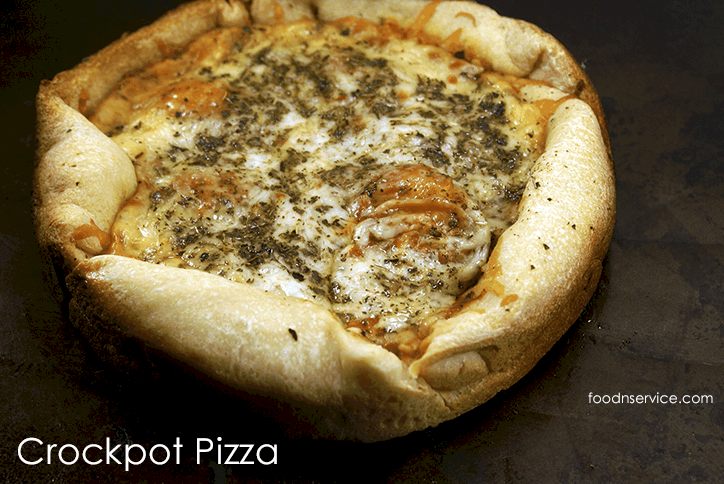 Slow-cooking homemade pizza is a great alternative to baked pizza, resulting in a soft and pillowy dough crust with pizza sauce, melted cheese, and your favorite seasonings. Pair this Crockpot pizza with a side salad or French fries for a casual and delicious meal!
WHAT YOU SHOULD KNOW ABOUT CROCKPOT PIZZA RECIPE
Crockpots are amazing kitchen appliances – it turns out that they can even cook pizza! The ingredients for the pizza are placed in the slow cooker, and the appliance is set to cook on low heat for several hours. This method of cooking pizza results in a moist and tender crust and allows for toppings and sauces to meld together for a unique flavor. The process can also be quicker than conventional oven baking and requires less attention, making it a convenient option for busy households.
HOW SHOULD I STORE LEFTOVER CROCKPOT PIZZA?
Leftover Crockpot pizza can be wrapped tightly with plastic wrap or aluminum foil once completely cooled and stored in the fridge for 3-4 days. Reheat leftovers in the fridge or microwave until the cheese is melted.
You can also freeze this Crockpot pizza for up to 2 months. Thaw overnight in the fridge and reheat as you would with refrigerated leftovers.
CAN I MAKE GLUTEN-FREE CROCKPOT PIZZA?
Yes, you can! Choose gluten-free packaged pizza dough to cater to gluten sensitivities.
WHAT TOPPINGS WORK BEST WITH CROCKPOT PIZZA?
The toppings you choose for your crockpot pizza will depend on your personal preferences, but here are a few options that work well:
Classic Margherita: Tomato sauce, fresh mozzarella, basil leaves, and a drizzle of olive oil.
Meat-Lovers: Pepperoni, sausage, ham, and bacon.
Veggie: Bell peppers, onions, mushrooms, olives, and fresh herbs.
BBQ Chicken: Barbecue sauce, grilled chicken, red onion, and cilantro.
Hawaiian: Ham, pineapple, and red onion.
Greek: Tomato sauce, feta cheese, black olives, red onion, and oregano.
Prosciutto & Arugula: This is a little personal favorite of mine with fresh shavings of prosciutto, a light amount of parmesan, and a light amount of shredded mozzarella. Once done, add on the arugula and a little extra grated parmesan on top!
Remember, the dough will cook in the crockpot, so it's best to keep the toppings simple and not add too much moisture. Avoid toppings that release a lot of liquid, such as raw vegetables or canned tomatoes, as they can make the crust soggy.
TIPS FOR MAKING CROCKPOT PIZZA
I've used store-bought pizza dough for this recipe, but you could make your own pizza dough instead. Any leftover dough can be stored in the fridge or the freezer for use at a later date.
To make clean-up a breeze, use a slow cooker liner to line the crockpot. This will keep the dough from sticking to the sides and make it easier to remove when it's done cooking.
If you wanted, you could cook the pizza dough in the Crockpot and remove to top it with the sauce and cheese and then bake it in a preheated oven at 425°F for 10 to 15 minutes, or until the cheese is melted and the crust is golden brown.
You can easily customize this Crockpot pizza using different cheese and various toppings. Experiment and see what you enjoy most!
IMPORTANT: Don't forget to lift the ceramic crockpot liner out the cooker, turn it 180°, and place back down into the cooker. Remember: The heating element is hotter on one side. We want to try to cook it evenly.
More Crockpot/Slow Cooker Recipes You'll Want to Make Today!
Yield: 1 pie
Crockpot Pizza Recipe
This easy to make crockpot pizza will help make dinner less complicated when it comes to figuring out what to eat!
Cook Time
1 hour
30 minutes
Total Time
1 hour
38 minutes
Ingredients
1 roll of store bought Pizza Dough (I used Pillsbury)
1/4 cup of pizza sauce
3/4 cup of Shredded 4 cheese pizza or mozzarella
1/2 teaspoon of basil
1/2 teaspoon of oregano
1/4 teaspoon of Garlic powder
Instructions
In a 5 quart crockpot, spray down with non-stick spray. (I used non-stick Olive Oil Spray)
Open pizza package and roll the dough out.
Place the dough into the crockpot, and start forming your crust. Don't be afraid, your dough isn't going to break and you're not going to ruin it at all. You're taking a rectangular piece of dough and turning into a circular shape! I left about a little over a 1inch thick crust rim around the edges.
Place the sauce at the bottom and smear around. You can add extra sauce if you like extra sauce! I do!
Then cover with the shredded cheese.
Sprinkle all of the seasonings around the top.
Cook on low for approximately 1 1/2 hours with a lid on it. Then remove lid to allow to start cooling. Each crockpot cooks differently, so be sure to check on your pizza after about an hour.
Allow the pizza to cool for approximately 10 to 15 minutes. Then, with a spatula or two, lift your pizza up and onto a cutting board to slice and serve.
Notes
Crockpots tend heat from one side, so you might have to turn your pot 180 degrees to ensure one side doesn't overcook.