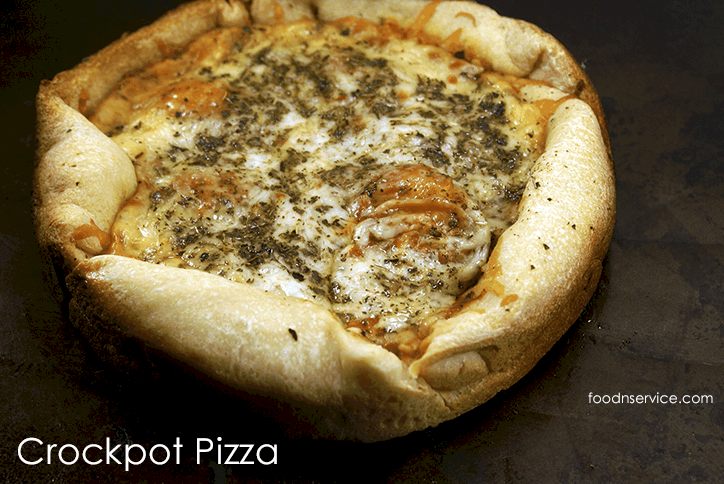 Easy Crockpot Pizza Recipe
I couldn't believe that I could make a crockpot pizza, until I actually tried it out for myself! Can I tell you how super easy it is to make? I was completely over thinking the whole process, and then I was totally stunned how delicious the pizza turned out. Yes, I went with a boring deep dish plain pizza, but I jazzed it up with a little garlic, basil, and oregano! Ah-mazing is all that I can say!
I can't believe how much I have been having with my crockpot, and challenging myself to try to create some yummy and easy recipes for everyone, including my friends and family, to enjoy. Here's another photo of the crockpot pizza!
When I first started cooking in my crockpot, I really did think that it was going to be more complicated. I couldn't be more wrong! I love that I can set it and forget, for the most part. It definitely helps me balance out my work day in knowing that I don't have to rush to try to go cook dinner in a hurry! However, I have to let you know that I cheated by not making my own pizza dough! Yes, I know…I know…I know. I just wanted to test it out the method first before spending the time and energy into making my own. I have to say that the store bought pizza dough was really good, though lol. I also only made a basic cheese one, but think about all of the fun you can have with the different toppings!
I hope you enjoy my Crockpot Pizza Recipe, and all of these other amazing crockpot recipes, too!
Cook Time:
1 hour
30 minutes
Total Time:
1 hour
38 minutes
This easy to make crockpot pizza will help make dinner less complicated when it comes to figuring out what to eat!
Ingredients
1 roll of store bought Pizza Dough (I used Pillsbury)
1/4 cup of pizza sauce
3/4 cup of Shredded 4 cheese pizza or mozzarella
1/2 teaspoon of basil
1/2 teaspoon of oregano
1/4 teaspoon of Garlic powder
Instructions
In a 5 quart crockpot, spray down with non-stick spray. (I used non-stick Olive Oil Spray)
Open pizza package and roll the dough out.
Place the dough into the crockpot, and start forming your crust. Don't be afraid, your dough isn't going to break and you're not going to ruin it at all. You're taking a rectangular piece of dough and turning into a circular shape! I left about a little over a 1inch thick crust rim around the edges.
Place the sauce at the bottom and smear around. You can add extra sauce if you like extra sauce! I do!
Then cover with the shredded cheese.
Sprinkle all of the seasonings around the top.
Cook on low for approximately 1 1/2 hours with a lid on it. Then remove lid to allow to start cooling. Each crockpot cooks differently, so be sure to check on your pizza after about an hour.
Allow the pizza to cool for approximately 10 to 15 minutes. Then, with a spatula or two, lift your piece up and onto a cutting board to slice and serve.
Notes
Crockpots tend heat from one side, so you might have to turn your pot 180 degrees to ensure one side doesn't overcook.