If you're looking for an easy midweek dinner that will satisfy everyone, you can't go wrong with French Onion Pork Chops!
The boneless pork chops are juicy and flavorful, with caramelized onions and a rich sauce. Enjoy them with garlic mashed potatoes or freshly steamed rice.
WHAT YOU SHOULD KNOW ABOUT THESE FRENCH ONION PORK CHOPS
These chops are juicy with a mouth-watering French onion sauce. The sauce is thickened with all-purpose flour, but you can use gluten-free flour or cornstarch if you need this dish to be gluten-free.
Pork chops are an easy option for dinner that can be adapted to suit various dietary needs. Serve them over mashed potatoes or rice, or make this a low-carb meal by serving your pork over spiralized zucchini.
WHAT THICKNESS OF PORK CHOPS SHOULD I USE?
This depends on preference. Thinner pork chops will be quick to cook and can be less juicy than thicker pork chops.
On average, a pork chop of ½ -inch thickness will need 2-4 minutes of cooking on both sides. Pork chops about 1-inch thick will need 4-6 minutes of cooking time per side.
CAN I USE BONE-IN PORK CHOPS INSTEAD?
I've purposefully used boneless pork chops since they cook quicker than bone-in pork chops – great for getting dinner on the table in no time!
Bone-in pork chops can be used instead if you prefer. They are usually much juicier but do require additional cooking time.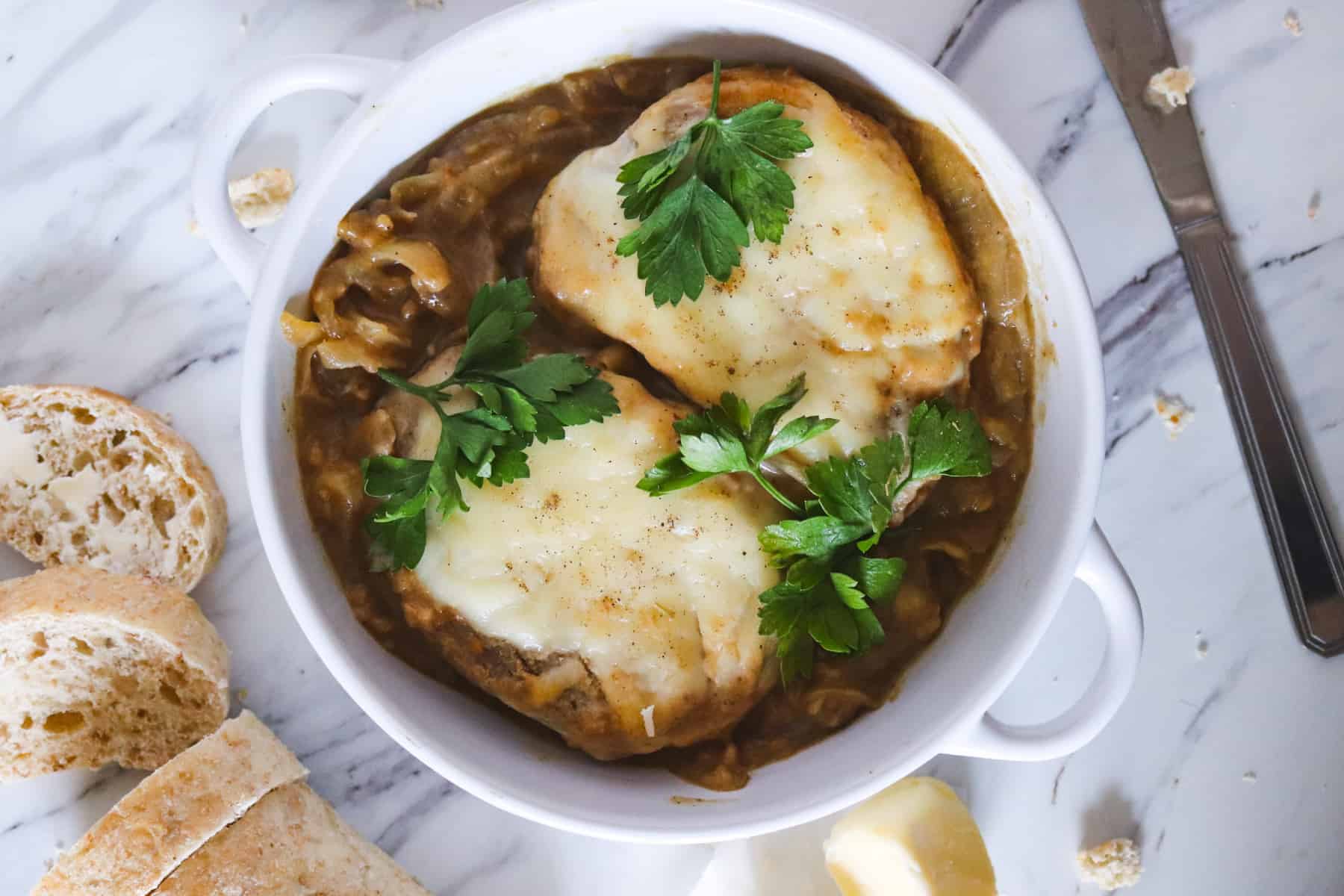 WHAT CAN I SERVE WITH THESE FRENCH ONION PORK CHOPS?
These French onion pork chops can be served over rice, mashed potatoes, broccolini or spiralized zucchini as a low-carb option.
You can also serve these pork chops alongside roasted vegetables, homemade dinner rolls, or a simple green salad.
CAN I BAKE THESE FRENCH ONION PORK CHOPS?
While it is possible to bake your pork chops, it will take longer to cook the meat, and there's also a higher risk of the pork drying out.
Adding these pork chops to the oven may be a good idea just to finish the browning process. Simply add them to the oven for 2-3 minutes on the broil setting.
TIPS FOR MAKING FRENCH ONION PORK CHOPS
If you're worried that your pork chops are not cooked properly, insert a food thermometer which should register an internal temperature of 145F to be safe to eat.
You don't need to rest the pork chops before serving for the juices to settle since the cooked pork chops are given time to rest while the sauce is being made.
Ensure that you flip the pork chops midway through the cooking time in the skillet so that an equal crisp is achieved on both sides of the meat.
I always find that cast-iron skillets are best for pan-frying pork chops as it retains and spreads heat better, which will create a golden outer crust on both sides of the pork chops. If you don't have a cast-iron skillet, use a non-stick or stainless steel skillet instead.
I've used butter to pan-fry the pork chops, but you could use vegetable oil instead or a combination of butter and vegetable oil.
It's important that your pork chops are not overcrowded in the pan otherwise, they will steam rather than cook with a crisp. If you are using a small skillet, rather cook the pork chops in batches.
Leftover pork chops can be reheated in the oven if covered with aluminum foil, so they don't dry out.
More Delicious Recipes to Enjoy
Yield: 6
French Onion Pork Chops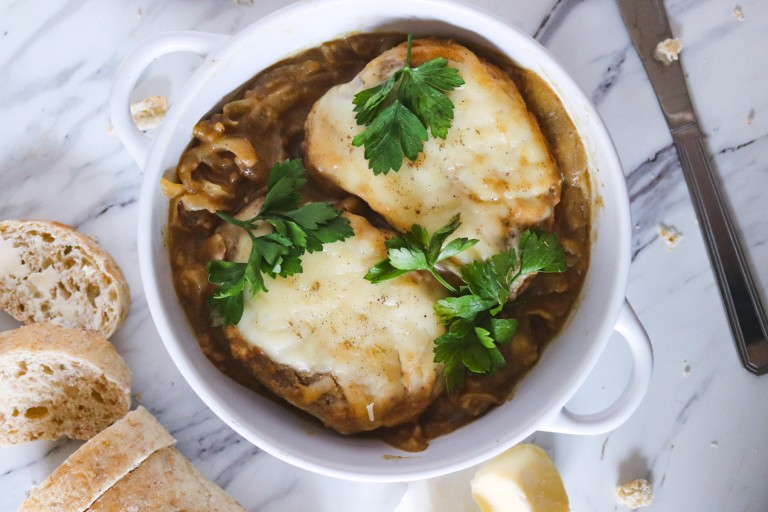 You'll love these easy to make French Onion Pork Chops!
Ingredients
6 Pork Chops (boneless)
2 tablespoons Butter (unsalted)
3 cloves Garlic (minced)
2 large Yellow Onions (sliced, see note)
½ teaspoons Garlic Powder
2 tablespoons All-Purpose White Flour
1 1/2 cups Beef Broth
1 cup Mozzarella Cheese
Salt and Pepper (to taste)
Fresh Parsley (garnish)
Instructions
In a large non-stick skillet, melt the butter over medium heat. Add the sliced onions and minced garlic to the pan and saute for 15 minutes to caramelize. Stir the onions periodically to avoid burning to the bottom of the pan.
While the onions are cooking, set your pork chops onto a plate in a single layer. Coat one side of the pork chops with the garlic powder, salt and pepper. Set aside.
Once onions have caramelized, move from the pan to a small bowl and set aside. Turn the heat to medium-high and sear each side of the pork chops (approximately 2 minutes per side). Once each side of the pork chops have been seared, move them back to the plate and turn the heat down to a medium-low temperature.
Add in the flour to the skillet and stir. Pour in approximately one tablespoon of the beef broth to the pan (this should form a paste with the flour). Slowly add in the rest of the broth and stir. Add the onions back in and then return to a medium heat. Let the broth come to a simmer, stirring constantly to thicken the sauce. Once the sauce has thickened, add the pork chops back into the pan and top with the mozzarella cheese. Cover and cook for another 4-5 minutes (3-4 minutes if you prefer a slightly pink centre).
Remove from heat and serve immediately over rice, with potatoes or atop some spiralized zucchini. Garnish with some fresh parsley. Store in an airtight container in the fridge for up to 4 days.

Notes
Cut the onion in half and then slice the onion into half circles, break the layers apart so that you have thin to medium strips of onion.
It's important not to add all the beef broth in at once, because it will cause the sauce to become lumpy, and will be hard to remove the lumps.
Beef Broth Substitute: You could use chicken or vegetable broth instead of the beef broth.
Mozzarella Cheese Substitute: Any kind of white cheese would work in this. Try swapping for White Cheddar, Havarti or Provolone cheese. Though, keep in mind that Mozzarella cheese melts the best.