Crockpot Pot Roast is a classic comfort food that has been enjoyed for generations. This slow-cooked dish combines tender cuts of beef with flavorful seasoning, baby carrots, and rich tomato sauce.
The slow cooking process results in a tender, juicy, and delicious meal that's both comforting and satisfying. Whether you're feeding a large family or just looking for a simple and easy-to-prepare dinner, Crockpot pot roast is the perfect choice.
WHAT YOU SHOULD KNOW ABOUT CROCKPOT POT ROAST
Pot roast is a dish from Northern Europe, particularly in England and Germany. It has been a staple of home cooking for centuries, and the process of slow-cooking a tough cut of meat in a flavorful liquid has been used to create delicious, tender, and comforting meals for generations.
The dish likely made its way to America with European immigrants, who brought their traditional recipes with them. In America, pot roast became a popular dish in the mid-19th century, as it was an economical and efficient way to feed a large family using a single cut of meat.
HOW SHOULD I STORE CROCKPOT POT ROAST?
Once completely cool, store leftover Crockpot Pot Roast in an airtight container in the fridge for up to 3-4 days.
You also have the option of freezing this pot roast for up to 3 months. When ready to serve, thaw it in the fridge overnight and reheat leftovers in the microwave or oven until heated through.
WHAT VARIATIONS CAN I MAKE TO THIS RECIPE?
Herbs and spices: Try adding different herbs and spices to the pot roast to change the flavor. Rosemary, thyme, bay leaves, and paprika are all great options.
Vegetables: Feel free to add different vegetables to the pot, such as diced onions, potatoes, and celery.
Glaze: To add sweetness, brush a glaze made from honey, brown sugar, and soy sauce onto the pot roast during the last 30 minutes of cooking.
BBQ twist: For a BBQ-style pot roast, add BBQ sauce and diced onions to the crockpot.
Mexican twist: For a Mexican-style pot roast, add a can of diced tomatoes and green chilies, chili powder, cumin, and oregano to the pot.
WHAT PAIRS WELL WITH POT ROAST?
Pot roast is a classic comfort food that pairs well with various side dishes. Some popular options include:
Mashed potatoes: Creamy mashed potatoes provide a rich, comforting contrast to the tender, savory meat.
Roasted or steamed vegetables: Green beans and other seasonal vegetables are a natural choice to round out the meal.
Dinner rolls: Soft, warm rolls are a staple at many family meals, and they're perfect for mopping up any extra gravy.
Grilled or roasted garlic bread: Garlic bread adds a touch of indulgence and is perfect for soaking up the rich, flavorful sauce.
Salad: A fresh, crisp green salad can help balance out the richness of the pot roast and provide a bit of a contrast.
TIPS FOR MAKING CROCKPOT POT ROAST
For a tender pot roast, choose a cut of meat with marbling, such as chuck roast, rump roast, or round roast. Avoid lean cuts of meat, as they tend to become tough when slow-cooked.
Searing the meat before adding it to the Crockpot helps to build flavor and lock in juices. Heat some oil over medium-high heat and brown the meat on all sides. I've also coated the meat with seasonings before searing it so that you get a delicious crust around the meat.
I've added a can of tomato sauce to keep the meat moist and prevent it from drying out, but you could also use another liquid like beef broth or red wine.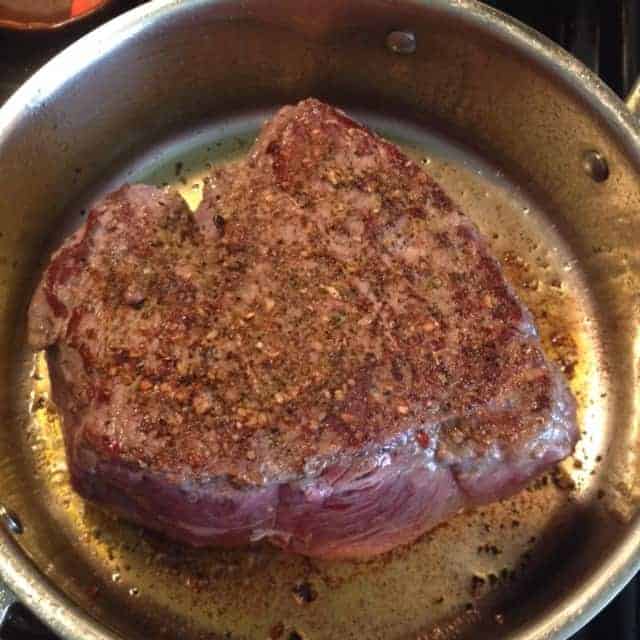 When you look at the recipe, you will notice that I use tomato sauce. When I'm done searing off the roast, I actually pour the sauce into the hot pan to do a slight deglazing of any seasonings from the pan!
I then place the roast in my crockpot. I then make a layer of the diced potatoes, and add in the baby carrots.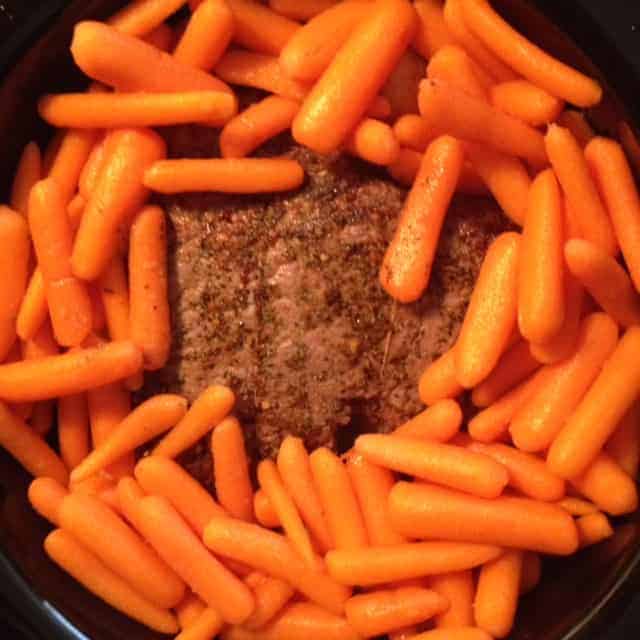 More Crockpot/Slow Cooker Recipes You'll Love
Yield: 6
Crockpot Pot Roast
You'll love this soul nurturing crockpot pot roast that has some delicious yummy flavors, and simple to make and do your day!
Cook Time
6 hours
30 minutes
Total Time
6 hours
40 minutes
Ingredients
3 Lb Chuck Roast
3 to 4 tablespoons of Trader Joe's 12 Salute seasoning
1 small bag of baby carrots
1 - 29 ounce can of tomato sauce
Instructions
With the 21 seasoning salute, spread all around the meat and press firmly in it to make a crust
In a large pan with hot oil (I used EVOO), sear off the meat the the pan. Approximately 2-3 minutes on each side, including the sides.
Place roast into crockpot.
Deglaze the pan with the tomato sauce.
Place baby carrots around the roast, and then top off with the tomato sauce.
Cook for approximately 6.5 hours on low.