There is nothing like the smell of fresh bread baking, and these garlic and parmesan heart shaped breadsticks will not disappoint! If you're looking for that warm, garlicky aroma of fresh garlic bread, but want the chewy consistency of breadsticks, you'll want to try this recipe tonight.
You can use your mixer to whip up a quick breadstick dough and let it rise. Then, shape it into simple heart shapes and bake in the oven! It's really that simple.
You can serve these breadsticks at any meal, but we think they're especially cute for Valentine's Day, Christmas day, or a party to celebrate someone special.
What Are these Heart Shaped Breadsticks Made Of?
Breadsticks are made from fresh bread dough. Breadsticks can vary in consistency; some are soft like fresh bread, others are chewy like pretzels, or they can even be crispy like grissini. Breadsticks are generally made from flour, water, egg, oil, and yeast. Some recipes may add milk or butter and various spices to add different flavors.
How Do I Store these Homemade Breadsticks?
If you have leftovers of this recipe, you can store them at room temperature. Just make sure you place them in a Ziploc bag. Get as much air as possible out of the bag and zip it up tightly. They'll stay fresh for 3-4 days.
Can I Freeze Breadsticks for later?
Yes, you can freeze this breadstick recipe after they've been baked. You'll want to make sure you let them cool completely, then wrap them tightly in aluminum foil. Put the whole package in a Ziploc bag or airtight container and freeze. They'll keep their flavor for 2-3 months.
What Can I Serve With Breadsticks?
Breadsticks go great with many lunch and dinner dishes. These heart shaped breadsticks will be delicious with a bowl of vegetable soup or chilli. They also pair well with pasta and saucy chicken dishes.
If you want to ramp up the flavor of your breadsticks, you can serve them with marinara or pizza sauce, hummus, garlic sauce, ranch dressing, BBQ sauce, and just about anything other sauce you love.
Tips for Making Heart Shaped Breadsticks
Make sure you allow your bread to rise for long enough. If the dough is baked too quickly, your breadsticks will be thinner and less chewy.
Use fresh yeast. If your yeast is expired, your breadstick dough won't rise properly.
Put your breadsticks into a fully pre-heated oven. You want these to bake quickly so the outside gets golden and chewy.
You can definitely use an air fryer!
Recommended
Italian Parmesan Bread
Rosemary Basil Crockpot Bread
Easy Instant Pot Irish Soda Bread
Notes
If you want to turn these breadsticks into a meal or more substantial snack, you can top them with pepperoni slices and mozzarella cheese to make pizza breadsticks. Serve with warmed-up pizza sauce! Yum!
Substitutions
Spices – Try adding in different seasonings to achieve various flavors. Some ideas: oregano, curry powder, chili powder, onion salt, Italian seasoning, or just brush with garlic butter and sprinkle with sea salt. Almost any spices you have on hand will do.
Egg yolk – You can brush these with milk to give them a golden color. Keep an eye on them while baking and tent with foil if they begin to get too brown.
More Yummy Recipes You'll Enjoy
Want to make these heart shaped breadsticks, but not sure what to serve with them? Try any of these yummy recipes that partner perfectly with garlicky breadsticks.
Instant Pot Corn Soup
Southwest Chicken Soup
Instant Pot Cheesy Chicken & Potato Soup
Butternut Squash Soup
Instant Pot Chicken Taco Soup
Instant Pot Chicken Parmigiana
Penne Pasta with Sausage
Yield: 6
Heart Shaped Breadsticks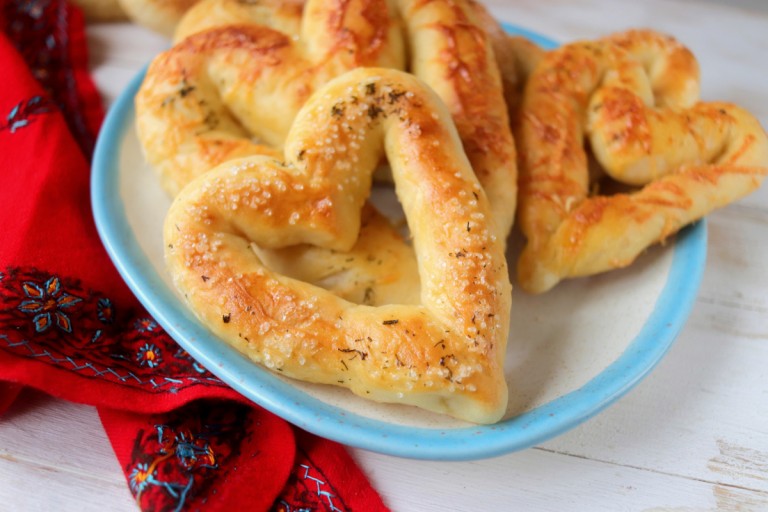 Warm, garlicky, heart shaped breadsticks are a perfect homemade treat for Valentines, Christmas morning, or any time you want to make a special snack for your family. With a chewy crust and moist inside, you may need to make 2 batches to keep everyone satisfied!
Prep Time
1 hour
15 minutes
Total Time
1 hour
32 minutes
Ingredients
1 tsp salt
1/2 cup butter
2 tsp vegetable oil
3 cups all purpose flour
2/3 milk
2 tsp dry yeast
2 tsp sugar
1 egg
2 tbsp sea salt
2 tbsp garlic powder
3 tbsp grated parmesan
Instructions
Separate the egg white from the yolk. In a bowl, blend flour, warm milk, sugar, salt, dry yeast, egg white, and butter. Mix until ingredients form a soft dough.
Cover the bowl and leave the dough in a warm place for 30 minutes.
Divide the dough into small portions. Roll each piece of dough into a long rope about 1/2 inch thick and over 13 inches long. Create a heart shape with the dough.
Place the heart-shaped breadsticks on a baking sheet . Cover with a clean kitchen towel and let rise for 30-45 minutes.
Mix the yolk with a spoonful of water and brush the hearts.
Stir together salt, garlic powder, and parmesan. Sprinkle the mixture over the egg-washed pretzels.
Bake at 350°F for 15-18 minutes or until golden brown. Brush the finished breadsticks with melted butter and serve warm.

Notes
You can use lots of great toppings on top of your breadsticks to add extra flavor!