If you've thought about trying cauliflower stuffing instead of the kind made from dried bread, you've landed on the absolute tastiest, most delicious version ever. I don't know about you, but I can eat stuffing all year long; however, I'm always trying to find ways to cut out bread where I can. I LOVE how flavorful and easy this recipe is to make, and I hope that you will too!
The best cauliflower stuffing recipe uses rosemary and sage (two of my favorites) and of course, a decent helping of butter, to make a savory side dish for the holidays. I think, though, this recipe is versatile – and YUMMY! – enough to make any time of the year as a tasty vegetable-based side dish.
This stovetop, gluten-free stuffing recipe takes about 45 minutes altogether and doesn't take up any room in the oven. And because it doesn't need to be literally 'stuffed' in the turkey, you can make the classic bread variety as well, if you'd like.
What is Cauliflower Stuffing?
This gluten free keto friendly stuffing is made from cauliflower, celery, and mushrooms, and contains similar spices to traditional stuffing made from bread. It's a hearty and filling side dish that can be served alongside turkey and other poultry dishes. Just like cauliflower pizza crust or cauliflower rice, cauliflower stuffing makes a delicious, nutritious substitute for bread stuffing.
How Do I Store This Gluten Free Stuffing?
If you happen to have any leftovers (we never do), you can store them in the fridge in an airtight container for about 4 days. After this, the mushrooms and cauliflower will lose their texture.
Can I Freeze Cauliflower Stuffing?
Yes! You can freeze cauliflower stuffing in an airtight container or freezer-safe Ziploc bag for up to three months.
Allow your stuffing to return to room temperature, then reheat in the oven at 325 in a baking dish.
Is Cauliflower Stuffing Keto-Friendly?
Yes! Many people practicing a keto diet enjoy this as a delicious substitute for the real thing.
Is Cauliflower Stuffing Gluten-Free?
Yes, it's totally is gluten-free as long as you don't use any products that contain gluten when cooking it. This recipe is primarily vegetables and spices. Just make sure your broth doesn't contain any gluten before you add it.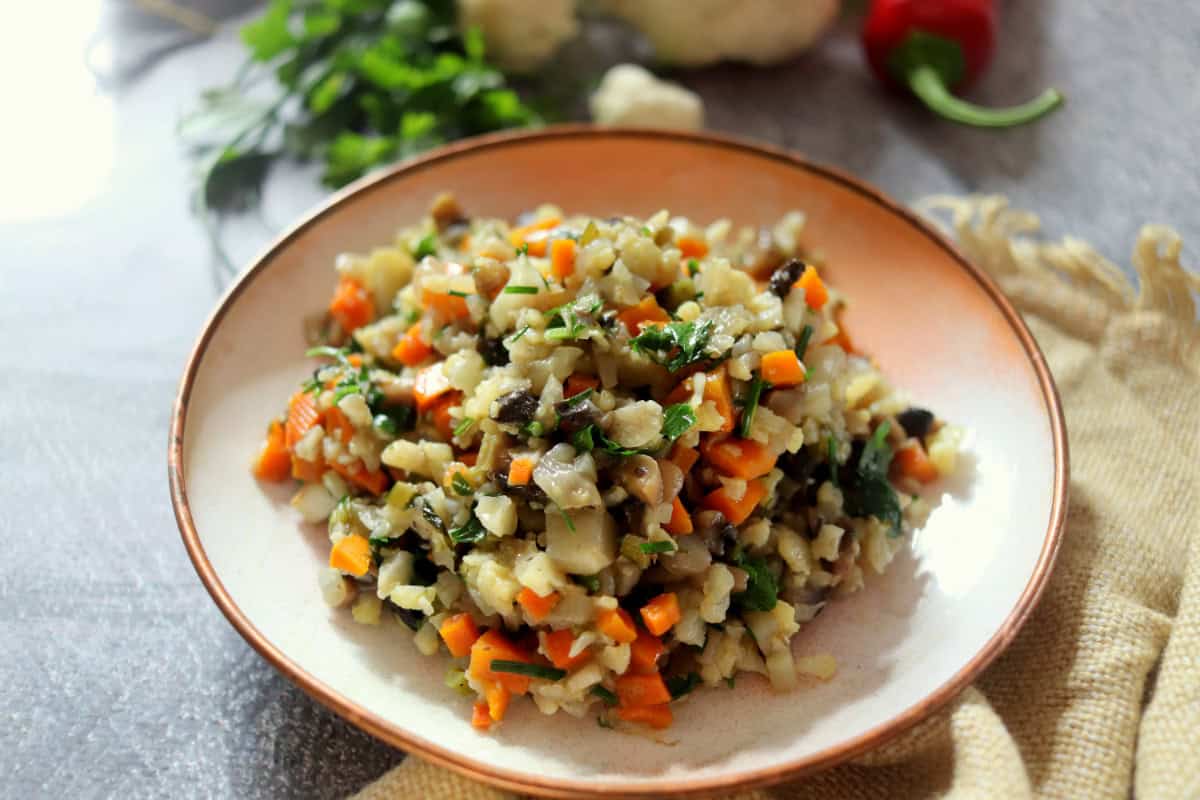 Tips for Making The Best Cauliflower Stuffing
Try to chop up your vegetables evenly. Cut your carrots into ¼-inch chunks. Celery and cauliflower can be a bit bigger at about ½-inch chunks. This will help your dish cook more evenly.
Don't let the cauliflower overcook. You want your dish to be al denté; tender-crisp. If it's soggy or mushy, it will lose its appeal.
If you don't want to use butter, you can definitely swap out olive oil to receive healthier fats. Avocado oil is another great substitute! This is an especially good tip for my fabulous Weight Watchers Friends. Without using any special oils or butters, this is a fabulous zero smartpoint recipe! Be sure to add in the points for the oils! You should only need about 1 – 1/2 tablespoons of olive oil.
Recommended
Cauliflower Mac and Cheese
Air Fryer Buffalo Cauliflower
Instant Pot Korean Cauliflower
Notes
Keep a close eye on your skillet and make sure the vegetables don't burn! Stir often.
You can add a bit more butter if your pan gets too dry, but if you keep it from getting too hot, you shouldn't need to.
Substitutions
For a vegan option, use vegetable stock and butter substitute.
More Irresistible Holiday Recipes You'll Enjoy
If you like this recipe, you'll want to try some of our other easy holiday dishes, too! Try any from the list below.
Broccoli and Mushroom Casserole
Quick and Easy Breakfast Bites
Instant Pot Butter Potatoes
Roasted Potatoes, Brussels Sprouts, and Carrots
Roasted Potatoes and Zucchini
Instant Pot Pumpkin Chili
Instant Pot Squash Casserole
Instant Pot Green Bean Casserole
Yield: 4
Cauliflower Stuffing
The best cauliflower stuffing is oh so easy. It's cooked on the stovetop and seasoned with all the traditional flavors of bread stuffing. With a perfect tender-crisp texture, this delicious keto-friendly, gluten-free side dish will become a holiday staple.
Ingredients
4 tbsp. butter
2 onion, chopped
2 large carrots, peeled and chopped
2 celery stalks, chopped or thinly sliced
1 small head cauliflower, chopped
1 cup mushrooms, chopped
Kosher salt
Freshly ground black pepper
1/4 cup freshly chopped parsley
2 tbsp. freshly chopped rosemary
1 tbsp. freshly chopped sage (or 1 tsp. ground sage)
1/2 cup low-sodium vegetable or chicken broth
Instructions
In a large skillet over medium heat, melt butter. Add onion, carrot, and celery and sauté until soft, 7 to 8 minutes.
Add cauliflower and mushrooms and season with salt and pepper. Cook until tender, 8 to 10 minutes more.
Add parsley, rosemary, and sage and stir until combined. Pour over broth and cook until totally tender and liquid is absorbed, 10 minutes.