You'll totally love my cauliflower fritters! You can eat as a side item, a snack, or a small meal!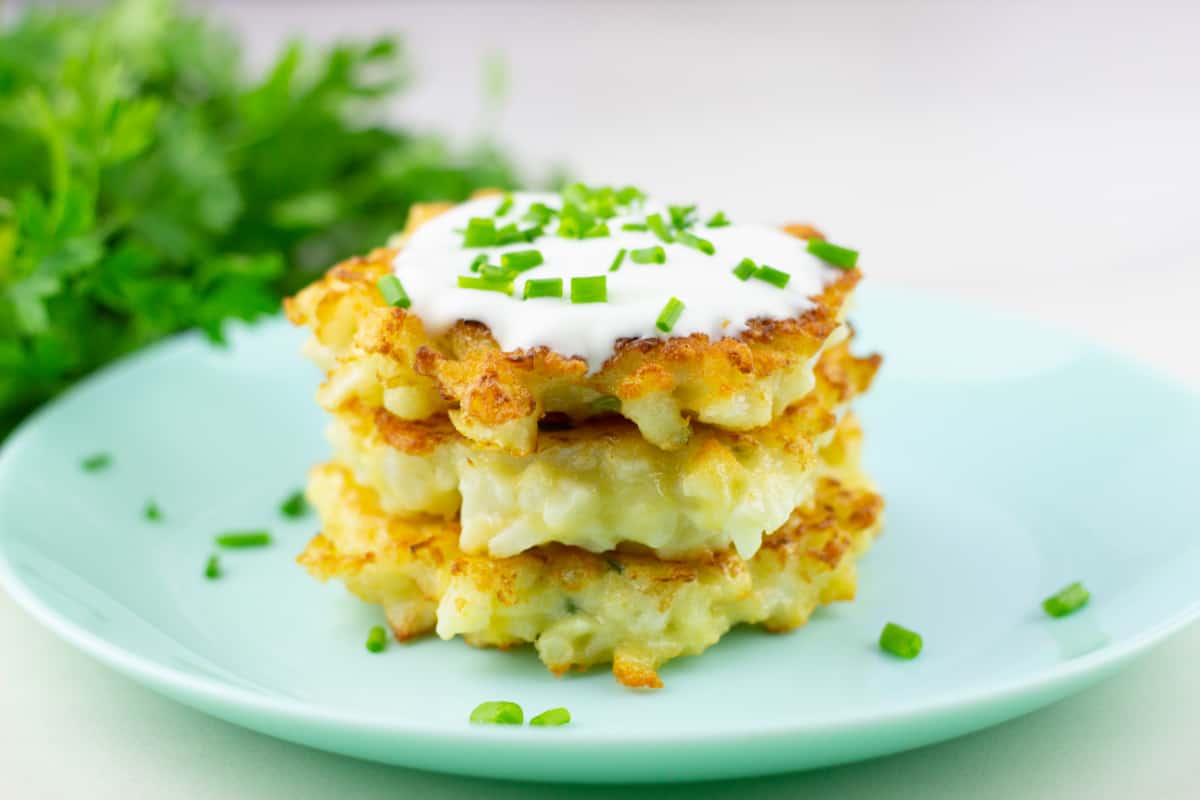 We all love snacking! Whether it's crisps, biscuits, popcorn, or cookies, we indulge in these delicacies whenever we're bored, watching a movie, or reading. However, we all know how unhealthy certain snacks can be! Not only do they cause weight gain, but can be bad for our overall health as well. So, why not snack on something healthy? Here's a healthy alternative to all your snacking needs, the cauliflower fritters recipe! Cauliflower has lately become increasingly popular in substituting various high-carb food items like rice and pizza crust.
So, why not snack on something healthy? Here's a healthy alternative to all your snacking needs, the cauliflower fritter recipe! Cauliflower has lately become increasingly popular in substituting various high-carb food items like rice and pizza crust.
Therefore, if you can't let go of snacking, switch to a healthier option, switch to cauliflower fritters!
Why We Love Cauliflower Fritters?
Cauliflower fritters are a low-calorie snack option that can be prepared in less than 20 minutes! They are the perfect alternative to potato chips or other high-calorie snacks. Plus, they're quite versatile too! Whether you can bake them, fry them, or air-fry them, you will end up with a savory snack that is loved by kids and adults alike.
The recipe is so easy to make that even kids can make it, with adult supervision obviously during the frying process. You simply have to steam the cauliflowers for 5 minutes, mash them, add some cheese, seasonings, egg, and flour, and fry dollops of the mixture until each side turns golden brown and crispy.
Serve it with sour cream, cream cheese, garlic mayo sauce, or any of your favorite sauces, and enjoy!
These cauliflower fritters are perfect for a light afternoon lunch, quick evening snack, kids' lunchbox ideas, or even something to serve on a movie night with drinks!
Ingredients for Cauliflower Fritter Recipe
1 head cauliflower: Use fresh cauliflower and chop it into small florets. I wouldn't suggest using frozen cauliflowers because they contain more water than fresh ones and can make the fritters mushy instead of crispy.
½ cup AP flour: I used all-purpose flour but you can use wheat flour or any other flour of your choice.
½ tsp salt & pepper and 1/4 teaspoon garlic powder: The seasoning is quite important to add a pop of flavor to any recipe.
1/2 cup grated parmesan cheese: To give the fritters a cheesy and soft texture on the inside.
Small bunch of fresh parsley: Chop it up real good to give the fritters an appetizing look.
Small bunch of chives: To add the much-loved savory taste to the fritters.
1 medium egg: The egg holds the mixture together when frying.
Olive oil: To fry the fritters to crispy perfection.
Frequently Asked Questions
Whether you're making these cauliflower fritters for the first time, or you're attempting to make a better version, here are some common queries to help you with the recipe:
Q. Can we bake or air fry cauliflower fritters?
Yes, you can bake or air fry the cauliflower fritters; however, if you want great taste, I would suggest frying them lightly in olive oil.
Q. What can I serve alongside cauliflower fritters?
If you're having these as a snack, you can pair them up with sour cream, yogurt and cucumber dip, cilantro jalapeño sauce, plain yogurt, or any other sauce of your choice. But, if you're serving cauliflower fritters as a side dish, you can serve them with fish, roast beef, roast chicken, mashed potatoes, or any salad. In short, it can go well with almost everything!
Q. How to store leftover cauliflower fritters?
You can store the leftovers in an airtight container in the fridge for up to 3 days. You can also make these in batches, allow them to cool completely, and freeze them! You can place a piece of wax paper or parchment paper in between them, so they don't stick to each other.
Q. How to re-heat fritters?
You can re-heat the cauliflower fritters in the microwave or on the stove for a few minutes. Want a bit more crispness? You can definitely use your air fryer at 400°F for a few minutes on each side!
Q. Can I use other vegetables to make these fritters instead of cauliflower?
Yes, you can use carrots, broccoli, potatoes, and even chicken and shrimp to make these fritters. Or, you could do a mix of different vegetables and make a fritter platter!
Tips and Tricks
Want your cauliflower fritters to turn out amazing? Follow these tried and tested tips and tricks:
1. You can make the fritter patties (without frying) ahead of time and refrigerate them in an air-tight container. Take them out of the refrigerator 60 minutes before cooking, and fry them in oil according to the recipe.
2. Use fresh cauliflowers for crispy fritters. However, if you're using frozen ones, boil them as instructed, drain them in a colander, and manually squeeze out all the moisture.
More Yummy Recipes You'll Enjoy
Air Fryer Sesame Chicken
Air Fryer Zucchini Casserole
Air Fryer Honey Garlic Chicken
Air Fryer Kung Pao Chicken
S'mores Bars Recipe
Baked Potato Slices
Instant Pot Oreo Cheesecake
Yield: 8
Cauliflower Fritters
You'll love how easy and delicious these cauliflower fritters turn out! Whether you're looking of a snack, an appetizer, or a meal.
Ingredients
1 head cauliflower - chopped into small florets
½ cup AP flour
½ tsp salt
½ tsp pepper
1/4 teaspoon garlic powder
1/2 Cup grated parmesan cheese
Small bunch fresh parsley - chopped
Small bunch chives - chopped
1 medium egg
Olive oil
Instructions
Finely chop the cauliflower.
Add water in the saucepan with cauliflower. Cook for 5-6 minutes, until fork tender. .
Drain the cauliflower and let cool. You can lightly mash with a fork.
Add grated cheese, egg, chopped green onions, flour, salt, pepper, and garlic powder. Mix well.
Add oil to the pan. Take the mixture with a medium spoon. Let cook on each side until golden brown, approximately 4-6 minutes on each side.
Enjoy!