Black Recipes for Halloween
Welcome to the world of Black Halloween recipes! As the shadows lengthen and the air gets colder, it's time to embrace the dark and the mysterious. Black recipes are the perfect way to add a touch of macabre to your Halloween festivities.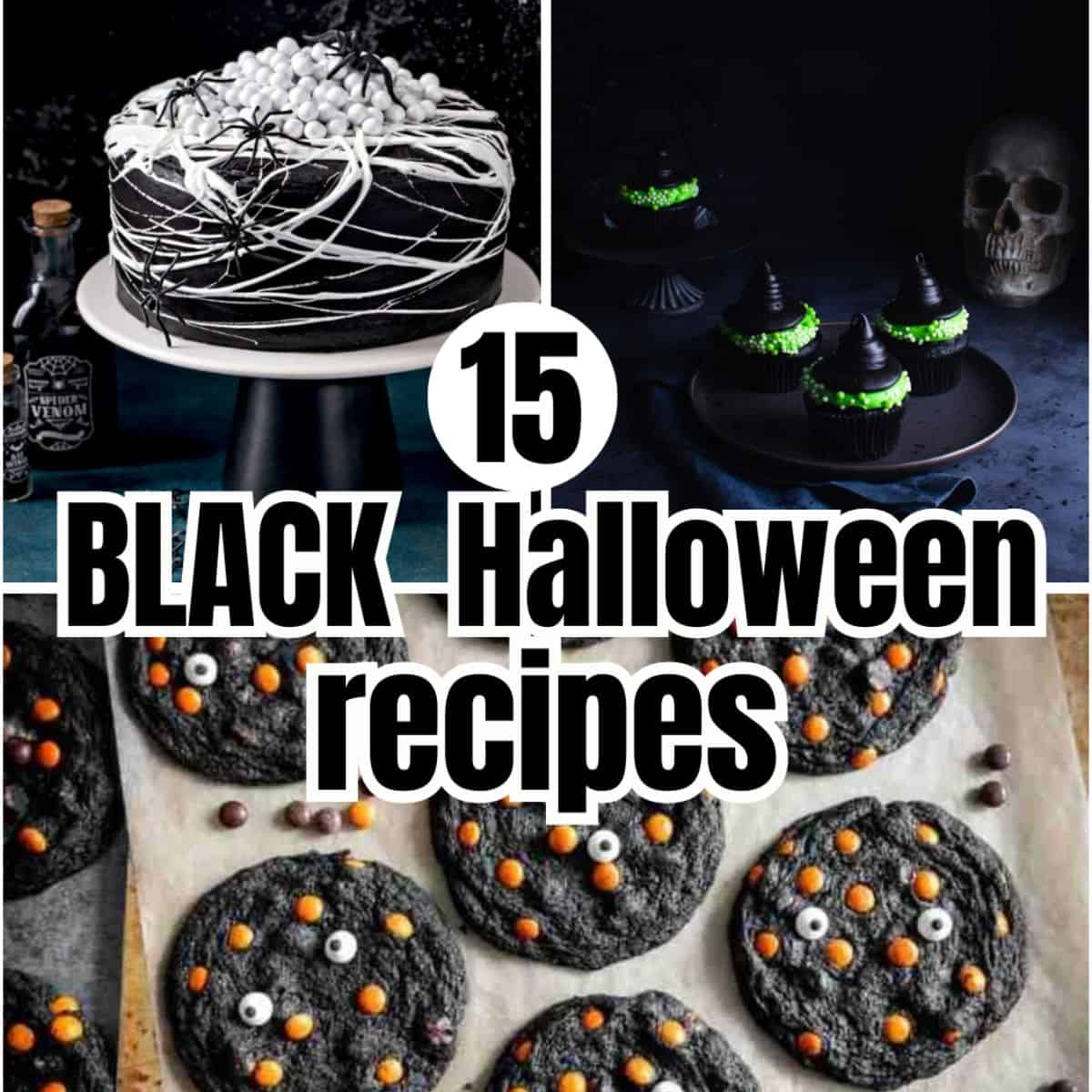 Whether you're throwing a Halloween party or just want to indulge in some creatively themed treats, incorporating black-colored ingredients can make your dishes stand out. Here are some introductions and ideas for black recipes for Halloween.
Black recipes can add a spooky and mysterious touch to your Halloween celebrations, creating an eerie and enchanting atmosphere that's perfect for the occasion.
RECOMMENDED READING:
Halloween Rice Krispie Treats Ideas
Spooky Recipes for Halloween
Halloween Ghost Recipes
Halloween Dirt Worm Recipes
Remember, the key to successful black Halloween recipes is balancing the dark color with bold flavors and creative presentation. Use edible decorations and garnishes to enhance the visual appeal and add a touch of playfulness to your dishes. So, get ready to embrace the darkness and create an unforgettable Halloween feast that's as spooky as it is scrumptious.
EASY TO MAKE INSTANT POT BLUEBERRY COMPOTE
This Instant Pot blueberry compote is so easy to make, and you'll make this a part of your new breakfast addition. Classic compote recipes include large amounts of white sugar, but this version relies on a more modest amount of real maple syrup for a bit of sweetness. Although this recipe uses fresh blueberries, lemon juice, and cinnamon, feel free to add any combination of fresh berries, citrus juice, and seasonings to create your own tasty flavor variations.
Get the full recipe from Food N Service
MAGICAL HALLOWEEN PASTA SALAD
Check out this super fun and spooky Halloween side dish! This black pasta salad is loaded with tasty veggies in all sorts of fun shapes. And to top it off, its got a delicious Italian dressing sauce that will have both kids and adults begging for more. Get ready for a taste sensation that will make everyone smile!
Get the Full Recipe: from This Worthey Life
BLACK COOKIES WITH BLACK COCOA, BUTTERSCOTCH & ESPRESSO
These Black Cookies made with Black Cocoa, Butterscotch & Espresso are more for adults than for kids to be honest, but Halloween is for grown-ups too! Also, the kids love them anyway which is ok. These spooky (or funny) little Halloween treats are fudgy, chocolatey, and chewy and they are naturally colored black cookies. No artificial coloring is used and they are super, super dark.
Get the full recipe from The Pypers Kitchen
CHOCOLATE HALLOWEEN COOKIES
Frighteningly fun, these monster-size Chocolate Halloween Cookies are all treats and no trick. Rich and chewy, the Dutch chocolate cookies are chock-full of M&M's and Halloween sprinkles for a scary good party snack. Then the soft, chewy treats are stuffed full of Halloween M&Ms, topped with sprinkles and a pair of candy eyeballs. So if you happen to be looking for Halloween Cookie ideas, look no further: these cookies are eerie-resistible
Get the full recipe from Whisking Wolf
BLACK VELVET CAKE
This wickedly decadent Black Velvet Cake with Marshmallow Spiderweb is made with rich black cocoa and smooth black cocoa buttercream. A frightful tangle of sticky marshmallow spiderwebs fosters the eerie candy spider egg sacks that top this stunning and deliciously spooky black velvet cake.
Get the full recipe from Lemon Blossoms
Layers of velvety black, moist cake, covered in the softest black frosting and of course filled with my favorite Skittles & M&M's! This is the ultimate Halloween cake, with a classy twist of course. One slice of this delicious guy will also give you that dare to scare look, so no need to worry about the perfect Halloween costume.
Get the full recipe from Baking Ginger
BLACK COCONUT MACAROONS (HALLOWEEN COOKIES)
Black Coconut Macaroons with chocolate. Those dark-as-the-night French macaroons will be your Halloween party hit this year. Black Coconut Macaroons with Chocolate for your Halloween party guests, because even black souls need to feed on something.
Get the full recipe from Masala Herb
THE EASIEST WITCH HAT CUPCAKES
No need to break out the fondant because these witch hats are pure frosting goodness! Whether you're throwing a Halloween party for the kids or just throwing it down at the office potluck. These cupcakes are sure to delight ghouls both big and small! And with the help of some store-bought frosting and cupcakes, they come together in just 30 minutes.
Get the full recipe from The Simple Sweet Life
GLUTEN-FREE GHOST CUPCAKES (VEGAN, ALLERGY-FREE)
These cute and spooky Gluten-Free Ghost Cupcakes are perfect for Halloween! These super easy cupcakes are vegan, allergy-free, and perfect for kids! Made with a simple black chocolate cupcake base and dairy-free vanilla buttercream frosting. Whether you need a unique Halloween party treat or a simple non-candy dessert, these are a must.
Get the full recipe from Strength And Sunshine
THE BEST BLACK VELVET CAKE
This black velvet cake is naturally colored, soft, and moist, and has a luscious chocolate cream cheese frosting, and a vibrant red cherry filling. It has the rich and tender texture of a red velvet cake but uses black cocoa powder to make it black. The black cocoa powder makes this cake taste like an Oreo cookie! It's the perfect cake for Halloween, New Year's, or even Valentine's Day.
Get the full recipe from Flouring Kitchen
BLACK CHOCOLATE CAKE RECIPE
If you're a fan of Oreo Cookies, this Black Chocolate cake is just for you. It tastes just like an Oreo cookie, with super moist layers and a creamy chocolate frosting, and the secret? black cocoa powder. The color will be like a regular chocolate cake and the taste will be still amazing, but more like chocolate rather than Oreo.
Get the full recipe from Sweet Fix Baker
SPIDER SPOOKY PASTA
Spider Spooky Pasta is a perfect savory Halloween dinner idea! This spooky recipe is made with black-colored pasta, orange pumpkin sauce, a cream spider web, and olive spiders. Vegetarian creepy Halloween-themed food idea. Bring Halloween to your dinner table with this Spider Spooky Pasta! A savory Halloween recipe idea for the holiday.
Get the full recipe from Three Olives Branch
BLACK COCOA CAKE
More specifically… Black Cocoa Quinoa Blender Cake. Super easy, gluten-free, can be vegan, absolutely delish! If you can't get your hands on black cocoa, you can definitely make this cake with regular cocoa, it just will be so cool.
Get the full recipe from The Pypers Kitchen
DELECTABLE BLACK VELVET CAKE
Velvet cake is a fan-favorite of all celebrations, functions, and Halloween parties. The Black Velvet Cake recipe brings a new approach with the choice of cocoa powder, as well as a rich and creamy chocolate marshmallow frosting. Fluffy, moist, and chocolaty, black velvet cake will leave you begging for more.
Get the full recipe from The Pypers Kitchen
DEATH BY CHOCOLATE CUPCAKES
Dark chocolate cupcakes filled with dark chocolate ganache, and topped with the deepest, darkest chocolate cream cheese frosting you've ever seen. Sometimes, you just need a little chocolate…and sometimes, just a little chocolate won't do.
Get the full recipe from Live To Sweet
Frequently Asked Questions
How can I make black food coloring naturally?
You can create natural black food coloring using various ingredients that provide dark pigments. Here are a few options:
Activated Charcoal: Activated charcoal is a natural ingredient that can be used to achieve a deep black color. It's available in powder form and is commonly used in health and beauty products. Make sure to use food-grade activated charcoal.
Black Cocoa Powder: Black cocoa powder is a type of cocoa powder that has been heavily Dutch-processed, resulting in a dark color and intense flavor.
Blackberries or Blueberries: These dark-colored berries can be used to create a purplish-black hue in recipes.
How to use: Blend fresh or frozen blackberries or blueberries and strain the juice. Add the juice to your recipe for color.
Squid Ink: Squid ink is a traditional ingredient used in Mediterranean and Asian cuisines to add color and flavor.
Black Tea or Coffee: Strongly brewed black tea or coffee can provide a dark color to recipes like baked goods and sauces.
How can I create a spooky presentation for my black Halloween dishes?
Presentation is key for Halloween dishes. Consider using dark-colored serving plates, bowls, and utensils. You can also garnish your dishes with edible items like gummy worms, "eyeballs" (made from ingredients like olives or mozzarella balls), or creatively shaped croutons.
Can I adjust these recipes to accommodate dietary restrictions?
Absolutely! Many black Halloween recipes can be adapted to accommodate dietary needs. For example, you can make gluten-free black cupcakes using alternative flours or vegan black pasta by using plant-based ingredients. Just make sure to choose substitutions that fit within the dietary restrictions you're considering.
Black colored recipes can add a mysterious and intriguing element to Halloween celebrations. By incorporating dark-colored ingredients and creative presentation techniques, you can create visually captivating and delicious dishes that align perfectly with the spooky atmosphere of the holiday.
From black pasta and gothic-inspired desserts to eerie cocktails and smoky savory dishes, black recipes offer a unique way to engage and surprise your guests.
However, it's important to strike a balance between novelty and taste. While the aesthetics of black ingredients can be attention-grabbing, ensuring that the flavors remain enjoyable is key to a successful Halloween menu.
Experimenting with natural food coloring sources like activated charcoal, squid ink, or black sesame can help maintain the appeal of the dishes without compromising on taste. Remember that the goal of Halloween recipes is not only to create an atmosphere of mystery but also to provide a memorable and enjoyable dining experience for all.
Incorporating black recipes into your Halloween celebration can be a fun and creative way to set the mood and make your event stand out. The key is to embrace the dark aesthetic while keeping the flavors and overall dining experience top-notch.