Easy Halloween Dessert Recipes
These easy Halloween dessert recipes will get you ready to treat your taste buds to a spooktacular delight! As the leaves turn crimson and the air becomes crisp, there's one thing that sends shivers of excitement down our spines:
Halloween is just around the corner, and that means it's time to embrace all things spooky and sweet! Whether you're hosting a Halloween party, looking for treats to share with friends and family, or simply want to indulge in some deliciously eerie goodies, we've got you covered. In this post, we'll be sharing 35 Halloween dessert recipes that are sure to impress your guests and leave them craving more.
Tips for A Spook-tacular Success:
Get Creative with Presentation: Half the fun of Halloween treats is the presentation. Use edible decorations, colored frosting, and unique serving dishes to make your desserts stand out.
Plan Ahead: Some recipes may require chilling time or specific ingredients, so be sure to read through the recipe before starting to ensure you're prepared.
Use Halloween-Themed Ingredients: Incorporate orange and black food coloring, candy eyeballs, and Halloween-themed sprinkles to add an extra festive touch to your desserts.
Safety First: If you're making treats for young children, be mindful of potential choking hazards, and avoid ingredients that may cause allergies.
Experiment with Flavors: Don't be afraid to mix and match flavors to suit your taste. Pumpkin spice, cinnamon, and caramel can add warmth to your Halloween desserts.
Spooky Decorations: Elevate your desserts with eerie decorations. Items like edible eyes, colorful frosting, and black food coloring can turn ordinary treats into Halloween masterpieces.
EASY SPIDER WEB SUGAR COOKIES
Everyone loves a great cookie to enjoy, and these adorable spider web sugar cookies are an easy to make cookie! Your little ones and friends will be sure to enjoy this horrific little treats.
Get the Full Recipe from FoodnService
EASY MUMMY OREO COOKIE POPS
Nothing is easier or cute than these Oreo Mummy pops! Traditional Oreo cookies covered in a delicious melted white chocolate coating, and finished with edible candy eyes! These definitely make the tops of our easy Halloween dessert recipes list!
Get the Full Recipe from FoodnService
HALLOWEEN CHOCOLATE COVERED STRAWBERRIES
HALLOWEEN WEREWOLF PAWS
SIMPLE HALLOWEEN CAKE POPS
MUMMY HALLOWEEN CHERRY HAND PIES
PUMPKIN PUDDING WITH CHOCOLATE SPIDER WEBS
HALLOWEEN DIRT CUPS
CREEPY HALLOWEEN PEANUT BUTTER EYEBALLS
MICROWAVE FUDGE WITH CANDY CORN
This Microwave Fudge recipe is full of sprinkles and candy corn and is so easy to make! It only needs five ingredients and is the perfect simple treat for Halloween or Thanksgiving! Easy dessert recipes are great to have on hand during the busy holiday season. Five ingredient or less recipes like Chocolate Cake Balls, Funfetti Cookies, and this Microwave Fudge are quick and easy to whip up in a pinch
Get the full recipe from Belle Of The Kitchen
CHOCOLATE WHOOPIE PIE MONSTERS
 HALLOWEEN PARTY FOOD ON A BUDGET: DING DONG BATS O_O
MINI PUMPKIN BUNDT CAKES
GRAVEYARD BROWNIES
These Graveyard Brownies are a hauntingly perfect treat for a Halloween party.
These Graveyard Brownies are simple to make, and it's even a recipe that the kids can help with. These chewy, fudgy brownies are paired with a crunchy cookie headstone to make them the perfect Halloween party treat.
Get the full recipe from Artsy Fartsy Mama
MUMMY SHORTBREAD COOKIES
PEANUT BUTTER SPIDER COOKIES
HOW TO MAKE HALLOWEEN WITCH CUPCAKES
VAMPIRE BITE CUPCAKES
MUMMY BROWNIES
NO-BAKE CHEESECAKE BRAIN
PUMPKIN CAKE POPS
GRAVEYARD BROWNIES
Photo: masalaherb
Black Coconut Macaroons with Chocolate for your Halloween party guests, because even black souls need to feed on something.
These easy coconut macaroons are deep black in color, achieved by a natural coloring of the cookies.
Get the full recipe from Masala Herb
EASY HALLOWEEN CHOCOLATE COVERED STRAWBERRIES
HOCUS POCUS POTION FLOAT (A FUN HALLOWEEN ICE CREAM FLOAT!)
HALLOWEEN CHOCOLATE DIRT CAKE
 CHOCOLATE SKULL CAKE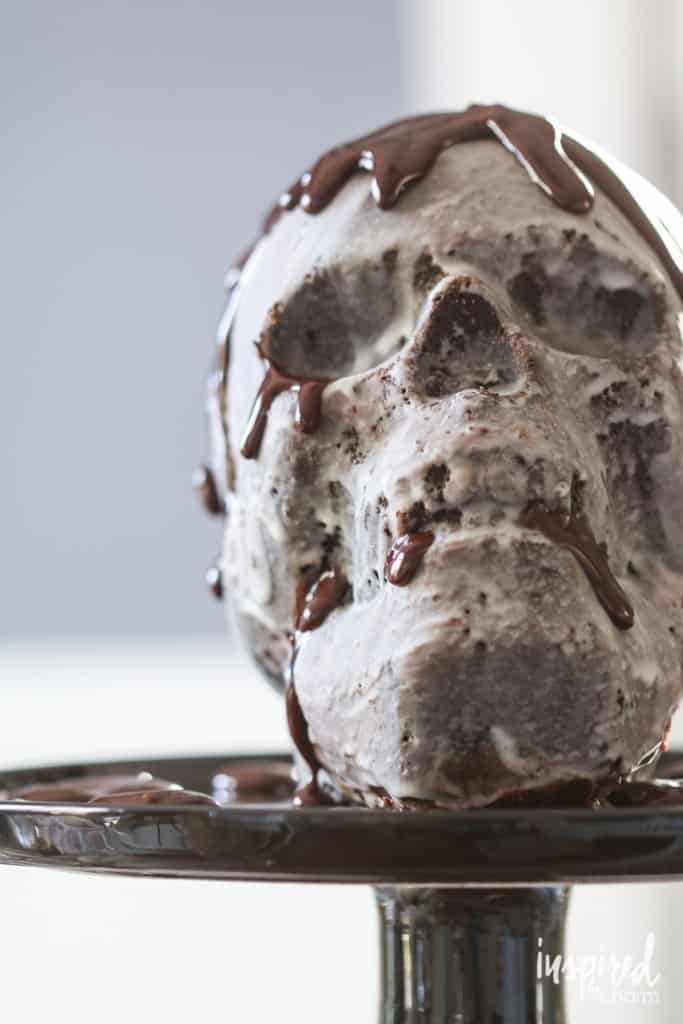 This Chocolate Skull Cake just might be the perfect halloween dessert recipe. Spooky and delicious.
To incorporate the delicious chocolate glaze, you can dribbled some on top of the skull and from the mouth, eyes, and nose.
Get the full recipe from Inspired by Charm
HALLOWEEN PUMPKIN CUPCAKES (WITH BLACK AND ORANGE CAKE)
MONSTER TRUFFLES (FOR HALLOWEEN!)
MONSTER HALLOWEEN CUPCAKES
DIRT CUPCAKES WITH WORMS
CHOCOLATE HALLOWEEN POPCORN BALLS
FAQ About These Easy Halloween Dessert Recipes:
Can I make these recipes with kids?
Absolutely! Many of these recipes are kid-friendly and can be a fantastic way to get your little ones involved in the kitchen. Just make sure to supervise and assist with any tasks that might require sharp tools or hot surfaces.
I have dietary restrictions. Are there options for me?
Definitely! Many Halloween dessert recipes can be adapted to suit various dietary needs. Look for recipes that offer substitutions for ingredients like gluten-free flours, dairy-free alternatives, and vegan options.
How can I make my desserts look as impressive as those in bakeries?
Presentation is key. Pay attention to details such as piping techniques, precise decorations, and color coordination. Practice makes perfect, so don't be discouraged if your first attempts aren't bakery-level. With time, your skills will improve.
Can I prepare these desserts in advance?
Absolutely! Many Halloween desserts can be prepared ahead of time. However, some recipes, especially those involving whipped cream or delicate textures, are best served fresh. Plan your menu accordingly to ensure your guests enjoy the best flavors and textures.
Are these recipes only for Halloween parties?
Not at all! While Halloween parties are a perfect occasion to showcase these spooky treats, you can enjoy these desserts throughout the entire Halloween season. They're great for family gatherings, movie nights, or even just a little self-indulgence.
With Halloween's enchanting aura and love for all things eerie, these easy Halloween dessert recipes are a fantastic way to celebrate the holiday in the sweetest way possible. Embrace your inner ghoul and let your creativity shine as you whip up treats that not only taste amazing but also look hauntingly captivating.
From monster cupcakes to pumpkin parfaits, these recipes are sure to become a yearly tradition that will leave everyone craving more. So, gather your ingredients and start creating these spooktacular delights – because when it comes to Halloween desserts, the scarier, the sweeter!