Eyeball Pie turns a classic cherry rhubarb dessert pie into a spooky holiday pie that will instantly give you the chills! The sweet and tangy pie is decorated with cherries as eyeballs and additional pie pastry, creatively shaped into eyelids!
Don't be surprised if you feel like someone is watching you when you make and display this eyeball pie – the realistic bloodied eyeballs will follow you around the room! Enjoy a slice of this Hocus Pocus dessert with a dollop of whipped cream or a scoop of vanilla ice cream.
These creepy pies are sure to be a hit at your next party!
WHAT YOU SHOULD KNOW ABOUT THIS EYEBALL PIE
This Halloween pie adds a fun and spooky holiday twist to regular cherry rhubarb pie. Leftover pie pastry is creatively used to make an eyelid effect, housing a single cherry to resemble a bloody eye!!
I love how the heat from the oven causes the cherry juice to seep through the eyeball pastry for extra gruesomeness!
Go ahead and decorate this Halloween pie with many eyeballs for maximum effect. It's certainly going to turn heads and give your guests nightmares!
HOW SHOULD I STORE THIS HALLOWEEN-INSPIRED CHERRY RHUBARB PIE?
Store leftover Halloween pie in an airtight container in the fridge for 4-5 days.
These creepy pies can also be stored in the freezer for up to 3 months. Thaw overnight in the fridge and reheat in the oven.
CAN I USE FROZEN RHUBARB FOR THESE CREEPY PIES?
Yes! Frozen rhubarb can be used, but you'll first need to thaw it. Once thawed, run it under clean water and pat it dry with a clean kitchen cloth, not a paper towel.
While optional, tossing the chopped piece of rhubarb with flour will help to absorb any excess moisture remaining.
WHAT CAN I SERVE WITH EYEBALL PIE?
Enjoy a slice of this Halloween pie with a dollop of whipped cream, a scoop of ice cream, or a serving of custard.
They're also great to add to Halloween-inspired lunch boxes as holiday food fillers.
HOW DO I PREPARE RHUBARB FOR THIS EYEBALL PIE?
When using home grown rhubarb, cut the plant close to the roots and remove the leaves. The leaves are actually poisonous to humans and animals!
Wash the rhubarb well and pat it dry with a clean kitchen towel to remove excess moisture. At this stage, you can either peel the thicker stalks with tougher exteriors or leave them as is.
Slice or chop the rhubarb stalks and add them to the ingredients for making this eyeball pie!
WHAT VARIATIONS CAN I MAKE TO THIS HOCUS POCUS DESSERT RECIPE?
Make your own pie crust pastry from scratch for this dessert pie.
Make this dessert gluten-free with gluten-free pie crust (homemade or store bought).
Make individual mini eyeball pies instead of one large cherry rhubarb pie. Assemble the pie crust in muffin tins and add a single eyeball to the top of each mini pie. You will need to adjust the baking time when making mini pies.
Fresh rhubarb is best for this cherry rhubarb pie, but you can use frozen and thawed rhubarb.
If you don't enjoy rhubarb, leave it out and just make a cherry pie or a mixed berry pie.
TIPS FOR MAKING EYEBALL PIE
I haven't blind-baked my pie crust bottom in this recipe, but you can do this to ensure a crispy pastry.
Crimp the sides of the pie well where the pastry meets to prevent any fruity pie filling from spilling out while baking.
Pricking the bottom of the pie crust prevents the pie crust from lifting up while baking.
The fruity pie filling will be extremely hot when the pie has been removed from the oven. Allow the pie to rest for 10 minutes before serving it.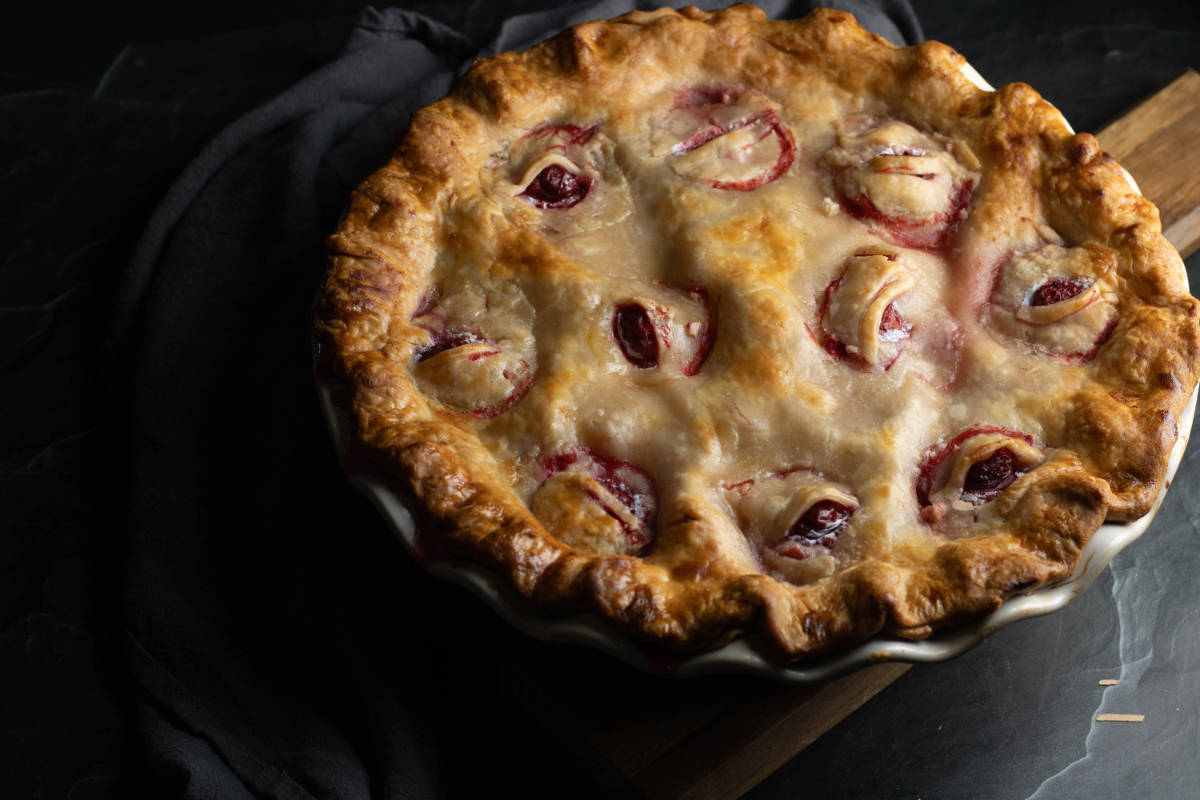 More Halloween-Inspired Recipes