Want to make the CUTEST Monster Cupcakes for Halloween? Even the spooky eyes look pretty cute on these adorable Halloween treats!
These monster cupcakes are made with a from-scratch chocolate cake batter, and we've included a simple and very yummy buttercream frosting recipe, too! Plus, with an easy decorating technique, anyone can make these!
What are Monster Cupcakes?
Monster Cupcakes are fun and yummy desserts decorated to look like monsters. While these cupcakes could be served for birthday parties or decorated for Christmas or other holidays, the addition of bright colored frosting and candy eyes make these a perfect Halloween treat!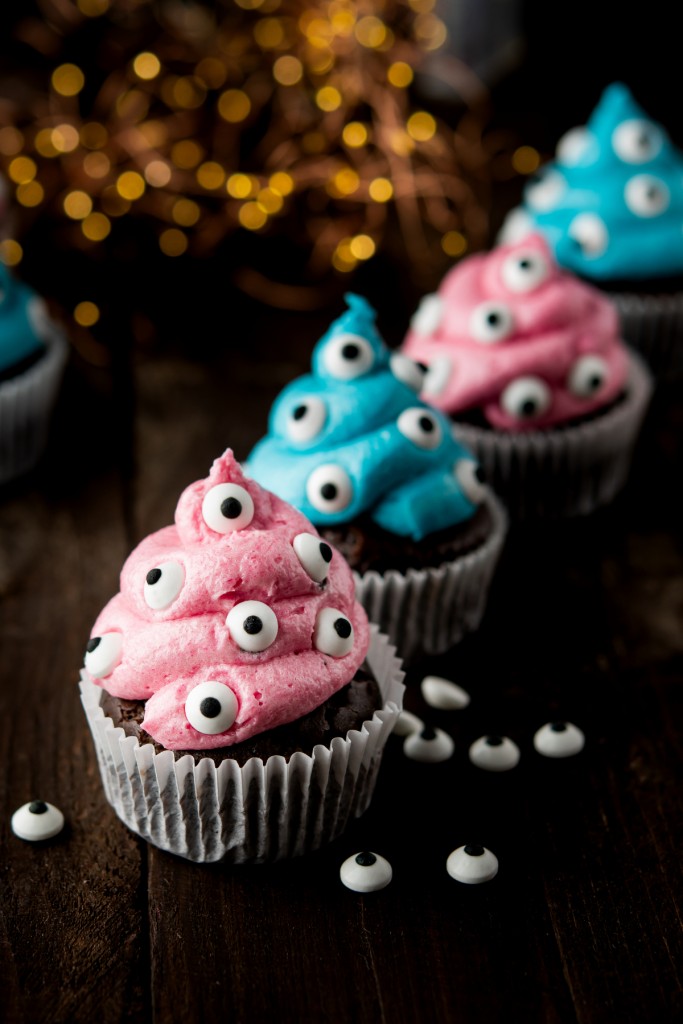 How Do I Store Monster Cupcakes?
You can store these cupcakes in the refrigerator for 2-3 days. For the best flavor and to prevent the cupcakes from drying out, place them in an airtight container.
If you have leftover frosting, you can freeze it or store it in the fridge for 4-5 days. Let it come to room temperate before using.
Can I Freeze Monster Cupcakes?
You can bake these ahead and store them in the freezer. It's better to freeze un-frosted cupcakes. Just place them in an airtight container, cover them tightly in plastic wrap, then put your lid on securely.
You can also make your frosting ahead of time and freeze it the same way. Let everything come to room temperature before you assemble and decorate your cupcakes.
Tips for Making Monster Cupcakes
Don't overfill your cupcake liners. This batter will expand, and if your liners are too full, your cupcakes will overflow.
Don't try to frost too early. Make sure you let your cupcakes cool completely (30-45 minutes), or your frosting will melt!
You can sift your powdered sugar before using it in your recipe to minimize lumps. This is especially important if your powdered sugar has been in your cupboard for a while.
Recommended
Spiderweb Cupcakes
Easy Halloween Frankenstein Cupcakes
Pumpkin Cakes
Notes
If you're planning on serving these at a later date or even a few hours later, wait to decorate with the candy eyes. The frosting food colors may run, and the eyes may no longer look white. Add the eyes closer to the serving time for best results.
No piping bags at home? You can use Ziploc bags instead. Or, just spread the frosting with a knife! No need to be fancy.
Make sure you mix your dry ingredients into both your cake mix and your frosting slowly. Add ½ -1 cup portions and mix well between each.
Substitutions
Frosting – you can use canned frosting for this recipe if you prefer. You can whip your frosting with a hand mixer or even add a bit of softened butter or cream for a more homemade flavor.
Flour – if you want to use gluten-free flour, you can use a product like Bob's Red Mill Gluten Free Flour at a ratio of 1:1. Just add 1 tsp of xanthan gum, too.
Blue and Pink Food Colors – you can make these cupcakes any color you wish! Yellow, orange, purple and green are also fun for Halloween!
More Yummy Dessert Recipes To Try
If you like this Halloween Monster Cupcakes Recipe, you'll want to try some of our other amazingly yummy cupcake recipes! Try any from the list below.
Starbucks Doubleshot Espresso Mocha Cupcakes
Broken Glass Cupcakes
Pumpkin Spice Cupcakes
Nutella Cupcakes
Nutella Whipped Frosting
Yield: 12
Monster Cupcakes
You can make the cutest Monster Cupcakes with spooky eyes at home. They're so simple to make, plus they're moist and chocolatey with the yummiest homemade frosting. This recipe is so easy, the kids can help decorate!
Additional Time
15 minutes
Ingredients
FOR CUPCAKES:
All-purpose flour - 1 & 1/2 cups (175 grams)
Cocoa powder - 1/2 cup (50 gram)
Baking powder - 1 & 1/2 tsp
A pinch of salt
Milk - 1/2 cup (125 ml)
Oil - 1/4 cup (75 ml)
Granulated Sugar - 1 cup (200 grams)
Eggs - 1 large
Vanilla extract - 1 tsp
Hot water - 1/2 cup (125 ml)
FOR FROSTING:
Unsalted Butter - 1 cup (226 grams)
Powdered Sugar - 2 & 1/2 cups (325 grams)
Fresh Cream - 3-4 tbsp
Blue and Pink Gel Food Color
Candy Eyes
Instructions
Preheat the oven to 350 F / 180 C and line your baking tray with cupcake liners.
In a large bowl, whisk together the flour, baking powder, cocoa powder, salt, and sugar.
In another bowl, add oil, milk, vanilla extract, and egg. Blend well with a hand mixer.
Slowly add the wet mixture to the dry mixture and mix well. Lastly, add the hot water in intervals and keep mixing till you get a smooth consistency.
Scoop out the batter using an ice cream scoop, and fill your liners till 3/4 full.
Bake for 20-25 min or until a toothpick inserted in the middle comes out clean. Let the cupcakes cool for 5 minutes in the baking tray before transferring them to a wire rack to cool completely.

For Frosting and Assembling:
In a bowl of a stand mixer or using a hand mixer, cream the butter until it's light and fluffy. Add powdered sugar (in 1/2 cup batches), and fresh cream and beat until you get a smooth and fluffy consistency (5-6 min).

Divide the frosting into two bowls. Tint one half of the frosting with 4-5 drops of blue gel food color and tint the other half of the frosting with 3-4 drops of pink gel food color.
Fill 2 individual piping bags with the tinted frosting and cut the tip of the bag using a clean scissor.
Frost half of your cupcake with the blue frosting and the remaining with pink frosting, creating a tower of icing on each one.
Stick candy eyes gently on the frosting using tweezers.
Serve immediately and enjoy! Happy Halloween!!
Notes
•SPOOKY EYE MONSTER CUPCAKES stay fresh for 2-3 days when stored in an airtight container in the refrigerator. You can also store the extra frosting in the fridge for 4-5 days; allow it to come to room temperature before using it again. (Don't decorate with candy eyes if you're planning on storing these cupcakes)
•Use flavorless oils such as canola oil in cupcakes for the best results.
•You can make the cupcakes or use store-bought ones or you can even use a mix.
•Adjust the intensity of the colors till you get desired bright shade in the frosting.
•Piping the frosting and sticking eyes don't have to be perfect. Just have fun!!