Need a starchy side dish for Thanksgiving, Christmas, or a special meal? These crispy and buttery Potato Stacks are just the thing you've been searching for!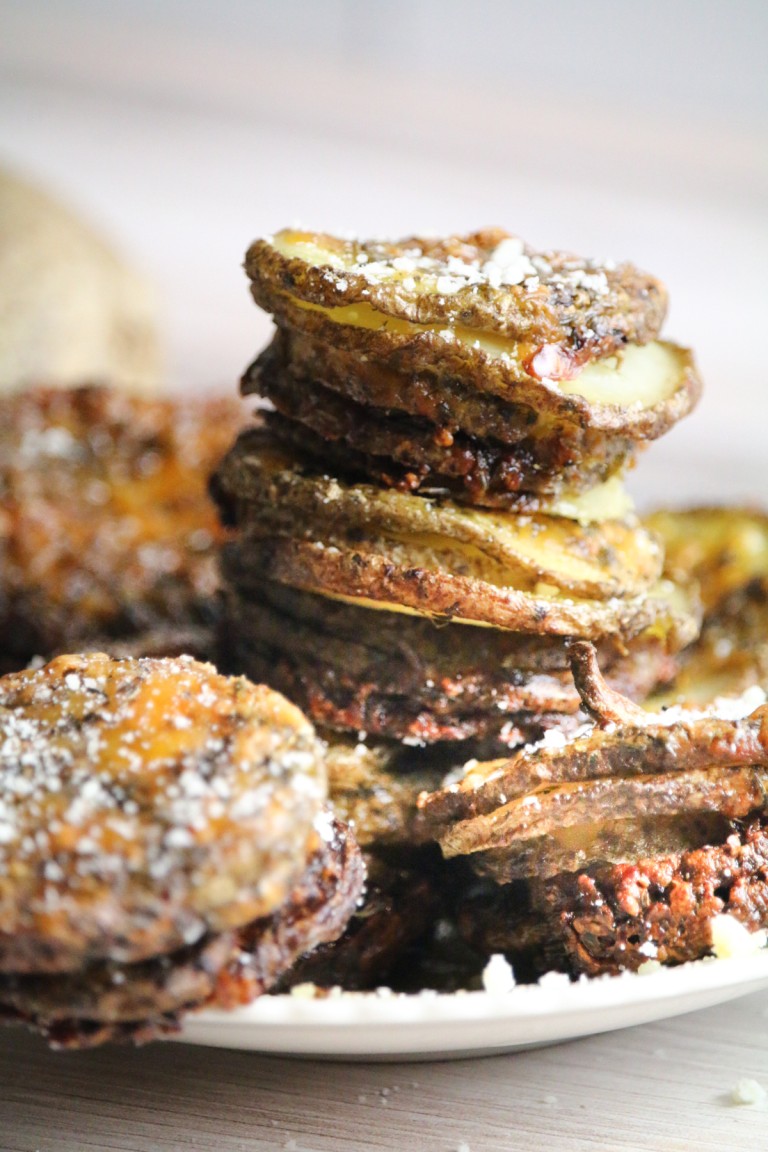 Potato stacks are thin slices of potato, stacked together after coated with a mixture of melted butter, grated cheese, herbs, and spices. They're loaded into muffin tins and baked until golden brown!
You can easily add in other of your favorite seasonings to these delicious little morsels! I love how versatile they are.
What Do I Love About this Yummy Potato Stacks recipe?
Potato stacks are so simple to make yet provide a stunning side dish to special holidays and occasions.
The thinner you slice the potato, the crispier these potato stacks will be which is why I highly recommend investing in a mandoline slicer if you don't have one.
Easily adapt your potato stacks by using different types of grated cheese, spices, and even potatoes in this recipe!
What are the Best type of Potatoes to use For This Recipe?
I've used Idaho potatoes in this recipe but you could also use Yukon gold or Russet potatoes. A type of potato that has a high starch content is best for these potato stacks since they'll be crispy on the outside while fluffy and soft inside!
CAN I MAKE THESE POTATO STACKS AHEAD OF TIME?
Yes! Potato stacks can be made 1-2 days in advance and will still taste just as delicious as when reheated.
Make sure that you allow the stacked potato slices to cool completely before storing in the refrigerator, covered with plastic wrap. Reheat your cooked potato stacks in the oven before serving.
When I'm making these in advance, I leave the potato stacks in the muffin tin so that it's easy to add them back to the oven for reheating.
WHAT SHOULD I SERVE WITH THESE POTATO STACKS?
Potato stacks are a great side dish for an array of main meals, especially for the holidays like Thanksgiving and Christmas. Consider pairing these Instant Pot potato stacks with:
Grilled meats;
Roast chicken, roasted beef/pork tenderloin;
Meatloaf;
Thanksgiving turkey; or
Pot roast.
HOW LONG WILL LEFTOVER POTATO STACKS LAST?
Leftovers will last for up to 5 days when stored in an airtight container in the refrigerator.
Unless you store them in the freezer! You can make these in batches, and please in freezer safe containers! They will last up to 5 months, so it's a great side item to make ahead of time. To reheat, you can place in a 350° F oven for approximately 15-20 minutes.
COULD I MAKE SWEET POTATO STACKS INSTEAD?
Absolutely! Prepare your sweet potato the same way as regular potatoes to make delicious sweet potato stacks. Sweet potatoes do tend to cook faster than regular starchy potatoes which is important to note for the baking time.
TIPS FOR MAKING POTATO STACKS
I prefer using a mandoline for making very thin potato slices. You can use a sharp knife instead but it will take you a lot longer.
The key to getting a great crisp on these potato stacks is to make sure that the sliced potatoes are well coated in the melted butter mixture and to leave the skin on the potatoes. The small area of potato skin around each slice will crisp beautifully and add extra texture!
Stacking these potato slices in a muffin tin is a helpful way to keep the stacked slices in place as well as contain the melted butter mixture with cheese. You could bake these potato stacks on a regular baking sheet and insert a toothpick into the middle of the stack to keep the stack in place although I haven't tried this myself and there is a risk of the slices falling apart.
More Great Recipes To Enjoy!
Yield: 8-12
Potato Stacks Recipe
This potato stacks recipe is an easy appetizer or side dish for any day of the week!
Ingredients
6 medium Idaho potatoes
1 stick butter, melted
1/4 cup oregano
2 tablespoons thyme
2 garlic cloves, diced
1/2 cup parmesan cheese, grated
1/2 cup sharp cheddar, shredded
kosher salt to taste
Black pepper to taste
Instructions
Set the oven to 400F. Lightly spray a muffin pan that has a dozen spaces.
Slice your potatoes on a mandoline to be very thin (approx ⅛ inch). Do not peel! You can also use a knife to slice the potatoes; however, the process is much longer.
Using a large bowl, add in the butter, spices, cheeses, and salt and pepper.
Add the sliced potatoes to the mixture in the large bowl and toss to coat well.
Layer the thin slices of potatoes into each muffin space to the very top. Pick up mixture to pack around and on the potato stacks in the pan as you build.
Spray the inside of tin foil with cooking spray. Use the foil to cover the muffin pan of potato stacks. Bake for half an hour at 400F.
After the first 30 minutes have passed, uncover the potato stacks and cook for another 25 minutes. Stacks will be crispy and golden.
Loosen from the pan with a knife around the edges of the potato stack. Sprinkle the potato stacks with salt. Garnish and serve.