The are Air Fryer Egg rolls, a go-to snack for every occasion, are a family favorite! Whether we're having brunch on a lazy Sunday or making something for a quick yet fulfilling afternoon snack, egg rolls are a must. I even made these rolls as a side dish for a family dinner, and everyone loved them.
They were gone in minutes! Except my sister, she's a weirdo. She ONLY eats the outside, and never the inside. I don't get it either, but she loves her carbs, and I just let her love life.
However, pan-fried egg rolls, although tasty, tend to get a bit oily. Even after dabbing them with tissue, there is some oil left. That's why I decided to make the same egg rolls in an air fryer.
The result? Crispy and crunchy egg rolls with tender filling and no extra oil!
Therefore, I decided to share the recipe with all of you so that you can enjoy the quick, healthy, and delicious egg rolls recipe too!
Why We Love Air Fryer Egg Rolls?
There's a lot to love about them!
For starters, you can make them in under 20 minutes. You just have to stir fry the veggies for 5 minutes, put them inside the egg wrappers, roll 'em up, and air fry them for 10 minutes. And that's all! So, if you have all the vegetables at hand, making the air fryer egg rolls is as easy as pie.
Secondly, these egg rolls are healthy. The only oil required for this recipe is frying the vegetables and brushing the egg rolls. We're using olive oil for the recipe, which is also in minimal quantity; therefore, the recipe has nearly no fat content from frying, making it significantly healthier than regular deep-fried egg rolls.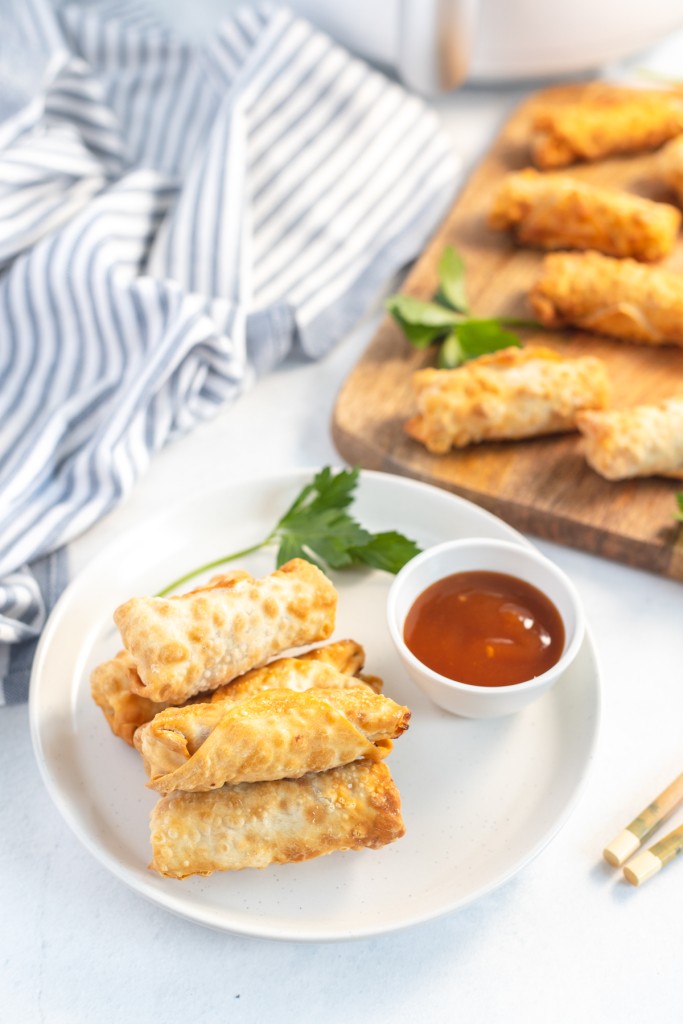 Thirdly, it's nutritious! With carrots, green onions, and coleslaw, these air fryer egg rolls are packed with nutrients and taste.
Plus, the plum sauce used as a dip makes everything worthwhile!
Ingredients for Air Fryer Egg Rolls Recipe
¼ cup olive oil: Divide it into two parts, one for frying the vegetable filling and the other for brushing the rolls.
1 tbsp chopped fresh ginger: Ginger adds flavor and aroma to the filling.
1 bag (14 ounces) coleslaw: To make the filling sweet with a hint of earthy flavor.
½ cup shredded carrots: For a sweet, vitamin A-packed filling.
3 green onions finely chopped: Green onions add a mild yet sweet onion flavor to the egg rolls.
1 tbsp tamari sauce: For that lip-smacking umami flavor. You can use soy sauce also.
1 tbsp rice vinegar: Recipes originating from China are incomplete without vinegar!
20 egg rolls wrappers: You can use flour or rice wrappers, as per your preference.
Plum sauce for dipping: You can use the store-bought one, or if you'd like to make it at home, I've included the recipe below.
Frequently Asked Questions (FAQs)
People have many queries regarding the air fryer egg rolls; therefore, I have answered some of the most common questions. I hope they will prove helpful:
Q. Can we put meat in the air fryer egg rolls?
Yes, you can totally put meat in the egg rolls; just make sure to cook it before placing it in the egg roll wrapper. You can use shredded chicken, ground beef, and shrimp as a filling option.
Q. Do we have to brush the egg rolls with olive oil before air frying them?
Brushing the egg rolls lightly with olive oil before air frying gives them extra crispiness. However, you can omit this step if you aren't a fan of extra crispy rolls.
Q. How long do I cook the egg rolls in the air fryer?
It usually takes 9 to 10 minutes for the egg rolls to cook to crispy perfection in the air fryer at 360 degrees F; however, the cooking time can increase or decrease by a minute or two depending on the size of your egg rolls, the type of air fryer you are using, and how many rolls you place in the basket at one time.
Q. Can we freeze uncooked egg rolls?
Yes, you can line the egg rolls on a baking sheet and put them in a freezer till they are frozen solid. Then transfer them to a ziplock bag and freeze for up to 3 months.
Tips and Tricks
1. Use water or egg wash to seal the egg rolls from the sides so that the filling doesn't spill.
2. Cook the egg rolls in batches and make sure not to overcrowd the basket. 3. Turn over the egg rolls halfway through air frying, so they are cooked evenly from both sides.
Air Fryer Recipes You'll Love
Yield: 20
Air Fryer Egg Rolls
These homemade air fryer egg rolls are a cinch to, and healthier for you than being deep fried!
Ingredients
¼ cup olive oil divided
1 tbsp chopped fresh ginger
1 bag (14 ounces) coleslaw
½ cup shredded carrots
3 green onions finely chopped
1 tbsp tamari sauce (or soy sauce)
1 tbsp rice vinegar
20 egg rolls wrappers
Store bought Plum sauce for dipping. (You also make your own sauce, see recipe below.)
Instructions
In a large saucepan over medium-high heat, add 1tbps of olive oil with coleslaw, ginger, carrot, green onion, tamari sauce and rice vinegar. Cook for 5 minutes until all the vegetables have softened. Remove from heat and let it cool.
Place one egg wrapper on a clean surface leave a damp cloth on the remaining egg rolls.
Add 1/4 cup of the vegetable mixture a little off the center to get closer to one of the corners.
Fold the corner over the stuffing, then fold the two sides towards the center. Roll to close the egg roll, taking care to wet the end so that the egg roll is tightly closed.
Brush each egg roll with a the rest of the olive oil.
Place in the basket of the air fryer set the temperature to 350 F˚ and cook for 10 minutes turning halfway through cooking.
Serve with plum sauce if desired.

Notes
Recipe for Plum Sauce: In a saucepan, heat 1 tbsp of the canola oil over medium heat. Cook 1 chopped onion, 1 tbsp of chopped garlic and 1 tbsp of chopped ginger for 1 minute. Add 4 large diced plums. Cook for 2 minutes. Add 1 tbsp of maple syrup, 1 tbsp of rice vinegar and 3/4 cup of vegetable broth. Bring to a boil, then simmer for 5 to 6 minutes over low-medium heat. Using a blender, blend the sauce until you obtain a smooth texture.