On a lazy Sunday, one likes nothing more than to curl up in a plush blanket with something comfort food. Well, this peanut Thai noodle salad recipe is just the thing you need on a snoozy day.
Quick to make, full of colorful veggies, and the salty taste of peanut sauce, this noodle salad is a perfectly healthy option for a weeknight dinner or just to satisfy your salad craving at any given time.
Why We Love Peanut Thai Noodle Salad?
Anything with noodles is love! But when you incorporate noodles with flavorful veggies and crunchy peanuts, it becomes something heavenly!
This peanut Thai noodle salad recipe is a delicious mix of Japanese rice noodles and salty peanut sauce. The chewy texture of the rice noodles, combined with the crispy vegetables, and the savory peanut sauce, make it a satisfying meal, packed with flavor and rich ingredients.
This salad is the perfect comfort food to warm you up on a frosty day. The nutritious vegetables seasoned to perfection are what make the salad flavourful. The noodles add texture to the dish, while the vegetables add color, taste, and a delicious crunch to the salad. The sweet, salty, and flavor-dense peanut sauce is what gives the final taste to the dish, for which it is loved by all!
Throw in some chopped peanuts on top, and you've got yourself a wholesome salad bursting with health!
Ingredients for Peanut Thai Noodle Salad
Dry noodles 100 g: I have used rice noodles, but you can use buckwheat noodles if you're looking for a gluten-free alternative. Instant noodles will work too.
1 Red pepper: It adds a sweet citrusy flavor to the salad.
1 Yellow pepper: It adds a sweet fruity taste to the salad.
2 cups Purple cabbage: To add color and an earthy taste to the salad.
2 cups grated carrots: They add a subtle crunch and sweetness to the salad.
1 cup string beans: String beans balance out the sweetness from the peppers and carrots.
3 springs of green onion: Green onions add color, crunch, and a mild onion flavor.
2 tbsp peanuts: Sprinkle on top for that extra crunch.
2 tbsp peanut sauce: It makes the salad sweet, salty, and flavorful.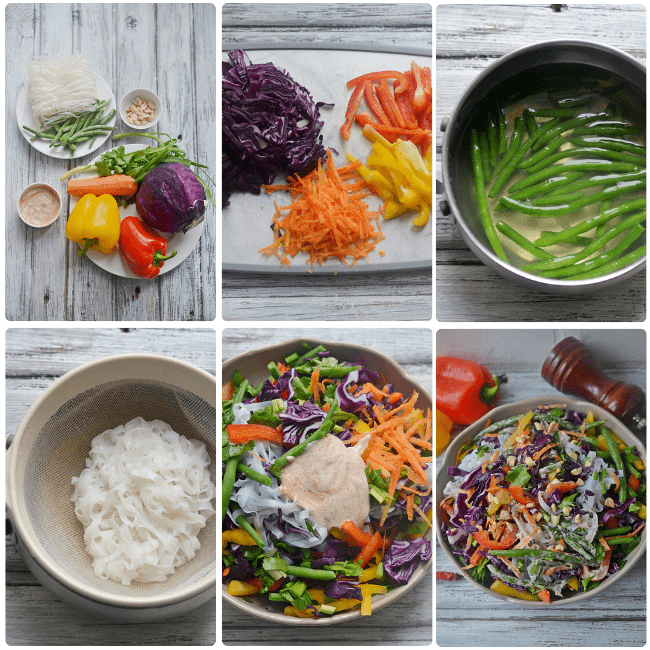 Frequently Asked Questions
I know that you guys have many queries running through your heads, and I am here to answer them! Here are some common questions that might help you with your peanut Thai noodle salad:
Q. Can I use ramen noodles for this salad?
Yes, you can use any type of noodles for this salad if you don't have rice or buckwheat noodles at hand.
Q. Can I add chicken to the recipe?
If you want to make the salad a bit more wholesome, you can add chicken cubes or shredded chicken to it along with the veggies. The chicken will give the salad an added savory flavor.
Q. Can I make the salad ahead of time?
You can prepare the veggies for the peanut Thai noodle salad ahead of time and refrigerate it for 3 to 5 days in an air-tight container. You can prepare the noodles fresh when you're serving the salad.
Q. What can we serve with the peanut Thai noodle salad?
The peanut Thai noodle salad can be served alongside steak, salmon, or grilled chicken. You can also serve garlic bread or breadsticks as a side with this noodle salad.
Q. What can leftover peanut sauce be used for?
If you have some extra peanut sauce, you can use it with stir fry recipes, meatballs, and rice bowls. It is a great option to add flavor to your meals.
Tips and Tricks
Here are some tried and tested tips and tricks to make your peanut Thai noodle salad worth it:
1. If you're not making a vegan recipe, you can use shredded chicken or chicken cubes with the vegetables to make the salad more flavorful and fulfilling.
2. If you want to make the salad spicy, drizzle 2 tbsp of sriracha sauce on it with the peanut sauce. Alternatively, you can also season the salad with sliced jalapenos and green or red chilies.
3. If you don't have rice noodles, you can use buckwheat noodles, instant ramen noodles, whole-wheat noodles, or any other noodles of your choice.
4. Cook the noodles right before serving the peanut Thai noodle soup; otherwise, they will get soggy.
More Easy Recipes to Enjoy
Yield: 1
Peanut Thai Noodle Salad
My peanut thai noodle salad makes a great refreshing meal all year long.
Ingredients
100 g, Dry noodles (rice, buckwheat)
1 Red pepper
1 Yellow pepper
2 Cup Purple cabbage
2 Cup Grated carrots
1 Cup String beans
3 sprigs Green onion
2 tbsp Peanuts
2 tbsp Peanut sauce
Greens to serve
Instructions
Prepare all the ingredients.
Cut peppers and cabbage into strips, grate carrots.
Boil the beans until tender.
Boil the noodles until tender.
Mix everything, add chopped onion.
Season with sauce, sprinkle with chopped peanuts when serving.