We love ordering Panko Shrimp when we're out for dinner, but who knew it was so easy to make at home? I had everything I needed in our pantry to make these when guests came by last week, and they were a huge hit!
These Panko shrimp have a perfectly simple flavor and are ready in about 15 minutes total! You just dip them in egg, flour, and spices, fry for 2-3 minutes, and you're done!
If you want an easy appetizer for your next party, or if you just love shrimp and want a quick way to add them to your dinner menu, this recipe is perfect for you.
What is Panko Shrimp?
These shrimp are traditionally served as an appetizer and consists of raw shrimp lightly battered with eggs, spices, and Panko breadcrumbs. Then they are usually deep fried and has a beautiful golden color and a crispy texture.
How Do I Store Panko Shrimp?
Already cooked Panko shrimp can be stored in the fridge for up to 3 days. Make sure you place it in an airtight container or bag. Reheat at 400 degrees for 10-15 minutes, turning a few times to make sure one side doesn't get soggy.
Can I Freeze Panko Shrimp?
Panko shrimp can be frozen before they're cooked, but shouldn't be frozen after they're cooked. If you want to prep for a party ahead of time, you can batter and bread fresh (never frozen) shrimp. Lay them carefully single file in a storage container and place them in the freezer for up to 3 months.
Can I Cook This Panko Shrimp Recipe in the Oven Instead of Frying?
Yes! You can cook the shrimp in the oven. Make this recipe as directed until it comes time to cook the shrimp. Place them on a baking sheet lined with parchment paper or bake them on an oven-safe cooling rack.
Bake them at 400 for about 10 minutes. For a little extra crisp, spray them with cooking oil spray before placing them in the oven. If using a baking sheet, turn them at about 6 minutes to crisp up the other side.
How Do I Cook Panko Shrimp in the Air Fryer?
Cooking your Panko shrimp in the air fryer is a way to get a similar deep fried flavor without using the oil. Just prepare your shrimp as directed until it's time to cook them. Then place them in the basket in your pre-heated air fryer for 10 minutes at 375°F. Turn your shrimp half way through. You may have to cook them in 2 batches.
Tips for Making Panko Shimp
Make sure your oil isn't too cool or too hot. If you don't have a thermometer, drop a few crumbs of Panko into the oil. If it rises and bubbles gently, your oil should be ready. If it sinks without any bubbles, it's too cool. If it darkens quickly, it's too hot.
You can substitute other spices for the ones listed. Old Bay Seasoning, curry powder, or Cajun seasoning will all work well.
As much as possible, use shrimp that are similar in size so your cooking time per shrimp will be the same.
Recommended
Amazing Avocado Salsa
Homemade Mozzarella Sticks with Mezzetta Sauce
French Onion Soup
Notes
Before you begin frying, prepare a plate lined with 3 or 4 paper towels, so you have somewhere to place your shrimp when they're done cooking.
Don't use pre-cooked shrimp for this recipe as the shrimp will be overcooked and rubbery.
Substitutions
Shrimp – You can use fresh or frozen shrimp for this recipe. Make sure they are fully thawed and dry when you begin making this recipe.
Oil – Peanut oil works well for this recipe, but vegetable oil will work well, too.
More Yummy Starter Recipes You'll Enjoy
If you like this Panko-crusted shrimp recipe, you'll love some of our other appetizers and starters! Try any from the list below.
Cilantro Shrimp Salad
Grilled Shrimp Lettuce Recipes
Sausage Parm Ring
Deviled Egg Potato Salad
Proscuitto Wrapped Asparagus
Pizza Dip
Yield: 4-6 servings
Panko Shrimp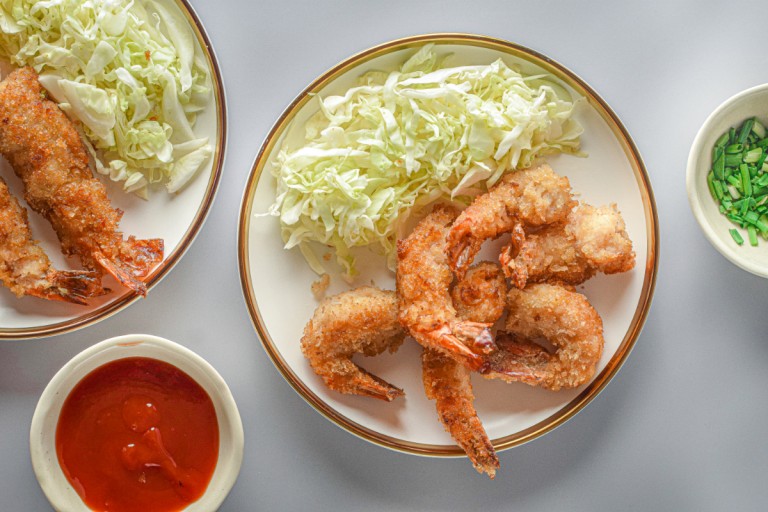 This crispy and delicious shrimp dish is a totally addictive appetizer. Made with spices already in your pantry and flaky Panko crumbs, these are a quick and easy treat for any party or get-together.
Ingredients
1 lb raw shrimp with tails, shelled and deveined
½ teaspoon salt
½ teaspoon black pepper powder
Oil for frying
FOR BATTER:
2 eggs
½ cup all-purpose flour
½ teaspoon salt
½ teaspoon black pepper
1 teaspoon garlic powder
1 teaspoon chili flakes (optional)
2 cups Panko breadcrumbs
Instructions
Place the shrimp in a bowl and season with salt and pepper.
Grab two more bowls. In the first bowl, mix together eggs, all-purpose flour, salt, black pepper, garlic powder, and chili flakes. In the second bowl, place the Panko breadcrumbs.
Working with one shrimp at a time, dip in flour-egg mixture, then coat the shrimps in Panko, making sure all sides are covered and coated well (you can repeat the process for a second time if you want to make it extra crunchy).
Fill a pan about 2 -2 ½ inches deep with oil and heat to around 375 F. Place 3-4 pieces of shrimp in the hot oil and fry them over medium heat until crisp, golden, and evenly cooked from inside (about 2-3 minutes). Don't overcook as that might make your shrimp rubbery and chewy.
Remove the shrimps from the oil and drain the excess oil by blotting with a paper towel.
Serve hot with your favorite dip and enjoy!

Notes
•You can store the PANKO SHRIMPS in an airtight container for 3 days in the refrigerator or for around 3 months in the freezer. (DO NOT FREEZE FRIED SHRIMP; FREEZE THE PANKO-BREADED SHRIMP AND FRY JUST BEFORE SERVING)
•You can use 1 tbsp of Cajun seasoning or old bay seasoning in the batter if you want.
•Make sure the oil is at an appropriate temperature. Too hot and the shrimp might burn and overcook; too cold and the shrimps might absorb excess oil and become greasy.
•Prefer using similar-sized shrimp in the recipe. Keep in mind that cooking time might vary depending on the size of the shrimp so watch your shrimp carefully as they cook and take them out from the oil as soon as they turn golden brown.
•You can use fresh or frozen shrimps (defrosted and dried). If using frozen shrimp just make sure that they are not precooked.