Amazing Avocado Salsa Recipe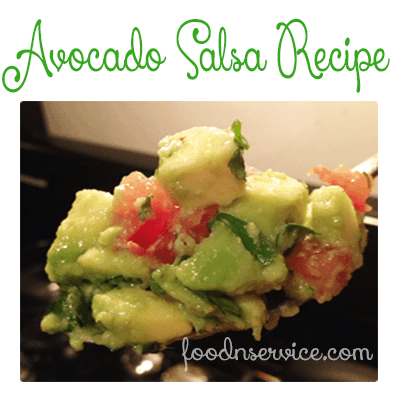 We all think that we have the easiest & best Avocado Salsa Recipe, but I mean it whole heartedly with my recipe! You can taste the freshness of the avocados, cilantro and lime juice just bursting through with each bite.
I was actually taught the basics of the recipe by a few friends that worked in the kitchen of the restaurant I used to work in, The Ferry House Restaurant. I can honestly say that I've memorized so many amazing recipes from them, and I just can't wait to continue sharing them with you! Thanks so much Chef Bobby Trigg!
Before you get started in trying to make this recipe, I have to place the importance of picking the right avocados. Most people aren't too sure on how to pick a ripe avocado. The trick is to give the avocado a mild squeeze. If it's a little soft, then it's just right! If it's as a hard as a brick…do yourself a favor and leave it alone. Though, if you wish to buy the unripened avocados for a future recipe for a week in the future, then buy them and store in a brown paper bag. The paper bag will help the avocados ripen to perfection! Let's get started! I'm hungry.
Ingredients:
3 Ripe Avocados
2 Medium Tomatoes
1/4 Cup Fresh Cilantro (diced with no stems!)
2 Fresh Limes
3 Tablespoons of Extra Virgin Olive Oil
1/2 Teaspoon Kosher Salt
1/4 Teaspoon of Fresh Cracked Pepper
Directions:
Step 1: Slice skin off off Avocados and take out pit (If you hold the avocado length wise, insert the knife and allow the blade of the knife to travel around the pit. You now have 2 halves! Another great tip is that you can diced the avocado in its own skin.)
Step 2: Slice tomatoes in thick slices. BEFORE dicing tomatoes into small cubes, rinse the tomato jelly and seeds out under cold water. This will make the salsa too gelatin like. Now dice tomato "rings" into small cubes.
Step 3: Dice up your Fresh Cilantro. Please be sure to remove stems. It's more of a personal preference, and I just don't like the appearance of the stems in my food. Don't judge me.
Step 4: Add all ingredients into a medium size bowl to mix with a spoon. Cut your limes into halves across (not from end to). Now, but a small slit into the middle the lime flesh (and NOT the lime end). When squeezing lime juice into bowl, turn the lime upside down to help prevent pits from falling into your salsa.
Step 5: Mix all ingredients with a Tablespoon. You don't want to mash everything together. If you do that, you guacamole! Salsa is meant to be chunky. After mixing, place in the fridge to chill.
For those that love a good visual!

WARNING: You WILL want to eat it all right now! Save some for everyone else to enjoy. Please? Thank you!
If you enjoyed this recipe, please be sure to check out my other recipes that I know you'll just love! Recipes on FoodnService and then sign up for my email newsletter! The form is right there on right of this recipe. You know you want, so just do it already. Stop me from begging already.