Instant Pot Unicorn Lava Cake
Instant Pot Unicorn lava cake – I didn't know what else to name it. I could have named it a rainbow lava cake, but unicorns are just so much more magical…don't you think?
Did I make this because I wanted to? No…Angela asked me to make her something "Barney with different colors that Barney loves because Barney loves all colors, especially purple magic Barney colors!"
Yes, she did not take a BREATH when she was asking me to make her something. You see, I made Peanut Butter Chocolate lava cakes yesterday; however, she can't eat chocolate (nor can my other nephew).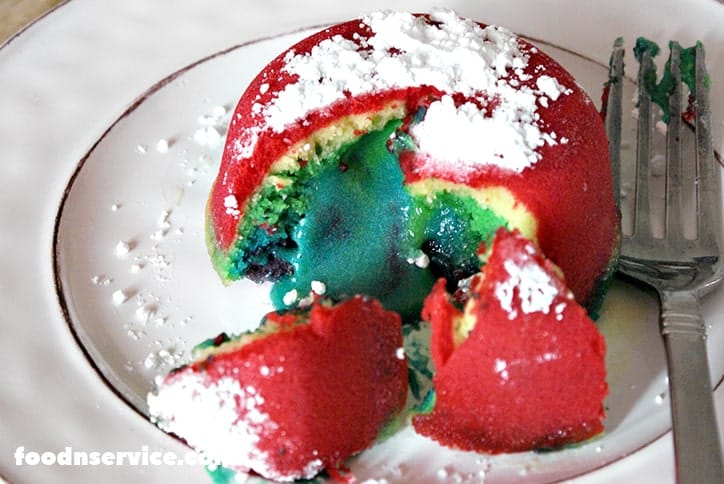 So I came up with this! A freaking Instant Pot Unicorn lava cake.
She was pretty stinking excited. I don't know why I encourage her love and passion for Barney, but whatever. Don't judge me. If a unicorn lava cake is gonna make her happy, who am I to say no? Especially since it really doesn't take too much time to make.
The only time consuming part of making the Instant Pot unicorn lava cake was making the different colors and then layering them inside of the pyrex bowls.
Preparing the Batter for the Instant Pot Unicorn Lava Cake
When you follow the recipe for the Unicorn lava cake, you'll split the batter up equally into 5 different bowls or containers. I used 4 different food colors: Red, Blue, Green, and Purple (I made purple with equal parts of blue and red).
In total, it took about 6 drops of each food color to get what I wanted in making sure that the Instant Pot Unicorn lava cake turned out bright and vibrant.
I didn't want Angela too look at something dull and boring. She loves vibrant colors, so I as going to do the best that I could. I took it as a small challenge to make something "Happy and Bright" to eat, even though she toted "Barney, Barney, Barney!!!" when she was eating it.
Fine…I'll let Barney take this round for inspiring me to make the Unicorn lava cake for her. *insert eye roll*
Instant Pot Unicorn Lava Cake Recipe
I hope you enjoy making this Unicorn lava cake! Yes, Angela enjoyed it, but I know that many of you will enjoy making this for your children.
They'll be sure to eat it up with a great big smile.
You can easily add ice cream with colored sprinkles to add an even more delightful and colorful scene for your child (or you) to eat.
More Instant Pot Recipes:
Pin the Image Below to save on Pinterest!