Instant Pot Corn Casserole
Whether you're cooking for a large gathering or a weeknight family meal, Instant Pot Corn Casserole will become one of your new go-to side dish recipes! It's the perfect blend of sweet and savory flavors, and using the Instant Pot makes this classic recipe simple to make.
Maybe the best part is that this corn casserole recipe uses simple ingredients that you might already have on hand. This dish is inexpensive to make. It uses corn muffin mix, a few cans of corn, and of course, sour cream and cheese to make it even more delicious.
Just stir everything together, pour it into your Instant Pot cake pan, and in 45 minutes, you'll have a moist and cheesy corn casserole the whole family will devour.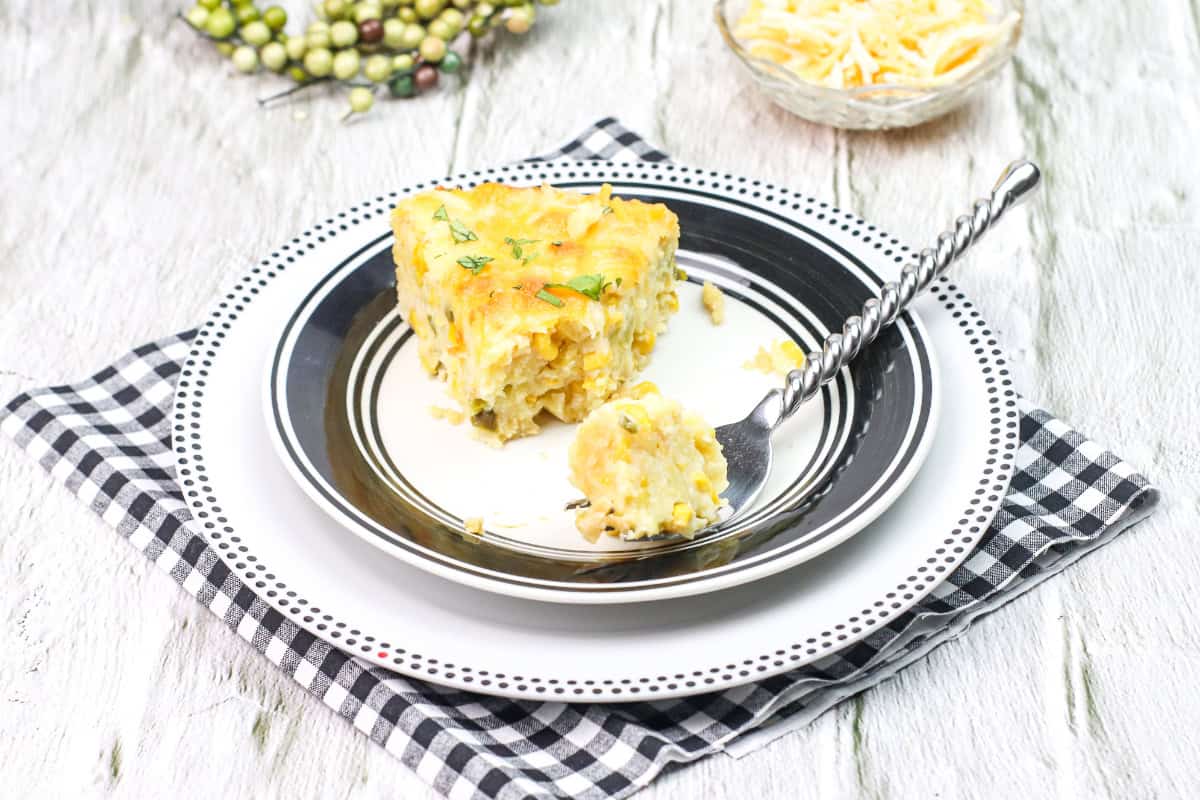 What is Corn Casserole?
Corn casserole, sometimes known as corn pudding, can be described as a cross between cornbread and a souffle. It's believed to have had its beginnings with Native Americans who combined corn and water to create what we know as corn pone. The crunchy, caramelized top makes this Instant Pot version irresistible!
How Do I Store Corn Casserole?
Instant Pot Corn Casserole can be refrigerated for 3-5 days after it's completely cooled, and reheated when you're ready to eat it.
The microwave tends to make leftovers mushy when reheated, so use the oven instead. For best results, wrap in foil and reheat in a 375-degree oven. Time will depend on the quantity heated. Check the temperature after 10-15 minutes.
Can I Freeze Instant Pot Corn Casserole?
You won't want any to go to waste so wrap leftovers tightly in plastic wrap and then aluminum foil. Freeze for up to three months and reheat for another delicious addition to a weekday meal. Allow frozen leftovers to completely thaw before reheating them.
Can I Make Instant Pot Corn Casserole in the Oven Instead?
Yes, you can! If you have room in the oven, bake this at 350 for 35-50 minutes. Check it after 35 minutes, then bake until it's set. Flip the broiler on, top with cheese, and toast up the top if you want.
Tips for Making Instant Pot Corn Casserole
You can make this recipe ahead and reheat it when you want to serve it. Keep it in the fridge, tightly wrapped, for up to three days, but it's best to serve it the next day for the freshest-tasting casserole.
Sauteing canned corn before adding it to the recipe will reduce some of the liquid. Excess liquid in your casserole can make it mushy, so drain it well!
Recommended
Potatoes Au Gratin
Instant Pot Brussels Sprouts Gratin
Instant Pot Pork and Beans
Notes
You can serve it in the pan but if you want to remove it, gently run a knife around the outside and flip it out onto a serving dish.
Be careful when removing this from the Instant Pot. If the top of the casserole feels too jiggly (like it may be wet inside), reset the Instant Pot for another 5 minutes and allow it to cook again. Allow the 5-minute natural release as well.
You can use a cake pan or a spring form pan for this recipe.
Substitutions
Butter – you can substitute margarine or soy butter in this recipe with no difference in taste.
Sour cream – Greek yogurt or low-fat sour cream can be used as a simple substitution in equal parts.
Cheese – Use pepper jack or Mexican blend to give your casserole a bit of spicy flavor.
Jalapeños – You can make this less spicy by using green onions instead of chilies or jalapeños. You can leave them out completely, but then your casserole will have less color and flavor.
Corn – Frozen or fresh corn can be used in place of canned corn. (First cook and cut off the cob before use.)
More of My Favorite Instant Pot Recipes You'll Enjoy
If you like this easy Instant Pot Corn Casserole, you'll want to try some of our other Instant Pot recipes too! Try any from the list below.
Instant Pot Chipotle Rice
Instant Pot Green Beans and Potatoes
Instant Pot Lasagna
Instant Pot Tex Mex Chili
Yield: 6-8
Instant Pot Corn Casserole
My Instant Pot corn casserole will become your new favorite side dish to make for the holidays, or any day!
Additional Time
5 minutes
Ingredients
1 egg
1 box Jiffy Corn Muffin Mix. 8.5 oz
1/2 cup butter, melted
1 can creamed corn
1 can kernel corn, drained
1/2 teaspoon onion powder
2 small jalapeños, seeded and diced
1 cup sour cream
1/4 cup shredded cheddar or Mexican blend cheese
Instructions
In a medium sized mixing bowl, add , egg, butter, creamed corn, whole corn, onion powder, and jalapeños.
Stir in the sour cream, and mix well
Pour batter into a greased 7-inch round cake pan, and cover with aluminum foil
Maker sure your liner is in your Instant Pot! Pour 2 cups warm water into the inner liner, and place trivet inside. Place cake pan on top of trivet, Close and lock lid, and set nozzle to sealing position. Press Pressure cook button, and adjust time for 45 minutes.
Once done, Quick Release all pressure. Once pressure has been released, remove lid at an angle and allow to cool for a few minutes. Lift trivet by handles. If your trivet doesn't have handles, allow to cool for 5 minutes, and carefully life with kitchen gloves.
Remove foil, and sprinkle top with cheese. Place under broiler or in a toaster oven to melt cheese and to slightly brown the top.