My Favorite Chocolate Chip Cookie Recipe
Chocolate chip cookies are a classic type of cookie cherished by people of all ages for generations! You really can't beat the addictive flavor and texture of a traditional chocolate chip cookie that's a result of combining simple pantry-staple ingredients such as sugar, fat, eggs, flour, milk, and chocolate chips.
My favorite chocolate chip cookie recipe creates soft and chewy cookies that are crispy on the outside and gooey inside. Enjoy them as a sweet snack with a glass of milk, add them to a bowl of ice cream, or use them as a crumbled topping in other dessert recipes!
WHAT YOU SHOULD KNOW ABOUT MY FAVORITE CHOCOLATE CHIP COOKIE RECIPE
While most chocolate chip cookie recipes are pretty much the same, what separates an amazing chocolate chip cookie from an average cookie is the length of time the cookies are left to bake in the oven and the type of sugar and fat incorporated into the cookie dough.
I've used packed brown sugar and butter-flavored Crisco in this cookie recipe, and I never leave the cookies in the oven for longer than the recommended baking time. The cookies come out gooey and chewy, with a delicious crispy exterior – perfection!
HOW SHOULD I STORE THESE CHOCOLATE CHIP COOKIES?
These cookies can be stored in an airtight container at room temperature for up to 5-7 days. They can also be stored in the fridge for extended shelf life, but they could dry out.
CAN I FREEZE THESE CHOCOLATE CHIP COOKIES?
Yes, you can! Once completely cool, store these cookies in an airtight container or Ziploc bag in the freezer for up to 3 months.
DO I NEED TO CHILL MY COOKIE DOUGH BEFORE BAKING?
I haven't chilled the cookie dough for these cookies, but you can if you wish to. The purpose of chilling dough is to prevent cookies from spreading flat while they bake.
These cookies don't need to be overly pillowy. You could even choose to flatten the cookie balls slightly, if you like, before or after baking.
WHAT VARIATIONS CAN I MAKE TO THESE CHOCOLATE CHIP COOKIES?
For gluten-free chocolate chip cookies, use gluten-free flour such as Bob's Red Mill or almond flour.
Add cocoa powder to the cookie dough to make double chocolate chip cookies.
You can make these chocolate chip cookies with milk chocolate chips, semi-sweet chocolate chips, dark chocolate chips, or white chocolate chips!
TIPS FOR MAKING MY FAVORITE CHOCOLATE CHIP COOKIES
If you want your cookies to be extra gooey in the center, bake them no longer than required for them to be set.
These chocolate chip cookies are perfect for gifting to friends and family for holidays and special occasions.
You can make the cookie dough ahead of time and store it in the freezer, tightly wrapped in plastic wrap, for up to 3 months. Thaw overnight in the fridge, and then bake your cookies.
Use a cookie scoop to create uniform-sized cookie balls. This will also help to bake all cookies evenly.
Coat the baking tray lightly with cooking spray or line it with parchment paper, so the cookies don't stick to the baking sheet.
More Easy Cookie Recipes To Make
Yield: 3 1/2 dozen
My Favorite Chocolate Chip Cookies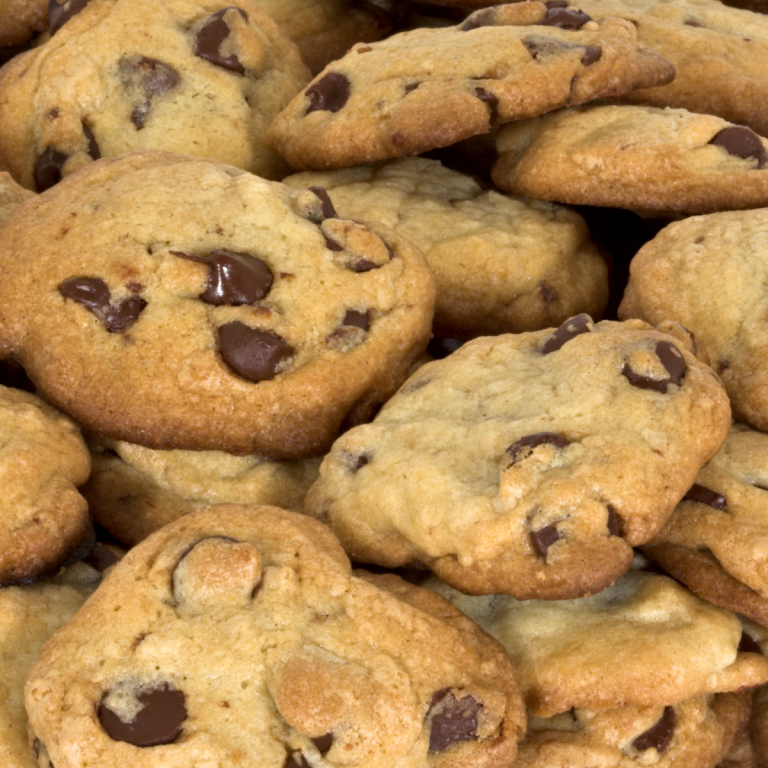 These chocolate chip cookies are totally my favorite! They're super delicious, and bursting full of chocolate goodness!
Additional Time
5 minutes
Ingredients
1 1/2 cups of packed light brown sugar
3/4 cup of butter flavored Crisco or 1 cup butter (room temperature)
2 tablespoons of milk
1 tablespoon of vanilla extract
2 large eggs
2 1/2 cups of All purpose flour
1 teaspoon baking soda
1 teaspoon salt
1 bag of semi-sweet chocolate chips (morsels or chunks)
Instructions
Pre-heat the to oven 375°F
Cream together Crisco, vanilla extract, egg, salt, baking soda, light brown sugar and 2 table spoons of milk. Here's one hint: allow the crisco to come to room temperature, or even put in the microwave oven for 10-15 seconds. Also, let milk and egg rest until they are at room temperature. Use a hand mixer on a low to medium speed to blend all together. I usually blend for a good minute.
With a wooden spatula, slowly fold in the flower a little bit at a time.
After the flour as been thoroughly mixed into the wet ingredients, add the bag of chocolate chips.
I normally let the cookie dough mix stand for about 10 - 15 minutes for spooning out on a greased cookie sheet.
Use a table spoon to take spoons of the cookie dough to the cookie sheet. I always recommend a melon ball scoop or ice cream scooper to regulate the size of the cookie dough.
Now, SET YOUR TIMER. After placing cookies in the oven, bake them for 8 minutes and 11 seconds! Yes, I have the time down to a science. Too much more time, they will get to brown and become too hard. These will be soft with a bit of crunch to them!! See notes!
Notes
Each Oven cooks a bit different. Test batch for your first round of cookies at 8 minutes and 11 seconds. You might need to add an extra 30 seconds - 1 minute. You want the cookies be a nice golden grown around the edges.