Even though I bake cookies all the time at home, my sister is best known for her snickerdoodle cookies! I've made them all: chocolate chip cookies, oatmeal raisin cookies, peanut butter cookies, no-bake cookies, you name it!
However, I stay in my lane and let her make these cookies! Just like she doesn't try to make my chocolate chip cookies, that people go crazy over!
Lets admit it! Cookies make everything better! Whether you're feeling down or excited, your friends are coming over, or you want to spend quality time with your kids or grandkids, baking cookies is the best way to unwind and have a great time.
So, for a change, I decided to try this recipe, which was an instant hit! I mean, we didn't have any leftovers!
Why We Love Snickerdoodle Cookies?
Snickerdoodle cookies are a tad bit different from your regular cookies. They're not overly sweet; rather, they have a slightly tangy taste due to the cream of tartar. These cookies are the perfect example of soft on the inside and chewy on the outside.
The crispy edges of the cookies give them an extra crunch while you taste the soft and gooey center as soon as you take the first bite. The chewy and crusty combination is what makes these cookies much desired.
Did I mention the oh-so-tempting cinnamon and sugar coating? It is like the final touch of perfection, as the delicious sweet and spicy combination gives the cookies a unique flavor that's bound to be a crowd-pleaser!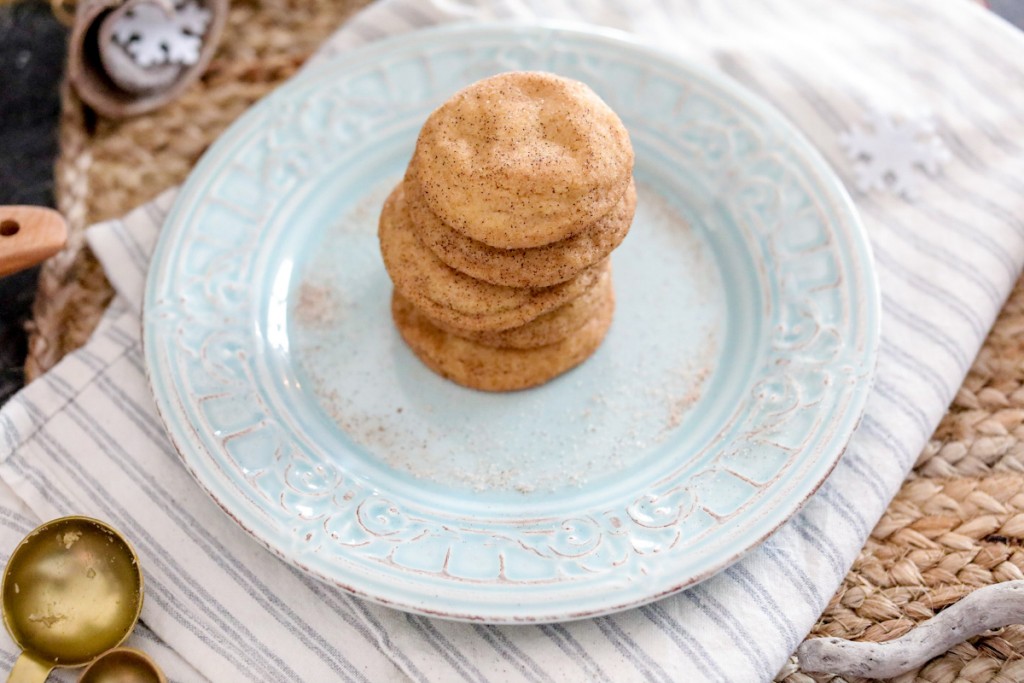 Plus, the snickerdoodle cookies can be ready in under 15 minutes. Just whisk up everything, coat the cookie dough balls with the cinnamon-sugar mixture, and into the oven they go!
So, even if you're in a time crunch or have unexpected guests, you can whip up these cookies and serve them fresh out of the oven!
Ingredients for Snickerdoodle Cookies Recipe
For the Cookie Dough
1 ½ cup flour: You can use all-purpose flour for this recipe for the best taste, but make sure to sift it before mixing with the wet ingredients.
½ cup sugar: To add some sweetness to the cookies.
⅓ cup light brown sugar: Brown sugar adds chewiness and texture.
½ cup unsalted butter: To give the cookies a rich, fluffy texture.
1 large egg: It acts as a binding ingredient while keeping the cookies soft and moist.
1 tsp vanilla extract: The deliciously sweet vanilla aroma enhances the cookies' overall flavor.
½ tsp baking soda: The rising agent for our recipe. You can't leave it out unless you want flat cookies!
¼ tsp cream of tartar: The highlight ingredient for a plush texture and a standout tangy taste.
¼ tsp salt: A pinch of salt keeps the cookies from getting overly sweet.
For the Cinnamon Mixture for Snickerdoodle Cookies Coating
2 tsp cinnamon: The main ingredient to give the cookies a woodsy and spicy flavor.
¼ cup sugar: To balance out the spice of the cinnamon.
Frequently Asked Questions
Here are some common queries regarding this easy cookie recipe. I hope they will answer your concerns.
Q. Can we replace cream of tartar?
Cream of tartar is the main ingredient for the snickerdoodle cookie recipe, giving it a tangy taste and chewy texture, unlike butter cookies. However, if you still want to replace the cream of tartar, add 2 teaspoons of baking powder instead and omit the baking soda. For the tanginess, add some lemon juice or vinegar.
Q. What can I do to make my Snickerdoodle cookies soft?
If you want your cookies to turn out gooey and soft, make sure to use the exact quantity of butter, baking soda, flour, and egg. If you mess up the ratios, your cookies can become hard. Also, under-baking the cookies by a couple of minutes helps keep them soft and chewy from the inside.
Q. How to store cooked Snickerdoodle cookies?
You can store cooked snickerdoodle cookies in an air-tight container in the fridge for up to 5 days and in the freezer for up to a month.
Q. How to freeze raw Snickerdoodle cookies dough?
Make cookie dough balls, keep them on a baking sheet, and place them in the freezer for a couple of hours or until they're frozen solid. Then transfer them to an air-tight container and freeze for up to 3 months.
Tips and Tricks
1. To make the snickerdoodle cookies even more soft and moist, add an extra yolk to the recipe.
2. The baking time is 12 minutes; however, if you take them out at 8 or 10 minutes, your cookies will be much softer.
3. To avoid a lumpy cookie dough, use eggs and butter at room temperature so that they can incorporate well.
More Cookie Recipes You'll Love
Yield: 2 dozen
Snickerdoodle Cookies
These soft baked snickerdoodle cookies will be gone in no time! Have a bake sale or holiday party coming up? Make these cookies!
Ingredients
Cookie Dough
1 ½ c flour
½ c sugar
⅓ c light brown sugar
½ c unsalted butter, softened
1 large egg
1 tsp vanilla extract
½ tsp baking soda
¼ tsp cream of tarter
¼ tsp salt
Cinnamon mixture for cookie coating
Instructions
Preheat the oven to 350 and line your baking tin with a silicone sheet, parchment paper or coat with baking spray.
Using a mixer and a large bowl, blend butter until creamy. Add the white and brown sugar to your bowl and mix well, next you will mix in the vanilla extract and egg until well combined.
Add the flour, baking soda, salt and cream of tartar to your bowl. Mix thoroughly and set aside.
In a small bowl, prepare the cinnamon mixture that you will use to coat your cookie dough by combining the ¼ c sugar with 2 tsp of cinnamon and mix well.
Next, using a tablespoon, scoop the cookie dough and form a ball using your hands. Roll the ball in the cinnamon sugar mixture and place onto your baking sheet. Repeat to desired amount.
Bake in the oven for 12 minutes. Allow to cool for 5 minutes and transfer to a cooling rack before serving.