Easter Sugar Cookies Recipe With Jellybeans
With Easter around the corner, I thought that these Easter Sugar Cookies with Jellybeans on top would be just the perfect cookie to make! Of course, we all know that I love making cookies. These Easter cookies are so super simple to make, are super adorable, and will add a little happiness to the faces of everyone around them to enjoy.
The sugar crystals that they are rolled in helps create a little bit texture, and a nice sweetened crunch when you bite into them. I can only image how many of these cookies that Angela is going to inhale! So, I guess I better make a triple batch for the whole family to enjoy…at least for the little time that the cookies will be around. I'm completely sure that you're family is going to enjoy them as much as mine are.
Easter Sugar Cookies Recipe Visual Guide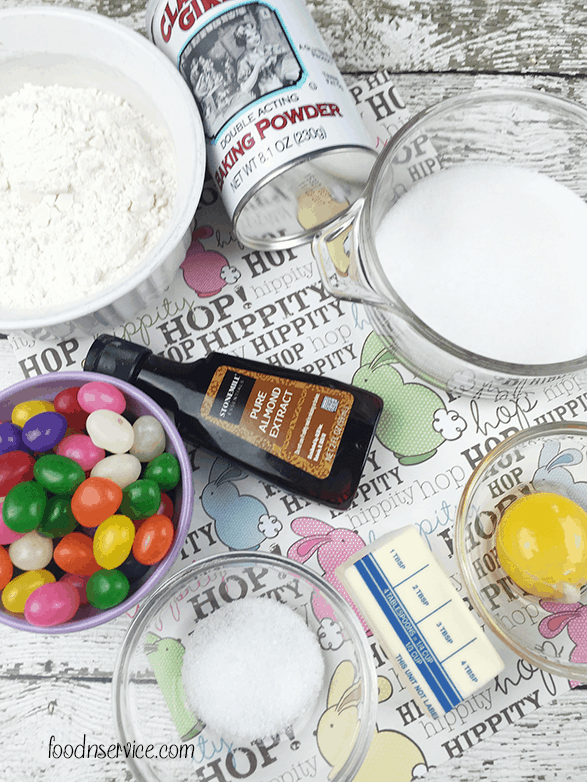 Here's the list of ingredients you need. Super Simple!
With your hands, roll the dough into little balls, about the size of a $0.50 piece.
Coat each dough ball with the Wilton's Sugar Sprinkles before onto the cookie sheet and putting in the oven.
More Easy Cookie Recipes You'll Love
Yield: 12
Easter Sugar Cookies Recipe With Jellybeans
Ingredients
1 stick butter (8 Tablespoons ) at room temperature
3/4 cup sugar
1 egg yolk
1/2 teaspoon baking powder
1/2 teaspoon almond extract
1/4 teaspoon salt
3/4 cup all-purpose flour
1/4 cup Wilton coarse sparkling sugar crystals
1 bag jelly beans (organic or dye free)
Instructions
Preheat oven to 350°.
Line two cookie sheets with parchment paper. Set aside.
In a large mixing bowl, add the butter and sugar. Cream with an electric mixer on medium speed until light and fluffy (about 2 minutes).
Mix in the egg yolk, baking powder, almond extract and salt until well incorporated.
Gradually, add the flour into the mixture and beat on medium speed until a dough begins to form. NOTE: the dough will be very coarse.
Because the dough is so course, you will need to use your hands to form the dough into small 1 inch balls.
Roll each cookie dough ball into a bowl filled with coarse sugar, covering each ball in sugar.
Place the balls of dough onto the cookie sheets at least 2 inches apart.
Bake for 10 minutes exactly.
Leave cookies on the cookie sheet for five minutes before transferring them to wire racks to cool.
Before they completely cool, gently press a jellybean into the middle of each cookie.
ENJOY!!