Easter Meringue Nests are stunning Easter-inspired treats made with a simple meringue nest base. Once baked and cooled, these meringue nests are filled with a sweet and tangy cream cheese filling and topped with pretty pastel-colored mini chocolate eggs and grated chocolate.
Enjoy the chewy and crispy meringue against the sweet and creamy filling and rich chocolate – perfect alongside vanilla ice cream or a white chocolate mousse.
What are Easter Meringue Nests?
Easter meringue nests are cute, holiday-themed dessert 'nests' made from meringue, which is sweetened egg whites beaten into a thick white mixture. Then, they're decorated with mini eggs to look like real eggs inside a nest.
What is meringue and how is it made?
Meringue is a sweet and fluffy foam made by beating egg whites and sugar together with cream of tartar. It's a versatile ingredient used in many different desserts. Meringue cookies are a popular holiday treat.
Recommended
Cranberry Pavlova Christmas Meringue
Beautiful Lavender Macarons
Earl Grey Macarons
Tips and Recipe Notes (Should NOT be ingredient substitutions)
Use clean equipment: Even a bit of residue can ruin meringue, so make sure your mixing bowl and beaters are completely clean before you start.
Use room temperature egg whites: Take your egg whites out of the refrigerator 30 minutes to an hour before you plan to make your meringue. Room-temperature egg whites whip up more easily than cold ones, and they will make a foam with even more volume, resulting in airier cookies.
Add sugar gradually: Add the sugar a few tablespoons at a time while whipping the egg whites. Adding the sugar too quickly can cause the meringue to collapse.
Use caster sugar: Caster sugar is 'superfine' sugar, and it's known for helping make a smoother, more stable meringue than regular granulated sugar.
Don't remove the meringue from the oven until it seems fully dry and hard. This will keep your meringue from getting sticky.
Ingredient Substitutions
Sugar – try caster sugar (superfine sugar) instead of granulated sugar for a more stable meringue.
Cream of tartar – If you don't have any cream of tartar, you can use 1/2 tsp of white vinegar, baking powder, or lemon juice.
Candy – you can use all kinds of candy to decorate your eggs however you'd like
Cream cheese frosting – you can use our recipe or make things even easier by using store-bought icing. Any icing recipe will do!
How Do I Store Easter Meringue Cookies?
It's important to store meringue cookies properly so they don't become sticky! Here are the steps to make sure you don't end up with inedible meringue nests:
Cool the meringue cookies completely. This is the best way to make sure they stay crispy.
Place them in an airtight container.
Use parchment paper or wax paper between the cookies if you need to stack them.
Store at room temperature. Meringue cookies always keep their texture best in the driest place. The fridge can make them sticky.
Consume within a few days. Because you'll keep these out of the fridge, you'll need to eat them within 2 days.
Can I Freeze Meringue Cookies?
These Easter meringue nests won't freeze well. I recommend making them fresh and enjoying them within 2 days.
Can Easter meringue nests be made ahead of time?
Yes, but only a day or so ahead of time. These contain eggs and cream, so they should be eaten within 2 days. Meringue can also get sticky in time, so eating them up quickly is best.
More Yummy Easter Recipes You'll Enjoy
From Easter brunch to Easter treats, we've got you covered! Try any of these for your Holiday celebrations this year:
Slow Cooker Breakfast Casserole
Breakfast Enchiladas
Crockpot Cinnamon Roll Casserole
Instant Pot Reeses Peanut Butter Eggs
Yield: 10-12 Nests
Easter Meringue Nests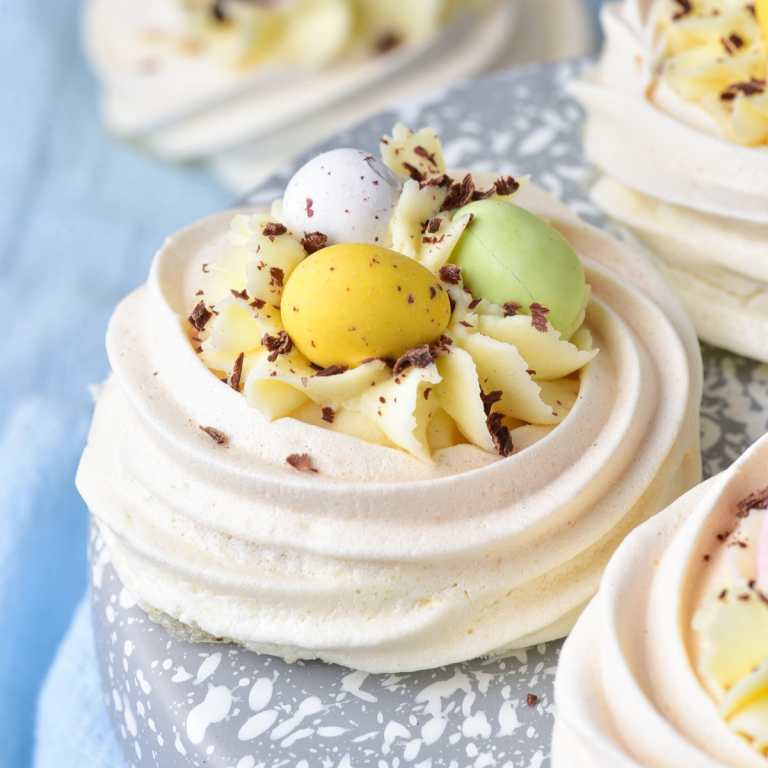 Cook Time
2 hours
30 minutes
Additional Time
30 minutes
Ingredients
1 cup white sugar
3 egg whites
1/3 tsp cream of tartar
1 tsp vanilla paste
1/2 cup cream cheese
1/2 cup whipping cream
4 tbsp powdered sugar
1 piece of chocolate
30-36 mini chocolate eggs
Instructions
Preheat the oven to 175F. Pour cream of tartar into a deep bowl and add egg whites. Start whisking until a light foam appears on the surface.
When foam appears, add all the sugar in 2 times and beat at maximum speed until you get a fluffy and dense meringue.
Transfer the meringue to a piping bag fitted with a star tip (open or closed).
Pipe the meringue onto a silicone mat or parchment on a baking sheet. First, you need to make the bottom of the nest, and then one turn of the meringue around the edge to get the sides. Put the baking sheet in the oven and dry the meringue for 1.5-2 hours. Do not open the oven for the first hour. After an hour, you can check the readiness of the meringue by pressing it with your finger. If it is too soft or bouncy, then continue drying for another 30-60 minutes. The drying time may depend on the wall thickness of the meringue and on its diameter.
When the meringue is almost ready, make the cream cheese frosting. Mix cream cheese, whipping cream, vanilla paste and powdered sugar in a bowl.
Beat the ingredients with a mixer until you get a fluffy thick cream.
Transfer the cream cheese frosting to a piping bag fitted with a star tip.
Pipe the frosting in the center of each meringue nest.
Decorate the nests with grated chocolate, and put chocolate mini eggs in the center. It is better to store the meringue in a dry place so that it does not become sticky. Since it contains cream, it is best to eat within two days.