Eggs, sausages, and salsa – oh my! These delicious breakfast enchiladas are the perfect way to start your day. And trust us, they're worth waking up for!
Breakfasts can be challenging. You're usually rushed, trying to get out the door and off to your day. And let's be honest, sometimes cereal just doesn't cut it. But I've got the perfect solution for you – breakfast enchiladas! It took me years to perfect this recipe, but it was worth the wait.
These little beauties are packed with protein and flavor and will keep you full until lunch. Plus, they're super easy to make and freeze for those mornings when you just can't even.
Why We Love Enchiladas for Breakfast?
What's your breakfast motto? Quick and healthy? Yes, that makes sense. But what about delicious and satisfying? Because that's what these breakfast enchiladas are all about.
Sure, you could make a protein shake or have some yogurt, but where's the fun in that? These enchiladas are packed with eggs, sausage, and cheese – everything you need to start your day off right. And trust me, they're a million times tastier than anything you can find in a drive-thru.
Plus, they're super easy to make ahead of time. Just whip up a batch on the weekend and freeze them for those mornings when sunshiny isn't cutting it.
Oh, and they're infinitely customizable. Don't like sausage? Swap it out for bacon or ham. Don't like cheese? Leave it out altogether. The possibilities are endless!
When you bite into one of these breakfast enchiladas, it'll transport you to a sunny place where the coffee is always hot, and the sun is always shining. So, go ahead and hit snooze a few times – these enchiladas will be waiting for you when you're finally ready to face the day.
Now, the moment of mouthwatering truth – the recipe!
The Best Breakfast Enchiladas Recipe Ingredients
Ingredients for Enchilada Salsa:
Butter: Butter gives the salsa a rich flavor and creaminess that you can't get from olive oil. Be mindful of the salt content in your butter, as this will impact the overall flavor of your salsa.
All-purpose flour: The thickener of choice for this recipe. You could also use cornstarch, but flour gives the salsa a smoother texture.
Ground cumin: Cumin is a key flavor in enchilada sauce. You could try subbing in smoked paprika or chili powder if you don't have any on hand.
Milk: I prefer to use whole milk for this recipe, but you could also use 2%, 1%, or even skim. Just know that the fat content will impact the flavor and texture of your salsa.
Cream cheese: I like block-style cream cheese, but you could also use the spreadable kind. Ensure it's at room temperature to easily incorporate it into the sauce.
Salsa: Use your favorite store-bought salsa or whip up a batch of homemade salsa. I like mine to be chunky, but you could also use a smooth salsa if you prefer.
Grated mild cheddar: Cheddar is my cheese of choice for these enchiladas, but you could also use Monterey Jack, pepper Jack, or mozzarella.
Ingredients for the Filling:
Eggs: Large eggs are best for this recipe. If you only have small eggs on hand, you'll need to use more – about 10 or 11.
Andouille sausage, diced: Andouille sausage is a Cajun-style smoked sausage typically made with pork. It has a great flavor and a little heat, but you could also use chorizo, kielbasa, or ground beef.
Pre-cooked bacon: I like to use it because it's less of a hassle, but if you've home-cooked ones, nothing beats that!
Mild cheddar: Feel free to use your favorite cheese here.
Soft tortillas: Soft, or flour, tortillas are milder in flavor than their counterpart, corn tortillas. I like my toppings and salsa to take center stage, so I prefer flour tortillas. But if you're a fan of corn, go ahead and use those!
Salt and pepper to taste
Ingredients for Toppings:
Grated mild cheddar: Cheddar has a nice, sharp flavor. It's the crumbly cheese that you typically find on top of chili or nachos.
Springs cilantro, diced: Cilantro is a common ingredient in Mexican cuisine. It has a fresh, earthy flavor that pairs well with the other ingredients in this dish.
Instructions
Melt the butter, add the flour and fry it for 30 seconds.
Pour in milk, and add cumin, salt, and pepper. Bring to a boil.
Add cream cheese, cheddar, and salsa. Cook until the cheese is melted.
In a separate pan, fry the eggs until they are set. You can create scrambled eggs to distribute evenly in the tortillas if you wish.
Put a fried egg, sausage, and bacon on each tortilla.
Drizzle salsa over enchiladas and sprinkle with cheese.
Roll tightly into a tube, and put in a mold. Drizzle the remaining enchilada with salsa.
Sprinkle with remaining sausage and cheese. Cook in the oven at 190 degrees for 20 minutes. Sprinkle the finished dish with cilantro.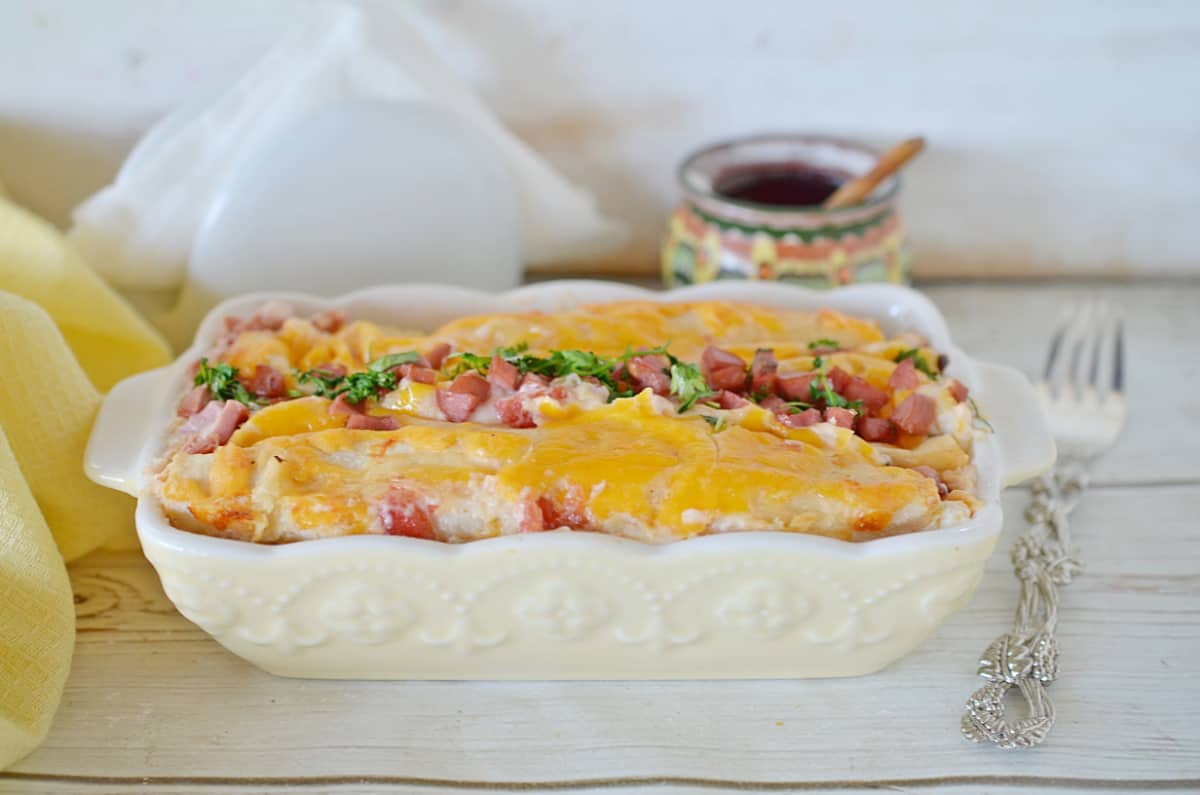 FAQs:
Behind a lip-smacking dish like this, there are bound to be some questions. So let's get to them
What kind of sausage should I use for Breakfast Enchiladas?
It is entirely up to you! I like spicy sausage, but you can use whatever you like or have on hand.
Can I Make Breakfast Enchiladas Ahead of Time?
Why not! Just assemble them the night before and pop them in the oven in the morning. Leave out the sauce, though. Otherwise, they'll get soggy.
It'll be so quick; you won't get a chance to say "enchilada"!
What's the Right Way to Store the Leftovers?
If you have any leftovers (unlikely, but possible), just store them in an airtight container in the fridge. They'll be good for up to 2 days.
Can I Freeze Breakfast Enchiladas?
Absolutely! Just wrap them tightly in foil or freezer-safe bags, and they'll keep in the freezer for up to 1 month. Then, when ready to eat, just thaw them overnight and bake them as directed. Again, keep your toppings like sour cream, cheese, and green onions on the side, so they don't get mushy.
What Variations Can I Make?
Creativity in a dish like this is key. Here are a few ideas to get you started:
Add some veggies: Spinach, mushrooms, onions, peppers, and tomatoes all work great in this dish. Zucchini and diced mangoes are terrific too.
Get creative with the sauce: Red enchilada sauce is traditional, but you can also use green sauce, mole sauce, or plain salsa.
Try different tortillas: Flour tortillas are most commonly used, but you can also use corn tortillas or even rice paper wrappers. You just need the right size to fit your pan.
Play with meat: The beauty of this dish is that you can use any meat you like. Chicken, ground beef, and even shrimp all work great.
More Delicious Breakfast Recipes to Make