Mississippi Chicken Sliders
The name Mississippi Chicken Sliders instantly conjures up thoughts of savory, southern, goodness. I'll bet your mouth is watering already!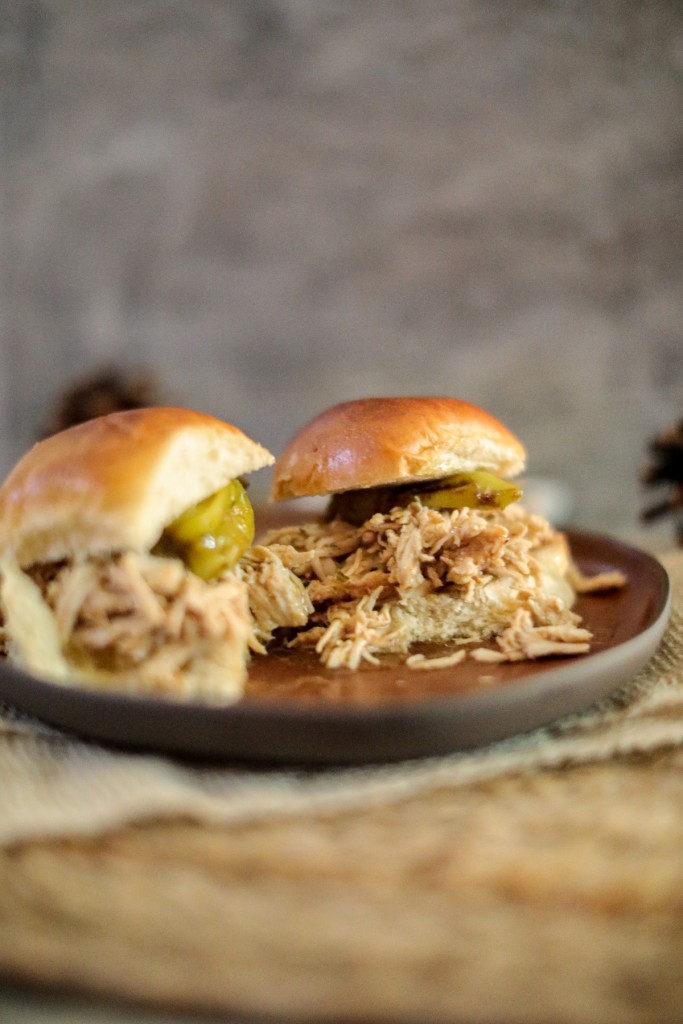 With just a slow cooker, some chicken, 5 simple ingredients, and a package of buns you can come home to a meal the whole family is sure to love. Prepare your chicken and place it in your crockpot. Top it with the remaining ingredients, set it to cook, and the result is a flavorful, mouthwatering, weeknight favorite.
What are Mississippi Chicken Sliders?
Mississippi Chicken Sliders are a fresh take on classic Mississippi Pot Roast Sandwiches. In this recipe, we substitute chicken breast for chicken thighs for a more budget-friendly option, and pretty much guarantees a tender, juicy result.
By using a slow cooker, they are so easy and almost foolproof. The shredded meat makes a versatile base for a variety of serving options. Which is why I love this recipe so much – it's a one pot meal that you can easily set and forget!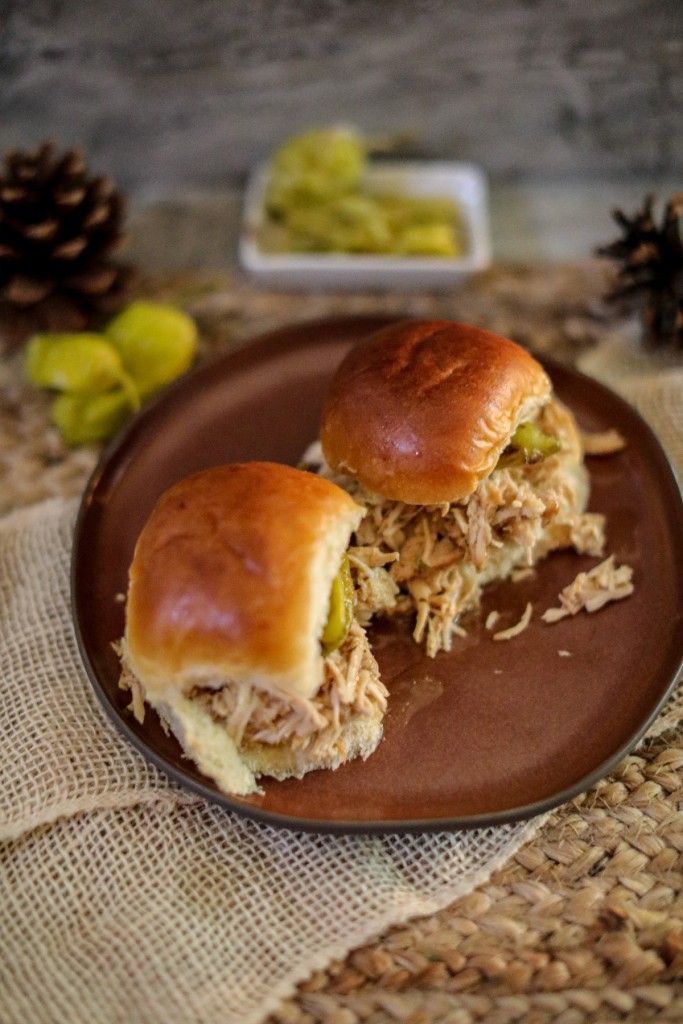 How Do I Store Mississippi Chicken Sliders?
Store leftover chicken in a shallow, airtight container in your refrigerator for 3-4 days.
Reheating is best done in the microwave. Add a tablespoon of water to the chicken, cover with pierced plastic wrap, and microwave on high for 30-45 seconds until piping hot throughout. Serve immediately for another simple and delicious dinner.
Can I Freeze Mississippi Chicken Sliders?
You can store the chicken in the freezer, but pre-made sandwiches won't freeze very well. To store the chicken, let it cool completely and place it in an airtight container or a Ziploc bag and freeze until ready to use. For the best flavor, chicken should be used within 4 months.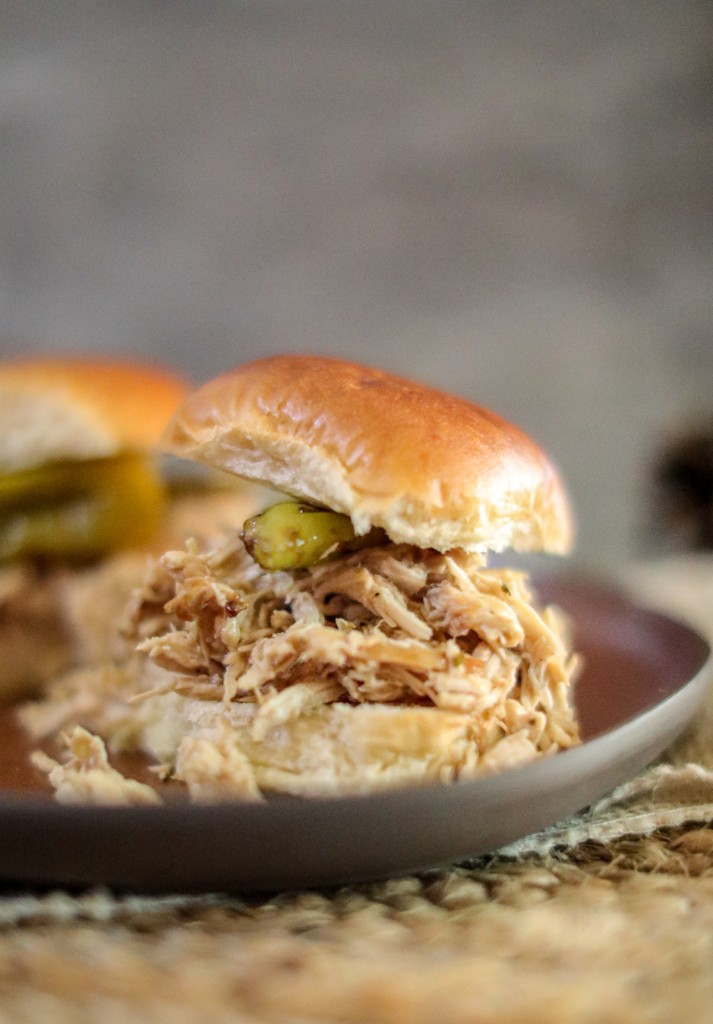 Can I make these Chicken Sliders in the Instant Pot?
You totally can, and it's super simple to do, too. Here's what you'll need to do! Get a 1/2 cup of water. Place water into your Instant Pot liner, then add your chicken breasts, and then add all remaining ingredients.
Close and lock lid in place. Close the vent. Press the PRESSURE COOK button and cook on high pressure for
Can I substitute banana peppers for pepperoncini peppers in this recipe?
Pepperoncinis are technically 'hot peppers,' but they have a sweet flavor and mild heat. They can easily be substituted for any pepper you have on hand. Banana peppers will give a milder flavor while jalapenos will give it a kick
Tips for Making Mississippi Chicken Sliders
Use pre-trimmed chicken or chicken tenders to make your preparation even easier.
You can use chicken breast be used but should be cut it into uniform strips to ensure even cooking.
Sweet Hawaiian buns are really yummy with this recipe because they compliment the savory flavor of this chicken. You can even find them in slider size! But any favorite buns will do the trick.
You can easily substitute boneless and skinless chicken thigh meat! You would cook for the same exact amount of time as required.
Int his recipe, we use WHOLE Pepperoncinis and not the sliced ones. It's really a preference! If you use sliced ones, you can use a 16oz jar of them. You can also use about 1/2 cup of liquid
Want to take this recipe up a notch? Preheat an oven to 375°F. Get some sliced gouda or muenster cheese from the fridge. Fill the sliders with the shredded chicken and a slice of cheese and place on a parchment paper lined baking sheet.
Melt a stick of unsalted butter. Using a silicon brush, spread the top of the buns with the butter. Place in the oven and cook for 5-7 minutes, or until the tops have reached a nice golden brown color or the cheese has melted. SO GOOD!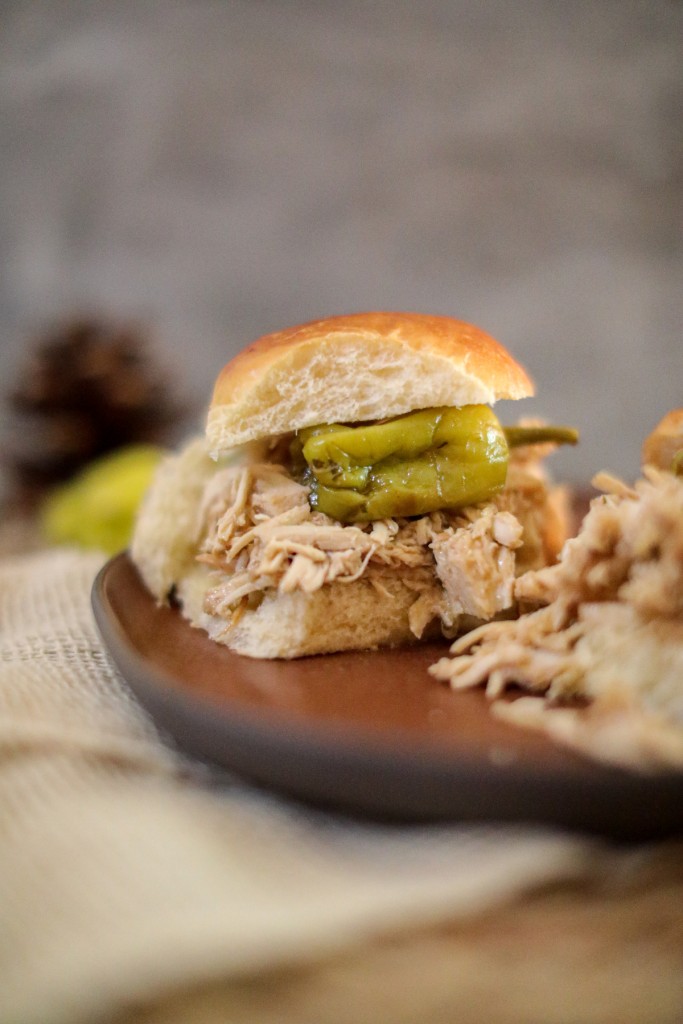 Recommended
Crockpot Teriyaki Chicken
Instant Pot Hawaiian Chicken
Instant Pot BBQ Chicken
Notes
Try some recipe variations like crumbled bacon for a saltier taste or ramp up the heat with Monterey Jack cheese or a spicy cheddar.
Spicy mustard or provolone cheese taste really good with the flavor of Mississippi Chicken Sliders.
Substitutions
Bread – Substitute the bread with rice or cauliflower rice for a low-carb version that is still loaded with flavor. You can also spoon chicken over pasta or mashed potatoes for variety.
More Yummy Slow Cooker Chicken Recipes You'll Enjoy
Chicken Fajitas
Chicken and Dumplings
Crockpot Pot Roast
Sweet Chili Chicken
Pulled BBQ Pork