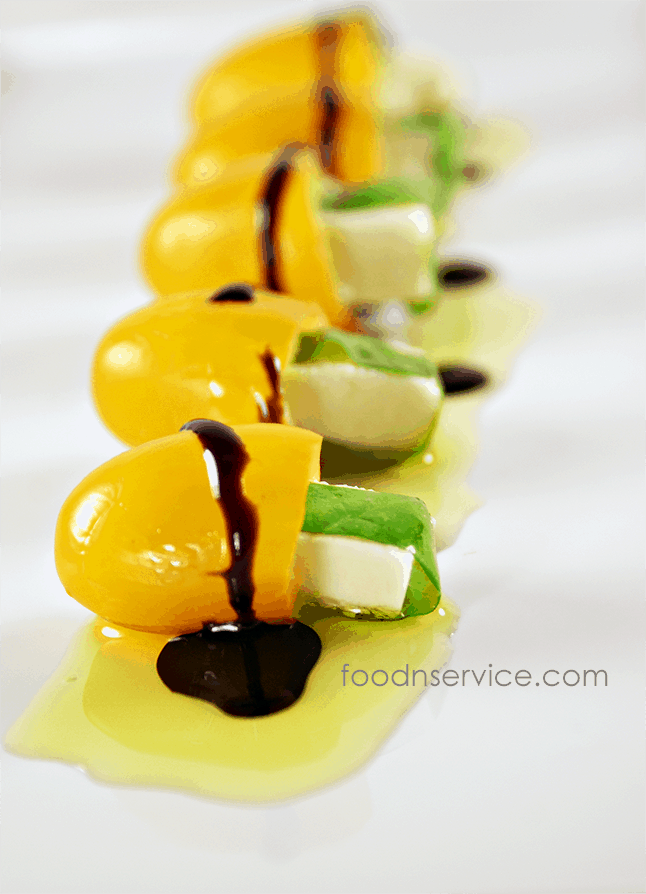 Mini Caprese Appetizer Recipe
There's nothing better than a delicious caprese salad to add a special dash of vibrancy to your palate. Between the freshness of the basil, the creaminess of the fresh mozzarella, and the sweet crunch of the tomato…it's a perfect harmonious marriage of flavors. If you've read my other recipes, you know that I love doing tearing recipes apart, and find new and unique ways to make food fun & creative. Don't get me wrong, I'm more than happy to slice up a big juicy tomato and then layer out my ingredients. This is just a super fun approach that is not only appealing on the eyes, but great for dinner parties and cocktail parties alike! It's a great recipe, since it's all an approach to clean eating, too. I hope you enjoy!

Yield: 22 pieces
Mini Caprese Appetizers
Ingredients
1 carton of organic yellow grape tomatoes
7 - 8 large sized fresh basil leaves
1 block of organic mozzarella cheese
EVOO (Extra Virgin Olive Oil)
1 cup Balsamic Vinegar
1/2 teaspoon of Organic Sugar
Instructions
In a small pot over a medium heat, add balsamic vinegar and organic sugar. Bring to small rolling boil until most of the liquid has reduced out of it. You will have approximately 1/3 of your original liquid left. Remove from heat and allow to cool to room temperature.
With a paring knife, cut off tops of tomatoes and slight hollow out the middle.
Cut slices of mozzarella, and then make long strips of them. In the end, you want rectangular shaped pieces.
With a sharp knife, cut thin slices of basil from the leaves. I don't recommend using the stem in this appetizer. On a side note: I found it best to cut the leaves vertically along the sides of the stem.
Wrap each piece of mozzarella with a thin strip of basil and light push it into the tomato
Place on plate (or toothpicks) and drizzle EVOO and your balsamic vinegar reduction across.
');