Mini Caprese Appetizers are inspired by the classic Italian Caprese salad, boasting the delicious and familiar flavors of juicy tomato, creamy mozzarella cheese, basil, and balsamic reduction.
These mini Caprese appetizers are assembled in hollowed yellow grape tomatoes which are filled with basil-wrapped mozzarella, and drizzled with sweet and tangy homemade balsamic reduction.
Enjoy these cute mini Caprese appetizers alongside other snacks and finger foods for upcoming parties.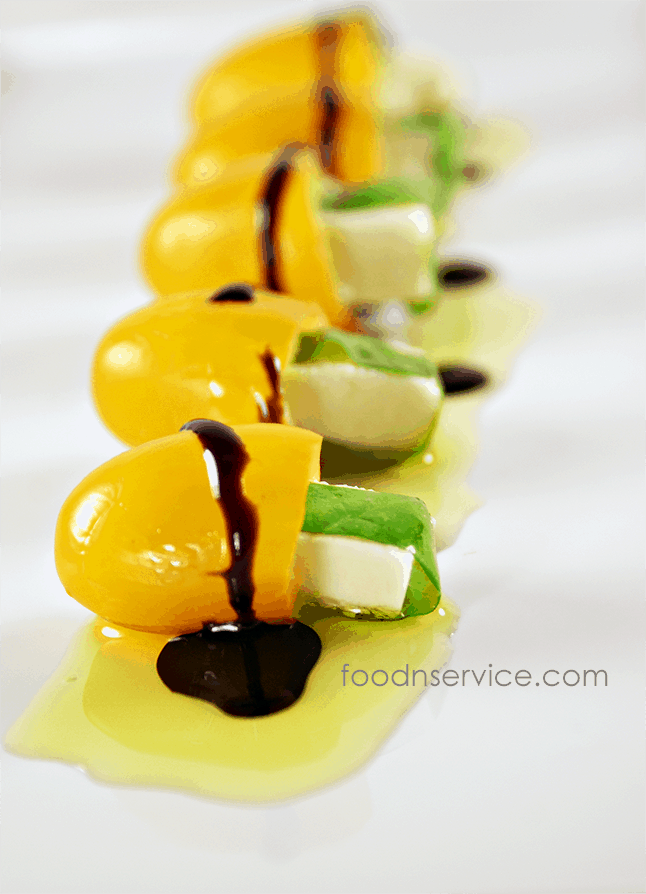 WHAT YOU SHOULD KNOW ABOUT MINI CAPRESE APPETIZERS
Mini Caprese appetizers typically consist of layers of cherry tomatoes, mozzarella cheese, and basil leaves that are skewered on toothpicks or mini skewers and then drizzled with balsamic glaze.
In this recipe, I've modified this appetizer by using yellow grape tomatoes as a base for holding rectangular cuts of fresh mozzarella cheese wrapped in thin slices of fresh basil leaves. The appetizers are then drizzled with a homemade reduction of sugar and balsamic vinegar – yummy!!
WHAT PAIRS WELL WITH THESE MINI CAPRESE APPETIZERS?
Serve these mini caprese appetizers on a platter or charcuterie board alongside Italian meats (salami, prosciutto, and coppa), crostini, olives, and dip with crackers and serve with your favorite wine!
CAN I STORE MINI CAPRESE APPETIZERS?
Yes, you can store these caprese appetizers in an airtight container in the fridge, but I recommend only storing them for a day at most for the best flavor and texture.
Don't freeze these mini caprese appetizers – they won't hold up well, and the texture will be significantly affected.
WHAT VARIATIONS CAN I MAKE TO THESE MINI CAPRESE APPETIZERS?
Instead of using grape or cherry tomatoes, consider assembling these mini caprese appetizers with hollowed strawberries.
Make mini caprese skewer appetizers by loading sliced tomato with cubed mozzarella and skewered basil, with balsamic glaze drizzled over. Other fruit, such as watermelon, could also be added to the skewer for a sweet and salty flavor combination.
Add pesto sauce over these mini caprese appetizers for a delicious herby flavor.
Use red grape tomatoes or cherry tomatoes instead of yellow grape tomatoes.
HOW SHOULD I PREPARE THE BASIL FOR THESE APPETIZERS?
Wash the basil leaves and pat dry with a paper towel. Remove the stems of the basil leaves (these are bitter and woody), and cut the basil leaves with a sharp knife into thin slices, cutting the leaves vertically along the sides of the stems.
TIPS FOR MAKING MINI CAPRESE APPETIZERS
These appetizers are made with minimal ingredients. It's important that these ingredients are fresh and high-quality for the best flavor and texture.
Try to use uniform-sized grape tomatoes and slice and cut the mozzarella cheese and basil leaves uniformly. This will make your appetizers look neat and eye-catching.
Add some variety to the appetizers by using a mixture of red and yellow tomatoes.
Place toothpicks alongside these mini caprese appetizers in case your guests don't want to use their fingers.
Serve these mini caprese appetizers at room temperature. They are best enjoyed immediately after assembling.
Sprinkle a pinch of salt over these cheese filled appetizers if you like. Personally, I think the balsamic reduction offers enough sweetness and saltiness.
More Delicious Appetizers to Enjoy
Yield: 22 pieces
Mini Caprese Appetizers
These mini Caprese appeteizers make the perfect bite for any occasion !
Ingredients
1 carton of organic yellow grape tomatoes
7 - 8 large sized fresh basil leaves
1 block of organic mozzarella cheese
EVOO (Extra Virgin Olive Oil)
1 cup Balsamic Vinegar
1/2 teaspoon of Organic Sugar
Instructions
In a small pot over a medium heat, add balsamic vinegar and organic sugar. Bring to small rolling boil until most of the liquid has reduced out of it. You will have approximately 1/3 of your original liquid left. Remove from heat and allow to cool to room temperature.
With a paring knife, cut off tops of tomatoes and slight hollow out the middle.
Cut slices of mozzarella, and then make long strips of them. In the end, you want rectangular shaped pieces.
With a sharp knife, cut thin slices of basil from the leaves. I don't recommend using the stem in this appetizer. On a side note: I found it best to cut the leaves vertically along the sides of the stem.
Wrap each piece of mozzarella with a thin strip of basil and light push it into the tomato
Place on plate (or toothpicks) and drizzle EVOO and your balsamic vinegar reduction across.