Instant Pot Loaded Baked Potatoes
Have you tried Instant Pot Loaded Baked Potatoes? If you haven't, this is your clear invitation to try making them TODAY! These delicious, buttery potatoes, make a perfect pairing for any dish or a great stand alone meal!
A tasty side to any dish, these Instant Pot loaded baked potatoes come out fluffy, flavorful, and delicious! Topped with tender, buttery broccoli, crispy bacon, and melty cheese, it's really hard to resist this dish. And because they're made in an Instant Pot, they're beyond simple to make, don't take up your oven space, and take almost no time at all to clean up!
What is a Loaded Baked Potato?
Loaded baked potatoes, sometimes called twice-baked potatoes, are a side dish that goes well with almost any protein. Potatoes are baked, then the insides are scooped out and turned into buttery mashed potatoes. They're then put back into the potato skins. In this recipe, we topped them with broccoli, savory bacon, and Colby jack cheese, then baked them again until the cheese is melted and bubbly.
What Kind of Potatoes Are Best for Baking?
There are so many kinds of potatoes in the produce section, it can be hard to know which to buy! When baking potatoes, you want a thicker skin, especially if you're making loaded potatoes. This will let you scoop out the inside while keeping the outside strong and intact. Here are some types of potatoes and what they're best for:
Russet potatoes – Large, brown-skinned potatoes with a mealy texture, these are the best option for baking, mashing, and frying.
Yukon Gold potatoes – With a yellowish-brown skin and a buttery flavor, they're versatile and can be used to make boiled, roasted, and mashed potatoes.
Red potatoes – Thin, red skinned, and waxy in texture, red potatoes are great for boiling and roasting, and are wonderful for making potato salad.
Fingerling potatoes – These are small, thin potatoes that have a firm texture. They are delicious roasted or grilled, and are particularly yummy slathered in butter.
Purple potatoes – With a vibrant purple skin and flesh, they're delicious when roasting and can be boiled for mashed potatoes and potato salads.
Here's a quick guide to selecting your potatoes:
If you're buying in bulk (like a large bag), feel the bag for squishy potatoes. You can also feel for size and shape.
For baked potatoes, larger ones work best. If they are long and round, even better.
Choose firm potatoes that don't have soft spots in them.
Try to choose potatoes that are similar in shape and color; this will help them cook more evenly.
How Do I Store Instant Pot Loaded Baked Potatoes?
In the Fridge: Store any leftover baked potatoes in an airtight container in the fridge for up to 4 days.
In the Freezer: You can certainly freeze loaded baked potatoes! Once they've fully cooled, wrap the potatoes in foil or plastic, place them in a freezer bag, and freeze them for up to 3 months.
To Reheat: Reheating baked potatoes can be a bit tricky because they are thick, so the outside tends to get hot long before the inside. One trick that can help is to make a few cut marks into the center before reheating so the heat can more easily penetrate deep into the potato. You can reheat these in the microwave in 45 second bursts until hot throughout. You can also wrap them in foil and place them in the oven at 350 for 20-25 minutes or until hot.
Can I Make Instant Pot Loaded Baked Potatoes in the Oven?
This recipe can easily be made in the oven instead of the Instant Pot. Preheat your oven to 400 degrees. Pierce whole potatoes with a fork or knife to allow steam to escape, then place them on a baking sheet and bake for 1 hour or until tender.

Steam the broccoli in a pot with water, then season as the recipe calls for in Step 5. Continue with the recipe as normal, beginning with Step 6.
Tips for Making Instant Pot Twice-Baked Potatoes
The pot inside the Instant Pot will be very hot, so handle with care and wear oven mitts.
You can make this recipe vegetarian by skipping the bacon.
You can top these delicious loaded baked potatoes with extra butter and sour cream for even more flavor.
Recommended
Potato Stacks Recipe
Duchess Potatoes
Cowboy Crockpot Potatoes
Substitutions and Recipe Variations
Loaded Baked Potatoes are so yummy, you can dress them up and change them up in so many different ways. Here are a few I've tried and liked:
Cheese: You can use any kind of cheese that you prefer. Mozzarella is delicious, and so is a spicy jalapeno blen.
Broccoli: Substitute other veggies like cut asparagus spears or cauliflower.
Bacon: You don't have to include bacon. You can also substitute turkey bacon, or for a real treat, try pulled pork!
Chili: A yummy scoop of chili on a twice-baked potato is delicious.
Salsa: Instead of bacon and broccoli, try a Mexican twist with melted cheese, sour cream, and salsa on top.
Guacamole: I think guacamole is good on everything. It might not be for everyone, but I'm a fan of a bit scoop of guacamole on top of my potato in place of sour cream.
More Flavorful Recipes You'll Enjoy
If you like this satisfying Instant Pot Loaded Baked Potatoes recipe, you'll definitely want to check out these side dishes below!

Slow Cooker Country Potatoes
Vegetable au Gratin
Cauliflower Fritters
Instant Pot Corn Casserole
Instant Pot Pork and Beans
Yield: 6
Instant Pot Loaded Baked Potatoes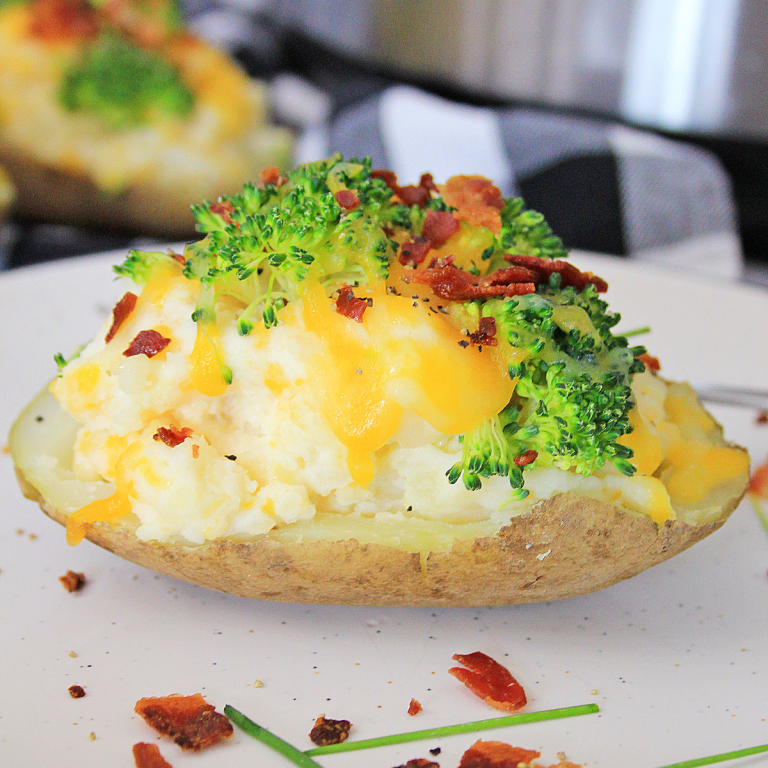 Whip up these easy Instant Pot loaded baked potatoes for a dish that features fluffy potatoes, crispy bacon, tender broccoli, and lots of melty cheese.
Additional Time
10 minutes
Ingredients
6 white baking potatoes
2 sticks of butter, divided
8 slices of bacon, cooked and crumbled
1 teaspoon of minced garlic
1 teaspoon of garlic salt
1 teaspoon of seasoned salt
1 teaspoon of seasoned pepper
1/2 cup of shredded colby jack cheese
2 cups of steamed broccoli florets
Instructions
Wash the potatoes, and place them in the Instant Pot. Add 1 cup of water and sprinkle with garlic salt. Place the lid on the Instant Pot, locking it into place. Make sure the PRESSURE VALVE is set to SEALING. Press the MANUAL button, and set the time for 6 minutes.
When the Instant Pot finishes cooking, do a quick release by turning the PRESSURE VALVE from the SEALING position to VENTING. Make sure all the pressure is released and the FLOAT VALVE is down. Remove the lid, and using tongs, remove the potatoes and allow them to sit for about 5 minutes.
While the potatoes are resting, place the trivet that came with your Instant Pot in the bottom of the pot. Place the broccoli florets in a steamer basket, and place the basket in the Instant Pot on top of the trivet.
Add 1 cup of water, and place the lid on the Instant Pot. Make sure the pressure valve is set to SEALING. Press the MANUAL button and set the time for - 0 - minutes. Let the Instant Pot come up to pressure, and as soon as it beeps, turn the valve to VENTING, ensuring the pressure has been released.
Let the broccoli sit in the Instant Pot for 1 minute, then remove it from the steamer basket, and place the broccoli in a bowl. Melt 1/3 cup of butter, and sprinkle garlic salt on top. Pour melted butter over the broccoli, and toss.
Place the potatoes on a parchment-lined cookie sheet. With a sharp knife, cut the potatoes open lengthwise. With a large spoon, scoop out the inside of the potatoes, and place them in a bowl. Mash the potato that has been scooped out, and place 1/2 stick of butter in the mashed potatoes. Let the butter melt, then stir well.
Add the garlic salt, seasoned salt, and seasoned pepper then stir. Add the minced garlic, half of the shredded cheese, and half of the crumbled bacon. Stir to combine.
Fill the hollowed-out potato skins with the mashed potatoes until they're full. Place broccoli florets on top of each potato, then sprinkle the remainder of the crumbled bacon and cheese.
Then place the cookie sheet in the oven at 400 degrees for 10 - 15 minutes, or until the cheese is melted, bubbly, and slightly browned.
Remove the potatoes from the oven, serve, and enjoy!
Notes
Yes, you can easily cut this recipe in half and 1/4ths!
The potatoes will be very hot, so use a fork or tongs when handling them.