Halloween Potluck Recipe Ideas
October is the perfect month for potlucks and parties because it's not hot anymore but not freezing cold yet! Not to mention the funnest holiday of them all to celebrate! Check out this list of Halloween recipe ideas for your spooky events!
Spooky Sweets
Mummy Peanut Butter Cookies These soft and chewy, Mummy Peanut Butter cookies are sweet, chocolaty and are an adorable Halloween treat. Perfect for parties, this easy no bake treat looks adorable on party trays! The eyes are perfection!
Halloween Bat Cookies If you're looking for a "Batty" Halloween potluck recipe idea, then put this at the top of your list! It takes a basic sugar cookie, Oreo cookie, and Rolo! Chewy caramel added to the mix? Yes please!
Graveyard Dirt Cups These spooky graveyard dirt cups are so fun! Filled with creamy chocolate pudding and cool whip, then topped with crushed Oreos these dirt cake cup desserts are easy to make. Then add lots of spooky Halloween style headstones, ghosts, bones and gummy worms to make the ultimate fun dirt pudding Halloween dessert.
Monster Cupcakes will be a sure winner to add a little extra scare in your Halloween Sweet Treats mixer! They're adorable and super delicious!
Bloody Eyeball Monster Sheet Pan Cookies Halloween potluck ideas like one sheet pan cookies are so easy to make. You don't have to worry about their shape getting messed up because you get to cut them into squares afterwards.
Monster Brownies These monstrous Halloween brownies are every bit as easy as they are spooky. And with just a few store bought ingredients, you can whip up this frightful treat in just 20 minutes.
Mummy Apple Tarts These adorable mummy tarts make the perfect Halloween dessert recipe that the whole family will love. Serve these up for your Halloween parties or simply a special treat for your kids to enjoy!
Spooky Rocky Road Halloween Rocky Road is fun, delicious and an ideal sweet treat or edible gift. It is a favorite no-bake dessert for chocolate lovers. Dark and milk chocolate are combined with rice bubble cereal, marshmallows and snake lollies. Decorated with a drizzle of white chocolate for a spider web effect and more snakes, this is the ideal festive Halloween treat!
Maple Mummy Cookies These Maple Cinnamon Cookies have the warm flavors of maple, cinnamon, and brown sugar! The finishing touch is the maple vanilla glaze, which I suggest you apply with abandon!
Pumpkin Pie Pumpkin pie is a classic Halloween potluck idea. This season is always a crazy time for me. We are often busy planning activities, making costumes and wondering what on earth to make for the Halloween party.
Monster Cake This Monster Cake is the cutest way to decorate a cake for this Halloween! This DIY monster cake recipe is so easy you won't believe how great it turns out.
Spooky Fun Cupcakes Although these look like they're from a bakery, the delicious Halloween cupcakes are SO easy to make.
Broken Glass Cupcakes Ghoulishly good and so easy to make! These can be made with white or red velvet cupcake. I love the crunch mixed with the soft texture of the icing.
Mummy Cherry Pies These adorable mummy cherry pies are the perfect spooky Halloween dessert! This ghoulish recipe is perfect for a Halloween party snack board or just as a special sweet treat for the family.
Pumpkin Chex Mix This Halloween Spiced Chex Mix With Candy Corn is made with corn Chex cereal, pretzels, bugles, pecans, candy corn, Reese's Pieces and drizzled with a brown sugar spiced glaze! It's the perfect sweet crunchy snack for this harvest season! Plus, it's made in the microwave so it's easy, perfect for kids and quick to whip up!
Scary Savory Ideas
Boo-ffalo Chicken Dip Halloween buffalo chicken dip is a recipe baked in a cast iron skillet. A spooky jack-o-lantern face is added with black tortilla chips making this an easy and festive Halloween party dip. This spicy chicken dip can be made ahead of time making it a great appetizer for a crowd or Halloween party.
Pumpkin Rolls These 40-minute Pumpkin Dinner Rolls are shaped like adorable little pumpkins and are the perfect accompaniment for Thanksgiving or Hallowe'en meals!
Scary Spinach Dip This Halloween spinach dip is sure to be your new go-to for parties. It tastes great and the olive spiders make it extra spooky! If you're looking for Halloween potluck ideas this is the dip to make first.
Frankenstein Guacamole This Frankenstein Guacamole platter is perfect for a party or for snacking. Impress your guests, kids and adults with this fun, monster shaped guacamole platter perfect for Halloween!
Mummy Jalapeños Air Fryer Mummy Jalapeno Poppers are an easy, delicious, and adorable Halloween appetizer idea. Perfect for a Halloween potluck or party!
Jack-o-lantern Chicken Buffalo Dip These Halloween buffalo chicken jack-o-lantern stuffed peppers are super-easy to make, fun to look at, and of course they're delicious as well! If you are looking for Halloween party ideas for adults or kids, give these tasty peppers a try.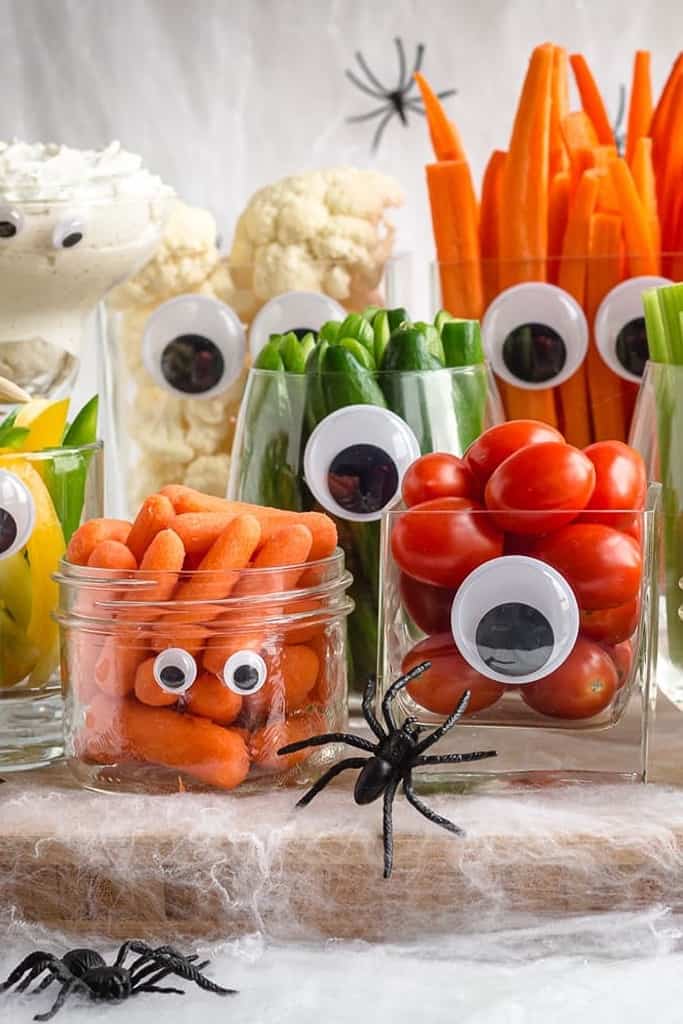 Spooky Veggie Tray If you're looking to add a healthy Halloween potluck idea to the mix try this veggie tray. With all your favs like carrots and broccoli with hummus!
CharBOOterie Board This Halloween charcuterie board or CharBOOterie is so fun on your Halloween table! Everyone will love all the edible treats and you will love how easy it is to put together.
Toxic Waste Mac & Cheese This Toxic Waste Mac and Cheese is disgustingly delicious and actually quite healthy with spinach and cauliflower. It's a perfect meal during the Halloween season, and the kids will love eating it!
Halloween Pasta Salad Pasta salad isn't just for Summer anymore! This fun and delicious Halloween pasta salad is ready in less than 20 minutes and loaded with veggies! Serve this pasta salad on Halloween after trick or treating or on a spooky Halloween party buffet table!
Pizza Skulls These tasty pizza pockets are easy to make, completely customizable and a fun dish to serve at a Halloween party or to your kids during the holiday season. Halloween potluck ideas don't get anymore festive than this!
Devilish Drinks (non alcoholic)
Green Witch Punch The kids will adore this one which has ingredients like: ice cream, limeade, soda pop, candy, marshmallows, chocolate and cookies! It doesn't get much kid friendlier than that.
Purple People Eater Punch With ingredients like grenadine, blue Gatorade, and sprite this purple punch will pump up the he potluck for kids and parents.
Smokin Halloween Mocktail If you need a fun drink, our Smoking Halloween mocktails are perfect for the whole family. They are a little bit eerie and just perfectly sweet!
Bubbly Party Punch This three-ingredient orange Halloween party punch is always a popular party drink. Make in minutes and serve with sherbet. Kids love to see how the party punch bubbles up. Add some fun Halloween treats to make it even spookier.
Slimy Lemonade This slimy limey lemonade is "gross", but absolutely delicious! Perfect for a Potluck Punch bowl. Halloween potluck ideas are nothing without a fun spooky punch!
Creepy Cocktails (adult)
Halloween Sangria Forget the candy, this year I'm all about a dark, spooky and delicious Sangria Recipe! Made with a Red wine blend, tart dark cherry juice, rich pomegranate juice and crisp orange liqueur, this sangria is sweet, full-bodied and to-die-for!
Cauldron Cocktails This Cauldron Cocktail is the perfect Halloween Drink! It's hauntingly fun, tasty, and easy to make.
Green Halloween Sangria This spooky Sangria has ingredients like limoncello and apple, then topped off with some lychee eyeballs! Make it ahead of time for a Halloween cocktail that everyone will love at the potluck.
The Poisoned Apple Halloween potluck ideas for alcoholic drinks like the poisoned apple will impress your friends or co-workers. Just add a drop of black food gel for the poison.
Unicorn Blood Cocktail This purple alcoholic drink with glitter is sure to be a win over a crowd. The cherry flavors are fun and tasty.
Eyeball Punch Fun to look at and oh so tasty with pineapple juice, blood orange juice, apple juice, lime juice, and white rum! Rum can be omitted for an alcohol-free version.
FAQ
What should I take to a Halloween party?
If you're going to a Halloween party and you don't know what to bring, first consider the guests in attendance. Is it an adult only party? If so, consider bringing sangria like the ones on this list. If it's more family friendly with lids in attendance you could bring something easy and tasty like festive cookies, cakes, or dip.
I know you're excited to celebrate the spooky season now with these Halloween potluck ideas! It's my favorite holiday too because it's all about dress up, good times, and FOOD! Let us know your favorite recipes in the comments and on our social platforms.