If these Red Velvet Broken Glass Cupcakes don't send shivers down your spine, I don't know what will!
These Halloween-inspired cupcakes are visually alarming while at the same time extremely delicious – I wasn't too sure whether to run screaming or sink my teeth into these scrumptious treats when first laying eyes on them. I'm glad I chose the latter and can't wait for you to do the same!
Bloodied sugar glass candy atop moist and soft red velvet cupcakes are surely going to be a treat to remember this spooky season!
Frequently Asked Questions for These Halloween Broken Glass Cupcakes
Before getting to them, the number question to answer is: Do I used food color in this recipe? Yes, I do. However, you can use organic food colors to replace! Red organic food color is still a very vibrant color, and will definitely shine though for the topping of these spooky Halloween Cupcakes.
HOW TO STORE THESE RED VELVET CUPCAKES
Once fully assembled, store these cupcakes in an airtight container at room temperature or in the refrigerator for up to 3-4 days.
You can also store your red velvet cupcakes (unfrosted and without the glass candy) in the freezer for up to 3 months. Thaw them overnight at room temperature or in the refrigerator and frost just prior to serving.
CAN I MAKE THESE HALLOWEEN CUPCAKES IN ADVANCE?
Yes, you can! It's best to make the cupcake bases a day ahead of assembling or to freeze the cupcakes up to 1 month ahead of serving.
Leave the glass candy and frosting off your cupcakes until just prior to serving for best taste and texture.
SHOULD I USE BAKING POWDER OR BAKING SODA FOR MY CUPCAKES TO RISE?
This is a common question that many seem to get confused by. Both baking powder and baking soda work by combining an acid and a base to form carbon dioxide gas that makes baked goods rise.
Baking powder has both the acid and the base component, so all it needs is a liquid such as oil or eggs to dissolve it and allow those two chemicals to react.
Baking soda, on the other hand, only consists of the base component, meaning that it requires an added acidic ingredient/substance in order for the baked good to rise.
This cupcake recipe calls for baking powder which means then that it only requires moisture from ingredients such as the eggs, oil, and milk, to create that chemical reaction for the cupcakes to rise!
WHAT BRAND OF FOOD COLORING SHOULD I USE?
While I haven't specified the brand of food coloring to use in this recipe, it is important to make use of high quality red food coloring like gel food coloring.
A quality food coloring will also keep its color after baking which is exactly what you want for these red velvet cupcakes.
TIPS FOR MAKING RED VELVET BROKEN GLASS CUPCAKES
Be extremely careful when handling hot sugar – it can get exceptionally hot, and liquid sugar can do serious damage. It's definitely not a part of the recipe that you can allow kids to get involved with unattended.
While I've kept my glass candy clear, feel free to add some color if you'd prefer.
Make sure to beat the butter and sugar well when combining the ingredients – it will create creamy soft cupcakes that are perfect for your red velvet cupcakes.
It's important to make the glass candy well in advance of assembling the cupcakes. If you add glass candy that's still warm to the touch, it will definitely affect the frosting, either by thinning it out or causing it to melt and slip off the tops of the cupcakes.
More Halloween Dessert Recipes
Yield: 12-14
Broken Glass Cupcakes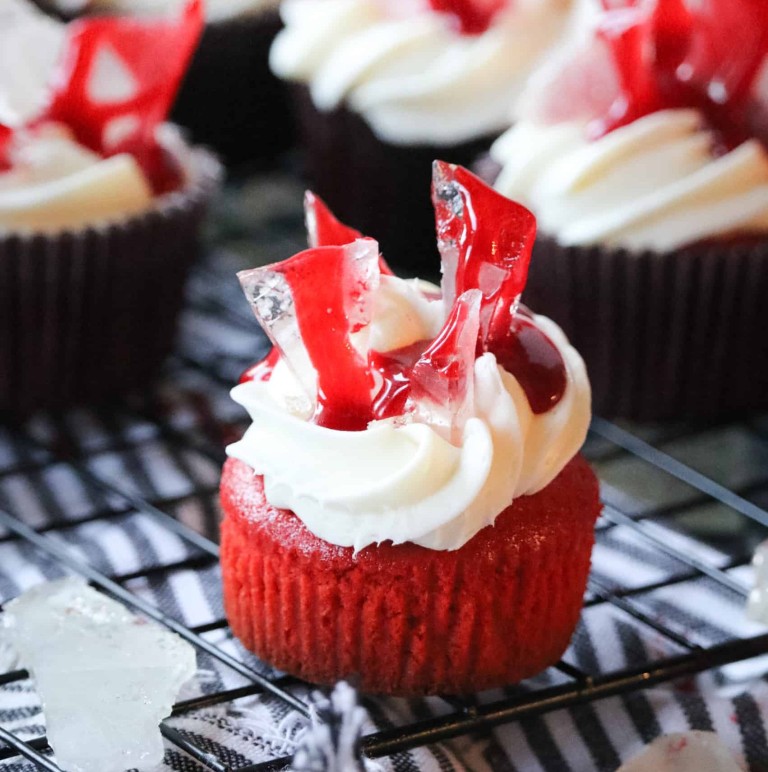 These Broken glass cupcakes make the perfect scary addition to any Halloween party
Total Time
1 day
35 minutes
Ingredients
For the Cupcakes
1 1/4 cup AP flour
1 1/4 tsp baking powder
3.4 cup sugar
2 large eggs
1 tbsp vanilla extract
1/3 cup vegetable oil
1/2 cup whole milk
1-2 tbsp red food coloring
Topping
Broken Glass
3 1/2 cups granulated sugar
2 cups of water
1/4 teaspoon cream of tartar
1 cup light corn syrup
candy thermometer
cookie sheet
Edible "blood"
1 cup caramel sauce
1-3 drops of red food coloring
Instructions
Brokenglass (make before cupcakes, preferably24 hours in advance):
1. Spray a cookie sheet with cooking spray.
2. Combine all ingredients in a saucepan and bring to a boil.
3. Allow the mixture to boil until it reaches 300F.
4. Immediately pour into the sprayed cookie sheet and spread out completely.
5. Allow the candy to cool completely. Preferably overnight.
6. Once completely cooled, break the hardened candy with a hammer or rolling pin to make the shards for the 'glass.'
Cupcakes
1. Preheat your oven to 350F.
2. Line a muffin pan with cupcake liners.
3. Combine all cupcake ingredients into a stand mixer or medium bowl. Slowly add in the red food coloring to reach your desired color. Combine well.
4. Scoop the cake mix into cupcake liners filling half to ¾ of the way.
5. Bake for 20-25 minutes until a toothpick comes out clean. Allow to cool completely before frosting.
Fake edible blood:
1. Mix caramel sauce and red food coloring well. Add extra sugar, or jam, if you would like it sweeter.
To assemble the cupcake:
1. Frost your completely cooled cupcake.
2. Place shards of the broken glass candy into the cupcake and frosting.
3. Using a spoon, slowly and carefully add the edible fake blood to the cupcake. Be careful not to use too much!
4. Enjoy