Cool Star Wars Kitchen Gadgets
Whether you're pulling for the Sith or Jedi you're sure to be able to decorate your kitchen with some of these cool Star Wars kitchen gadgets that are out there. You can literally complete an entire meal with your "force" and feature your favorite Star Wars characters!
Do you have furbabies? Make sure you check out the Star Wars Pet Costumes.
Star Wars Waffle Maker
Cook in Star Wars style with this cool waffle maker that makes four different designs on the waffles. It's non stick so easy clean-up and safe to cook on. Breakfast & brunch just became so much better!
Star Wars Popcorn Maker
Make it a movie night with this epic Star Wars popcorn maker. This is a reusable silicone popcorn maker! It takes just 5tbsp of kernels to fill this up with a full bowl of popped popcorn. The dark side is totally going to make movie night so much better!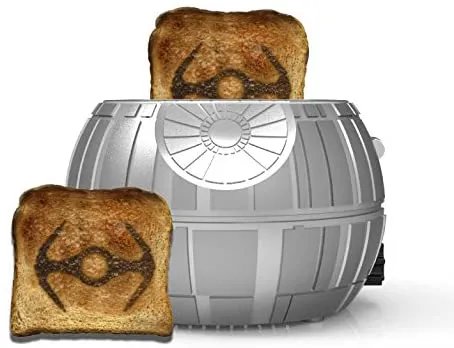 Star Wars Toaster
This toaster is made extra wide to fit all kind of bread (even texas toast!). There are multiple functions including defrost, reheat and more!
Death Star Cheese Platter Set
Slice and dice cheese in Star Wars fashion with this Death Star cheese platter set. The case also doubles as a cutting board so dual usage! Stand it up when not in use to use as decor. This is one of those cool Star Wars kitchen gadget that I will find a reason to pull out and display!
R2D2 Bento Box
Take R2D2 to lunch with you with this three section bento box that also includes a sandwich stamp! Bonus, it also comes with a carrying bag. I Love this Star Wars bento box, and it makes me want to pack my own lunch every day!
Star Wars Pyrex Storage Bowl Set
Use your new favorite Pyrex bowl set in the microwave, dishwasher, and fridge without fear of them breaking. Each bowl measures 1 cup. These are so adorable, and I need about 2-3 sets.
Light Saber Chopsticks
(These are the chopsticks you're looking for) Light up dinner or dessert with these Light saber chopsticks! You get all four pairs in this set when you grab them now! I love these cool Star Wars kitchen gadgets, and I'd use them every day.
Star Wars 2qt Slow Cooker
Perfect size slow cooker for rice, dips, and more. This slow cooker does have three settings to keep things warm, low heat, or full high heat.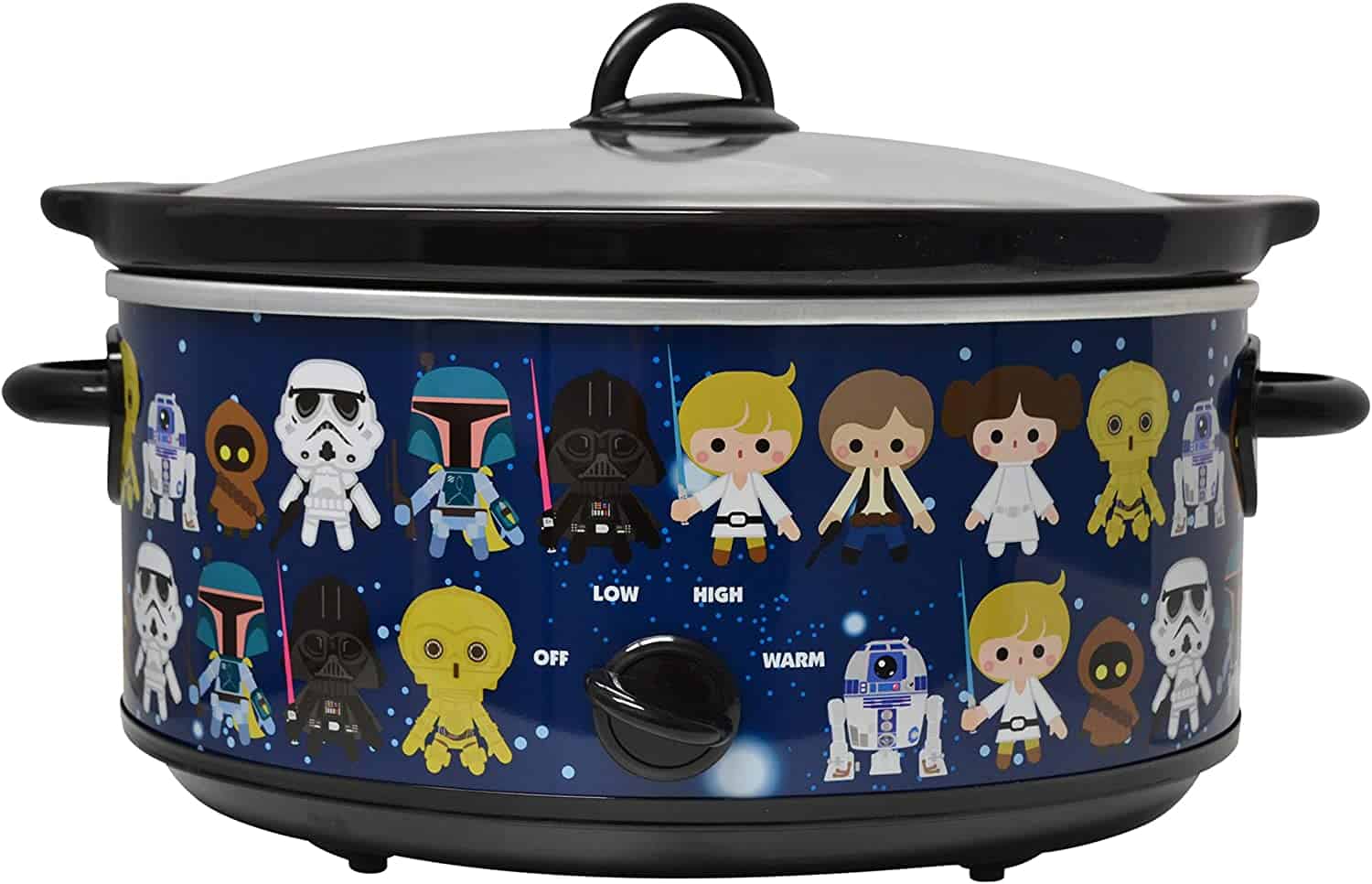 Star Wars 7qt Slow Cooker
Cook your favorite slow cooker meals with all your favorite Star Wars characters! This 7qt slow cooker has mini chibi versions of all the favorite (and not so favorite) characters throughout the movies.
Star Wars Silicon Ice Cube Tray
These trays are silicone which means you don't have to use them for just ice cubes! You can use them create hot cocoa bombs, crayons, and more (just thoroughly wash before and after).
Star Wars Refrigerator Magnets
Let the force remind you of all your appointments, favorite memories, and more with these Star Wars magnets! Each set comes with 8 magnets to use.
BB8 Pizza Cutter
It's not just a pizza cutter, it also makes BB8 noises as it cuts! Comes with the needed batteries to operate. Made with plastic handle but stainless steel cutting wheel.
BB8 Tea Pot and Cut Set
This teapot set holds up to 12 ounces of liquid. BB8 does come apart and has a single serve cup. (Great for dorm rooms and small spaces). I'm willing to fill this up with coffee, just to use this set!
Star Wars White Plate Set
This artful four piece black and white Star Wars plate set features Darth, Obi-Wan, Stormtroopers, and C3PO! These are ceramic plates so you can use them as collectible decor or actual eating plates.
Use the Force and pick your favorite Star Wars kitchen decor and appliances! Get a kick out of everyone's reactions when they see your favorite foods with a dash of Star Wars added.
Check Out These Other Cook Kitchen Stuff You'll Want