12 Small Kitchen Appliances You'll Actually Use
If you've ever been in the kitchen baking or cooking and just couldn't find the right small kitchen appliances for the job, you're not alone! There are so many useful undiscovered kitchen appliances out there that people don't even know about yet!
You can also see some of the best clever kitchen products that will change the game and not only save you time but also money at the same time! If you love to try to find things to make meal prepping easier, or just to add to your collection of kitchen toy…then keep on reading.
Omelet Maker – Breakfast made EASY Every Day!
If it's ever been late at night and you just got a random craving for some amazing cheese, pepper, and onion omelets, having an omelet maker on hand is mandatory! You don't need to flip these, just wait for the light to tell you your omelets are ready. This is such a fun small kitchen appliance that I would actually use often!
Double Tiered Food Steamer – One of the Coolest Small Kitchen Appliances!
Skip frying and baking when you can use a steamer to make your complete meal! This steamer features clear bowls so you can see everything cooking and even a 60 minute timer for auto shutoff! (Perfect for meal prepping smaller meals)
Cuisinart Mini Prep Food Processor is So Helpful
A smaller version that only hold about 3 cups, this food processor is quick to use with just two button control. Dishwasher safe and easy to clean. Make your own sauces, blends, and more at home and save money.
Mini Pancake Maker
This mini pancake maker actually makes way more than just regular pancakes. You can cook eggs, make desserts, and the classic old school pancakes still too! This bad boy just plugs in and cooks and the light lets you know when it's ready. Easy to clean and small enough to store with ease.
Electric Egg Cooker
Skip waiting forever for the eggs to boil for hardboiled eggs, this electric egg cooker cooks with less water and time. You can cook 7 eggs at one time and it comes with all you need to store, clean, and cook faster than the traditional ways.
Magic Bullet Blender
If you've been putting off buying a blender because of the size, this smaller Magic Bullet Blender is perfect. It does everything the regular size magic bullet blenders do but in smaller sizes so it's perfect for meal prepping.
Electric Kettle
This electric kettle can boil 8 cups of water in just about 6-7 minutes time! Use it for coffee, tea, and more! If you forget it's plugged in it has a auto shut-off and overheating protection too! This is fabulous because if it's too hot in the kitchen, then you don't have to worry about turning on the stove.
Rice Cooker
Can anyone ever make the right amount or rice, the secret may just be a rice cooker! You can cook as little as 3 cups of rice and when the rice cooker is done cooking it automatically switches to warm so it's still ready to serve.
3qt Instant Pot – This is Definitely one of those Small Kitchen Appliances you need!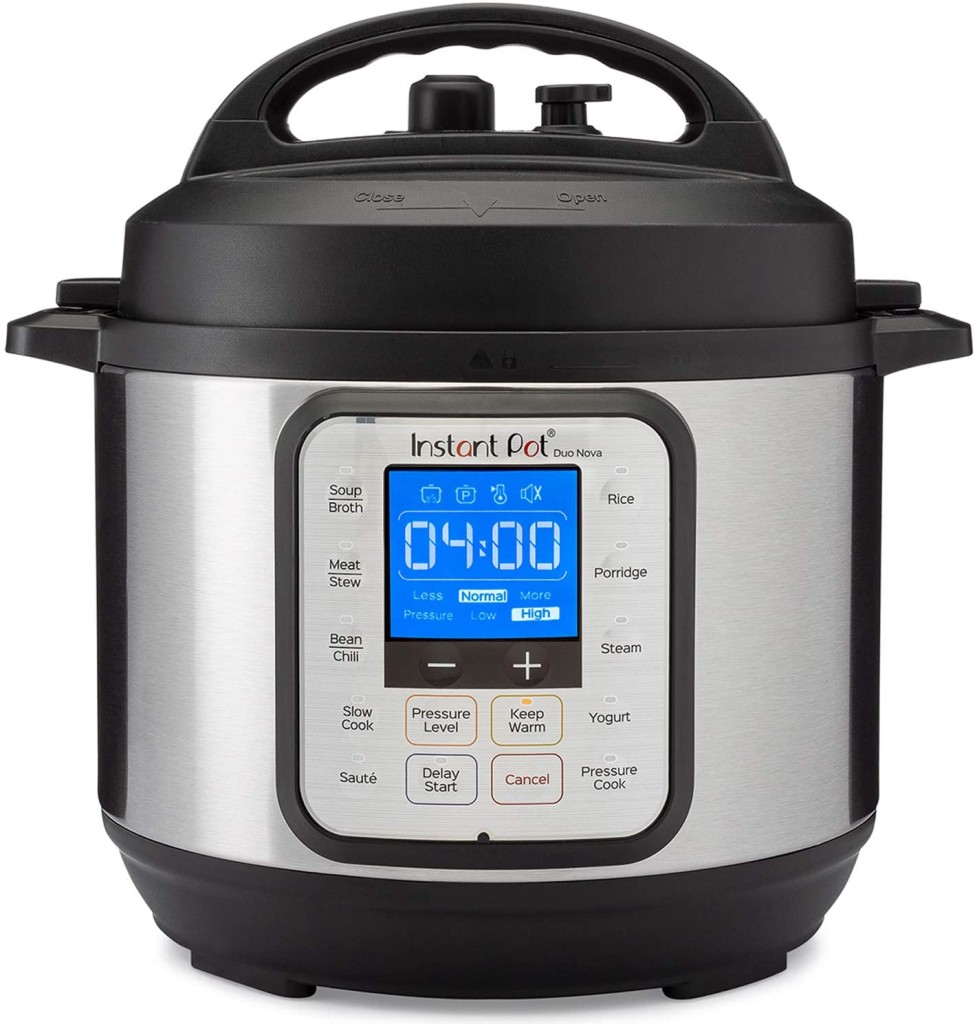 An Instant Pot may seem like a big appliance but they do make them as low as 3 quarts. This gadget can cook plenty of food for up to three people. Make rice, meats, and more with ease. (Another great one for meal prepping for one) If you need some ideas, here are some great Instant Pot recipes.
Immersion Blender – One of the Many Fun Small Kitchen Appliances I love!
Make small servings of smoothies, sauces, and more with the immersion blender, it even comes with a milk frother and whisk! The size of the immersion blender makes it easy to clean and store for small spaces like apartments or places with not well thoughtout kitchen space.
Presto Hot Air Popper – Who Doesn't Love Popcorn?
Using an air popper to make popcorn is healthier than the regular way of making popcorn and it takes about the same time as microwave popcorn. (Here's a little hack, the cup on top is actually a butter warmer!)

My Sous Vide Immersion Cooker – One of the Newest Small Kitchen Appliances making a Splash
You may be asking what an immersion cooker is exactly, well it helps you create high end cooked meals with ease! See how your meal is doing from across the room with the LED display and know when your food is done by the alert tone that goes off when it's done cooking.
Whether you're working with limited kitchen space or just don't like bulky appliances taking room up, having smaller kitchen appliances that still do the same big jobs is a perk. Many of these small kitchen appliances can serve multiple cooking methods and cooking of different items in them as well, so it saves space, time, and replaces unused appliances too!
You Might Love These Posts, too!