Starbucks Copycat Blueberry Muffins
Blueberry muffins are by far my most favorite muffin to order when I go out to Starbucks, but I can't always get there because of the distance. That's why this Copycat Starbucks Blueberry Muffin Recipe became my new best friend, and I'm sure it will become your family's favorite, too! You can enjoy the fresh fruity flavor right in your own home anytime.
At at around $3 each in store, baking up a whole batch for about $5.00 is a great option. Keep some on the counter or freeze some to enjoy whenever the craving hits you.
Your family will love the smell of these muffins baking in the oven. Other than fresh blueberries, you probably have everything needed right in your pantry. Keep frozen blueberries on hand. They work just as well!
What are Copycat Starbucks Blueberry Muffins?
A favorite of Starbucks lovers everywhere, Starbucks Blueberry Muffins are small, sweet, quick breads baked in muffin tins. They're also full of blueberries. In general, muffins can be sweetened with fruit, chocolate, or sugar and have become a coffee shop staple. They differ from bread in that they use baking powder or soda to rise instead of yeast.
North America has come to love Starbucks Blueberry Muffins. We think you will find this Starbucks Copycat Blueberry Muffin recipe even better than the original! They're literally my favorite type of muffin ever!
How Do I Store Copycat Starbucks Blueberry Muffins?
Blueberry Muffins are best stored on the counter since the refrigerator tends to dry baked goods out quicker. After your muffins have completely cooled, place them in an airtight container lined with a paper towel to absorb moisture and your muffins will keep for about 4 days. If you are stacking muffins, place a layer of paper towel in between.
Can I Freeze Copycat Starbucks Blueberry Muffins?
Muffins freeze wonderfully. Wrap each one individually so that you can grab one for a lunch bag or an afternoon snack. Thaw them at room temperature or reheat them using your microwave's defrost setting. For a real treat, wrap them in aluminum foil and reheat them for about 10 minutes at 350 degrees. They will taste just like they were freshly baked.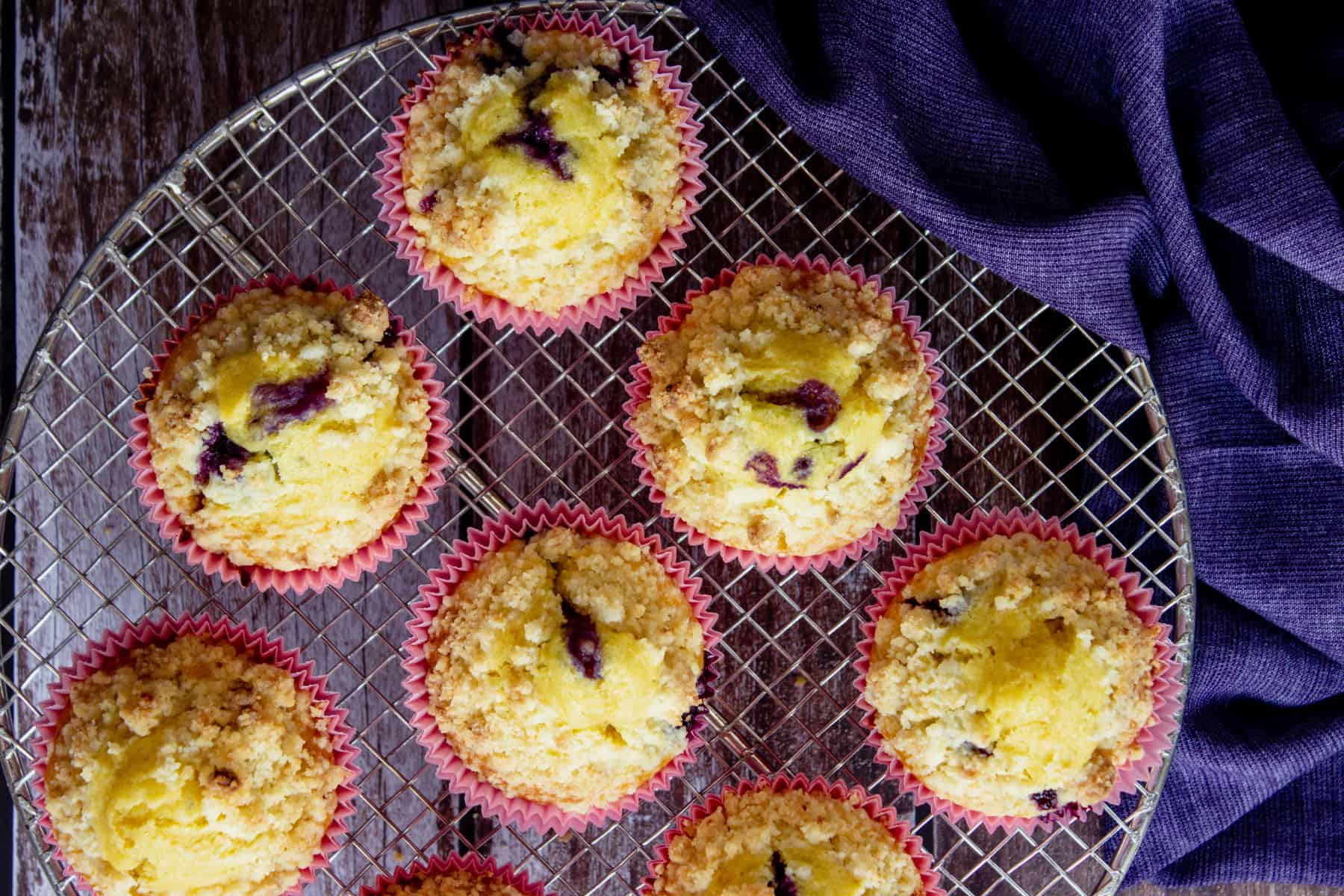 How can I keep the berries from sinking to the bottom of these Copycat Starbucks Blueberry Muffins?
Coating the blueberries in flour before adding them helps to absorb some of the moisture from the fruit which makes them lighter so they will sink less. This is especially important with larger berries or with thinner batter. Try adding the blueberries right before the muffins go into the oven. This may help as well.
Tips for Making Starbucks Copycat Blueberry Muffins
Always mix wet and dry ingredients in separate bowls.
Be careful not to over-mix the batter. Small amounts of unmixed flour won't hurt anything.
Add the blueberries last. They will mix in easily, and this helps avoid breaking the fruit and coloring the batter blue.
Recommended
Blueberry Pound Cake
Amazing Blueberry Apple Craisin Bread
Instant Pot Blueberry Compote
Notes
Using a portion scoop or an ice cream scooper will help you get even-sized muffins.
For larger muffins, use larger cups and liners. Don't overfill.
Always fill every crater of your muffin pan. If you don't have enough mix, ½ fill empty cups with water. This helps everything cook evenly.
Substitutions
Buttermilk (alternate #1) – 1 cup of whole milk with 1 tbsp of lemon juice or white vinegar will substitute for buttermilk if you don't have any on hand. Mix the two together well and let it stand for about 5 minutes before use.
Buttermilk (alternate #2) – Plain yogurt is also a great substitute for buttermilk because of its tangy, acidic taste. You may need to thin it a bit with water or milk before measuring it in equal proportions.
Blueberries – Not a blueberry fan? You can substitute sliced or chopped strawberries instead.
More Yummy Snack Recipes You'll Enjoy
If you like this delicious Copycat Starbucks Blueberry Muffin recipe, you'll want to try some of our other easy sweet treats! Try any from the list below.
Gingerbread Loaf
Sweet Potato Pie Bars
Lemon Cheesecake Bars
Blueberry Lemon Cake
Baked Carrot Cake Donuts
Yield: 12
Starbucks Copycat Blueberry Muffins
These crumble-topped Starbucks Copycat Blueberry Muffins are possibly even better than the coffee house favorite! Loaded with berries, these sweet, moist muffins will be gone in no time!
Ingredients
2 eggs
21⁄2 cup + 2-3 tbsp flour
1 cup sugar
2 tsp baking powder
1⁄2 tsp baking soda
1 cup milk or buttermilk
3 tsp melted butter
1/4 cup vegetable oil
2 cups blueberries / fresh or frozen
Instructions
Preheat the oven to 425°F.
For crumble topping, mix melted butter, sugar, lemon zest and flour. Set aside.
For the batter, begin by sifting 2 1/2 cups flour into a medium-sized mixing bowl.
In a separate bowl, whisk melted butter, oil, eggs, and milk (or buttermilk).
Add flour, baking powder, and baking soda to the liquid mixture. Stir with a spatula until just combined. Don't over-mix.
Coat blueberries with flour.
Add blueberries to the batter. Fold in gently, making sure not to overmix.
Spoon into the muffin pans, filling each cup about two-thirds full.
Top with streusel mixture.
Bake at 425°F for 10 minutes. Lower the temperature to 375°F and bake for another 10-15 minutes.