Amazing Nesquick Brownie Recipe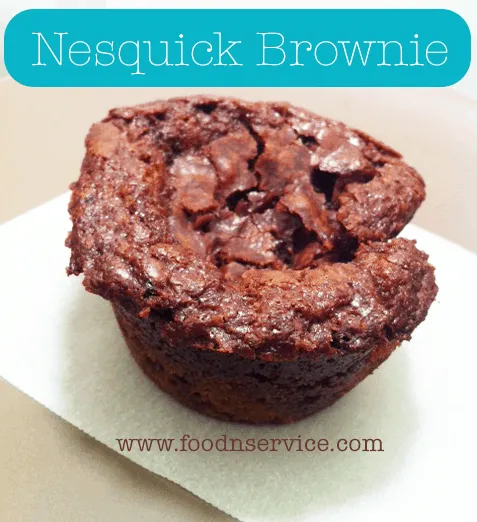 In the pursuit of trying to find the best brownie recipe, and testing some out…I mixed a little bit of column A with a little bit of column B and added a little bit of my own column C to get this most amazing brownie recipe ever. You all know how serious I about my desserts, so you know I'm not stretch the truth about it at all.
These yummy brownies are chewy, moist and absolutely to die for! I'm always trying to find ways to enhance recipes and to see what ingredients I have on hand. Wouldn't you know that I still had a TON of Nesquick instant chocolate milk pouches! I scored a TON of these for free last year with coupons at my grocery stores. At one point, I had over 140 pouches! Whew, that was a lot of hard work for them, but my big ol' family sure did enjoy them (as well as some friends lol).
Most brownie recipes call for a lot of sugar. Nesquick instant mix already has an inherent amount of sugar in the mix. So, we are able to cut out SOME of the refined sugar, but not all of it. Unfortunately for our thighs, brownies are not ah-mazing without the sugar. In fact, most recipes will call for almost 4 cups of it! Whew! This is a killer, mostly because I can probably eat a whole tray of it by myself. Since brownies taste so delicious, we don't even comprehend how much sugar we consume from it. My recipe will definitely not make you feel AS BAD from eating them. I also used a little instant coffee in it. Yes, instant coffee! Why? Believe it or not, coffee actually helps bring out a more robust chocolate flavor and helps to define the chocolate flavor a little bit more. It's like a chocolate kick starter lol. Enjoy!

Yield: 9
Amazing Nesquick Brownie Recipe
Prep Time: 10 minutes

Cook Time: 22 minutes

Total Time: 32 minutes
Ingredients
10 Tablespoons of Butter (room temperature)
1 1/4 Cups Sugar
1/4 Cup Cocoa Powder
1 Tsp Instant Coffee
1/2 Tsp Salt
1 Pouch of Nesquick (Approximately 2 cups)
1/2 Tsp Vanilla Extract
2 Large Eggs
1/2 Cup All Purpose Flour
Instructions
Pre-heat over to 325.
In a medium size bowl and handheld mixer, blend together: butter, eggs, vanilla extract, sugar and salt. Mix on low speed for 1 minute and increase speed to medium until mixed well.
Add cocoa powder, instant coffee and nesquick mix, and then blend on low speed until mixed well together.
Finally, add in the flour and mix on low speed for 3 minutes. Your mixture should be nice and thick.
If you use muffin tin to make cupcake brownies (I opted for this), then you should bake for approximately 20 minutes. If you are using a 9 x 9 pyrex dish, then bake for 23 minutes (timing will be slightly off due to due altitudes that you live in). To test if read, insert tooth pick in center. If it comes out clean, then it's done.
Allow to cool to room temperature before cutting.
These brownies are super moist, chewy and delicious!