This Air Fryer Coconut Shrimp recipe is ready in 30 minutes – faster than you can drive to your local seafood joint. Bonus – it's a lot cheaper, to make at home, too! This coconut shrimp recipe is fresh and full of yummy Caribbean flavors, perfect for serving to guests or enjoying with chicken or steak.
To make this coconut shrimp recipe, you'll just whip up a simple egg batter and bread crumb coating, then cook in your air fryer for 10 minutes. Seriously – just 10 minutes, and you never have to turn on your oven!
These are so good they can be a whole meal on their own! If you're having guests for dinner, game night, or the Bachelorette finale, these are quick and easy, and sure to be a crowd-pleaser.
What is Coconut Shrimp?
Coconut shrimp is traditionally an appetizer dish. Raw shrimp are coated in a coconut-flavored breading and deep fried. With this air fryer version, raw shrimp are still battered but instead of frying in oil, these are air fried. Air frying the shrimp still gives them that crispy, fried taste without using as much oil.
Coconut shrimp is usually a crowd favorite, even for those who don't necessarily love shrimp or coconut! They're served with shrimp sauce, and because they're made with panko bread crumbs, they have a light and flaky texture.
What Can I Serve With this Air Fryer Coconut Shrimp?
Coconut Shrimp is often served alone with shrimp sauce, but it also tastes great with sweet chili sauce. You can also serve it on top of rice with steamed vegetables to turn it into a whole meal. In our house, we like it alongside a grilled steak or chicken, too!
How Do I Store Coconut Shrimp?
Honestly, it's really unlikely your going to have leftovers! But, if you do, coconut shrimp can be stored in an airtight container in the fridge for up to 3 days.
To reheat, place your shrimp on a baking sheet or in a casserole dish and cover with foil. Reheat at 300F for 10-15 minutes. Check to make sure they're hot through.
Can I Freeze Recipe?
Coconut shrimp can be frozen if you're not going to eat them right away. To freeze them, put them in a Ziploc bag or a freezer-safe container for up to 3months. Thaw in the fridge overnight before you reheat them.
Tips for Making Air Fryer Coconut Shrimp
Make sure your shrimp are washed and dried before you try to batter it, or the flour will become sticky. You want a light layer of flour for the best texture.
You can add unsweetened coconut for a version that has fewer calories.
Try to lay your shrimp in the air fryer in as single a layer as possible so the batter can get crispy.
Recommended
Grilled Shrimp Lettuce Wraps
Cilantro Shrimp Salad
Pesto Crusted Chilean Sea Bass
Air Fryer Coconut Shrimp Recipe
Air fryer coconut shrimp is a delicious, healthier version of the classic deep fried appetizer recipe. It cooks in just 10 minutes and come out crispy and golden with the subtle sweet taste of coconut everyone adores!
Notes
Make sure your shrimp are cooked to 165F. If not, put them back in for another 3 minutes and check again.
Serve these right away. They'll be best when they're hot and crispy!
Substitutions
Egg – You can use egg substitute or even just milk to batter instead if you don't want to use whole egg.
Chili – For a less-spicy version with a different flavor, try cumin instead.
More Yummy Appetizer Recipes You'll Enjoy
Looking for more appetizers to pair with your shrimp? Give any of these a try:
Crab Margarita Appetizer
Asparagus, Prosciutto, and Goat Cheese Appetizer
Mini Caprese Appetizer
Avocado Caprese Salad
Three Cheese Bacon Puff Pastry Appetizer

Yield: 4-6 Servings
Air Fryer Coconut Shrimp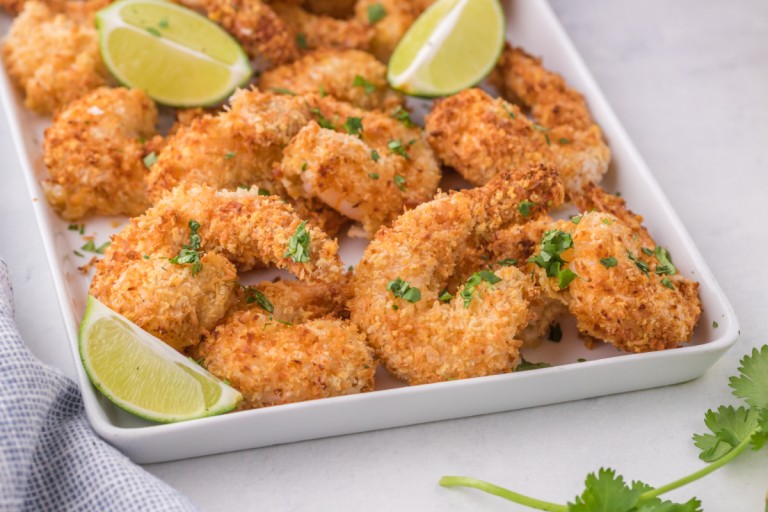 This air fryer coconut shrimp recipe is fresh and full of yummy Caribbean flavors, perfect an easy appetizer or enjoying with chicken or steak!
Ingredients
1 pound raw large peel and deveined shrimps
1/2 cup all-purpose flour
1 teaspoon chili powder
1 teaspoon salt
1/2 teaspoon ground black pepper
1 egg
1/4 cup water
1 cup Panko bread crumbs
1 cup sweetened shredded coconut
Oil spray
1 tablespoon finely chopped cilantro
Garnish with Lime quarters
Instructions
Prepare three bowls.
In the first, pour the flour, chili powder, salt, and pepper.
In the second, beat the eggs with water.
In the third, combine the Panko breadcrumbs and shredded coconut.
Flour a few shrimps at a time.
Dip them in the beaten eggs mixture then coat them with breadcrumbs mix.
Gently shake the shrimp to remove the excess breading.
Generously spray the basket of the air fryer with oil.
Place the shrimps in the basket of the air fryer in a single layer. Lightly spray the top of with oil
Cook at 370 ˚F for 10 minutes flipping halfway.
Place on a serving plate, and sprinkle with chopped fresh cilantro.
You can serve the coconut shrimp with lime and sweet chili sauce if desired.
Notes
•You can use medium or large shrimps. Reduce the cooking time by 2 minutes if you are using medium shrimp
•If you are using frozen shrimp, just make sure that they are thawed out properly before cooking them in the fryer.

OVEN DIRECTIONS
-Preheat the oven to 450°F. Lightly spray a baking sheet with canola oil.
-Place the shrimp on a baking sheet. Lightly spray shrimp with oil and cook, for 5 to 7 minutes, until browned and cooked through.