Slow Cooker Ravioli Lasagna
This Slow Cooker Ravioli Lasagna has plenty of Italian pizzazz and is one of the most satisfying and uncomplicated recipes around. This heavenly dish is the perfect flavor combination of pasta, Italian sauce, and cheese for a taste bud experience you won't be able to resist.
What is Ravioli Lasagna?
Ravioli Lasagna is exactly what it sounds like – cheesy filling enveloped in a thin 2-bite pasta featuring everything you love about classic lasagna but with a textural twist. It uses cheese-filled ravioli as the hero ingredient rather than the long, thick pasta noodles typically used in traditional Italian lasagna.
How Do I Store Slow Cooker made Ravioli Lasagna?
You can store Ravioli Lasagna in an airtight container in the fridge for up to 3 days. After that, place it in an airtight container or bag. Then, reheat Ravioli Lasagna in the microwave.
Can I Freeze Ravioli Lasagna?
The best way to freeze Ravioli Lasagna is to wrap it in tin foil and seal it tightly to keep any air out. You can store foil-wrapped lasagna in a freezer-safe bag or container for up to 1 month.
What can I Serve with Ravioli Lasagna?
Serve Ravioli Lasagna alongside a green salad, roasted veggies, or an antipasto platter filled with your favorite meats, cheeses, olives, dried fruit, and raw vegetables.
Tips for Making Ravioli Lasagna
Line the bottom of the slow cooker with tin foil for easy removal after baking. Once it has cooled, hold the edges of the foil and lift the firm Ravioli Lasagna from the slow cooker. Transfer to a serving dish or into a storage container.
You can get creative with your choice of Ravioli filling. Spinach, Mushrooms, or a seasonal blend that includes butternut squash would give this dish even more interest and variety.
Leftover lasagna is arguably more delicious than lasagna served immediately. Feel free to prepare Ravioli Lasagna a day in advance and reheat it in the microwave.
Recommended
Instant Pot Feta Pasta (TikTok Pasta)
Penne Pasta With Sausage
Instant Pot Taco Pasta
Notes
This Slow Cooker Ravioli Lasagna knocks it out of the park. But before you make Slow Cooker Ravioli Lasagna, here's what you need to know:
You can use fresh cheese-filled ravioli in this Slow Cooker Ravioli Lasagna Recipe. Check for doneness closer to 2 hours on HIGH and 3 hours on LOW.
The sky is the limit when it comes to Italian cheese blends. Freshly grated or shaved parmesan, Pecorino-Romano, and Mozzarella cheese are a perfect choice for Ravioli Lasagna.
Substitutions
Ground Beef – Substitute half of the ground beef with mild Italian sausage or ground pork in Ravioli Lasagna for a heartier flavor.
Minced Garlic – If you don't have minced garlic on hand, you can substitute ½ tsp of garlic powder in this Ravioli Lasagna recipe.
Jarred Pasta Sauce – You can make your own pasta sauce using crushed tomatoes and a 6oz. can of tomato paste. Add salt, pepper, and Italian seasoning to taste.
More Yummy Italian Recipes You'll Enjoy
If you like this Slow Cooker Ravioli Lasagna, you'll want to try some of our other easy Italian recipes! Try any from the list below.
Homemade Vegetarian Lasagna
Italian Parmesan Bread Recipe
Spinach Cheese Tortellini With Italian Sausage
Baked Ziti
Instant Pot Chicken Parmesan
Olive Garden Copycat Instant Pot Zuppa Toscana
Yield: 4-6 servings
Slow Cooker Ravioli Lasagna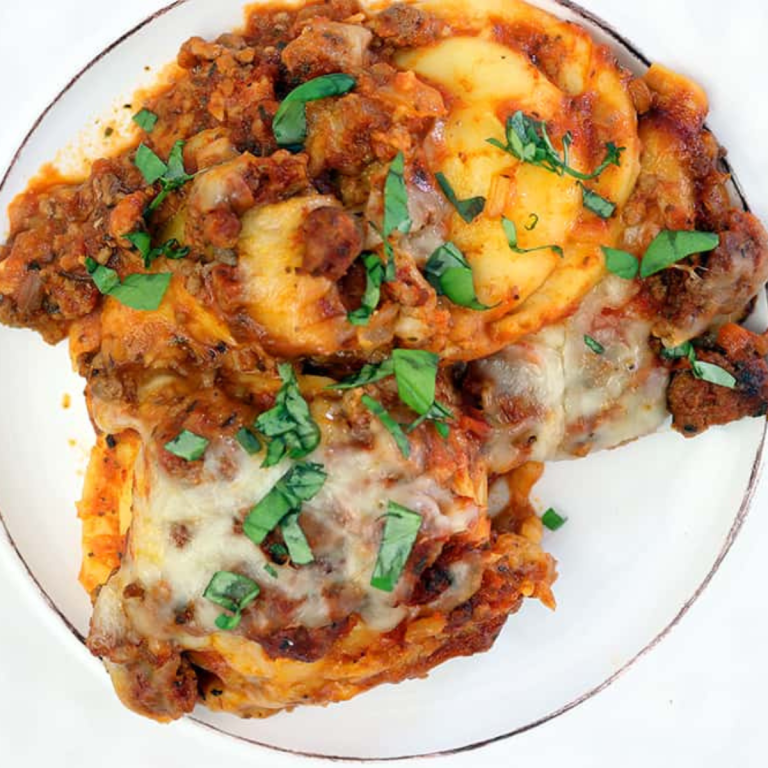 This heavenly Ravioli Lasagna is the perfect flavor combination of pasta, Italian sauce, and cheese for a taste bud experience you won't be able to resist. Easy as pie - it's cooked up in the slow cooker!
Total Time
4 hours
15 minutes
Ingredients
1 pound ground beef
1/2 cup sweet onion, diced
1 teaspoon minced garlic
1/2 teaspoon sea salt
1/2 teaspoon cracked pepper
1 - 24oz jar of pasta sauce
1 - 24 oz package of frozen cheese-filled ravioli
2 cups Italian blend cheese
Instructions
In a medium sized pan on medium heat, add ground beef and cook until meat starts to brown. Then add in onions, garlic, salt, and pepper.
Add a little over 1/2 cup of meat sauce to bottom of slow cooker and spread around. Follow this with a layer of half of the ravioli.
Next, add a layer of your meat sauce (about half of remaining sauce), then add a layer of cheese (1 cup).
Add remaining ravioli, and layer the remaining sauce on top.
Cover and cook on HIGH for about 2 – 2 1/2 hours, or on LOW for 4-5 hours, or until pasta is tender. Add remaining cheese on top of ravioli, and cover with lid for about 10-15 minutes or until cheese has melted.
Notes
I made our delicious 2-ingredient bread with "Everything but the bagel" seasoning on top of it! It's delicious, and goes great with a side of extra virgin olive oil with grated parmesan cheese for dipping into.