Instant Pot Chicken Parmesan
This Instant Pot Chicken Parmesan recipe has all the same flavors as the traditional dish, with an exception of breading. Without the breading, this recipe becomes light, gluten-free, low in carbs, and healthier. Pair it with pasta or bread or roasted veggies for a delicious meal.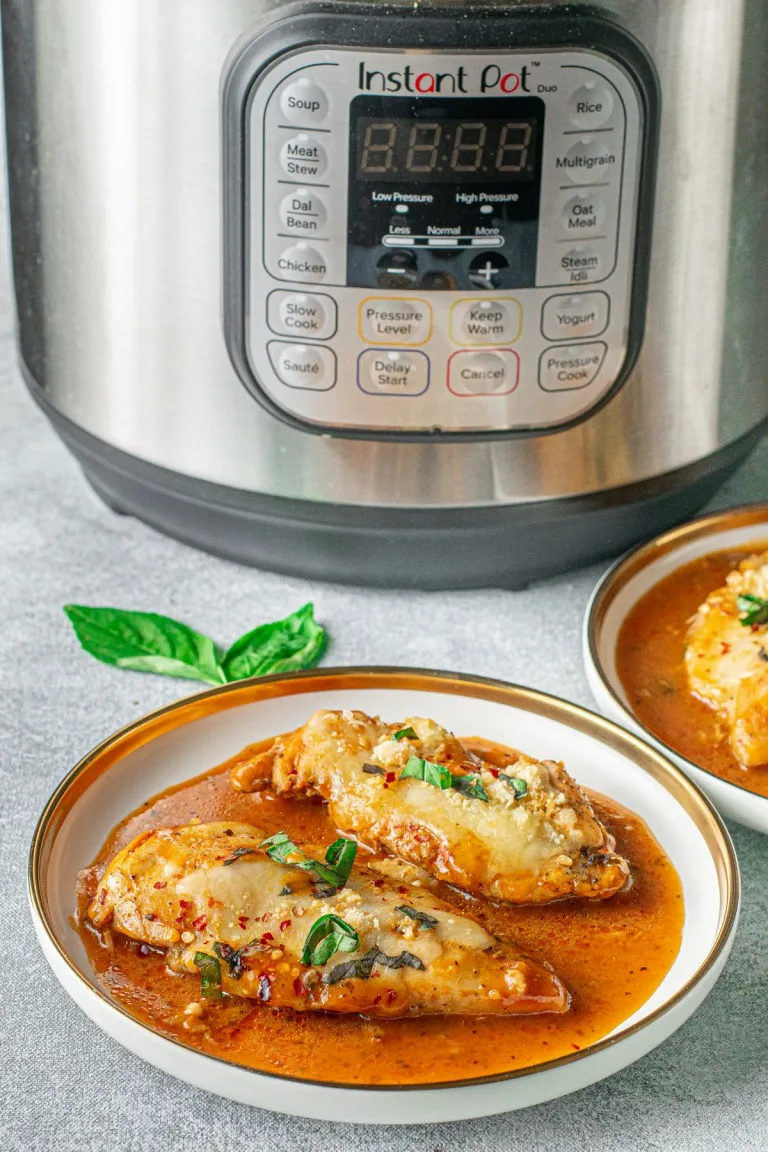 Chicken parmesan is an all-time favorite recipe for many people. It is the go-to meal for instances when you're out of meal ideas!
Can't think of what to make tonight? Let's make some chicken parmesan!
Exhausted after a hectic day at work? A quick chicken parmesan dinner sounds nice!
Got to make something for a potluck supper? Chicken parmesan it is!
But do you know what's better? Instant pot chicken parmesan!
Put everything in an instant pot, and your delicious chicken dinner is ready!
Why We Love Instant Pot Chicken Parmesan?
Because it is one of the easiest and healthiest chicken recipes out there. There's no frying or breading; therefore, it's a good choice for a fulfilling meal if you're watching your calories.
Plus, it's ready in hardly 20 minutes! You're making it in an instant pot, so you just need a few minutes to sauté the chicken, 5 minutes to cook it, and another 5 minutes to melt the cheese, and that's all the time needed to prepare a savory, mouth-watering meal oozing with delicious sauce and cheese.
The ingredients required are basic and readily available at home. As for the marinara sauce, you can make some at home, or you could use the store-bought one.
So, all you have to do is sprinkle the seasoning and the sauce and let the chicken cook in it. And that's about it! Just add some cheese in the end to give it the true Italian touch, and your instant pot chicken parmesan is ready to be devoured!
Ingredients for Instant Pot Chicken Parmesan
2 large boneless chicken breasts: Cut each breast in half to make 2 thin slices. You can also use chicken breast cutlets for this recipe.
2 tablespoon olive oil: I used olive oil, but you can use avocado oil or any other oil you have available.
1 cup marinara sauce: You can use store-bought marinara sauce or make one at home using fresh or canned tomatoes.
1/4 cup water: To help cook the chicken to perfection.
1 teaspoon Italian seasoning and 1 tablespoon chopped basil: You can use any herb of your choice based on your preference; however, I use this combination for that authentic Italian flavor.
1 cup shredded mozzarella and 2 tablespoons grated parmesan cheese: I took blocks of cheese and shredded them manually, but if you're short on time, you can use pre-shredded cheese too.
Frequently Asked Questions
Let me answer some common queries to help you with the recipe:
Q. For how many minutes do we have to sauté each side of the chicken?
Cook both sides of the chicken until they turn light brown. That takes around 5 to 8 minutes.
Q. How can we store Instant Pot Chicken Parmesan?
You can store the instant pot chicken parmesan in an airtight container for 2-3 days in the refrigerator or around 2 months in the freezer.
Q. How do I reheat the Chicken Parmesan?
To reheat the chicken parmesan, preheat your oven to 350 degrees F. Now, place the chicken on an oven dish, cover it with aluminum foil, and heat for around 15 minutes or until the chicken is heated and the cheese melts.
Q. What to serve with Instant Pot Chicken Parmesan?
There are many ways to serve instant pot chicken parmesan. You can serve it with pasta, spaghetti, or on its own with garlic bread. If you want to keep it light, you can add some steamed or roasted veggies, like asparagus, broccoli, corn, cauliflower, or mixed vegetables on the side.
Tips and Tricks
If you're trying out the instant pot chicken parmesan recipe for the first time, here are some tips and tricks to help you make it amazingly perfect!
1. Try using homemade marinara sauce using fresh tomatoes for added natural flavor and low sodium.
2. Pound the chicken fillets with a meat mallet to make them tender and of the same thickness. This will help cook all the pieces at the same time.
3. Although optional, topping your instant pot chicken parmesan with fresh basil gives it more flavor and looks great!
4. Ensure the chicken is well-coated in the sauce before cooking it so that it turns out juicy and tender.
5. If you're not sure whether the chicken is done or not, you can use a meat thermometer. If it reads 165 degrees F, it means the chicken is ready.
More Easy Instant Pot Chicken Recipes You'll Love