Dutch Oven Ham and Bean Soup
This Dutch Oven Ham and Bean Soup is one those family recipes that you always have on hand! This classic recipe is simple, satisfying, and full of so many delicious things like tender carrots, flavorful garlic, and hearty ham and beans.
I call this magic soup because it disappears from the pan so quickly! Yes, it's THAT good!
When the weather gets cold, I love warming myself up with a tasty soup, and this ham and bean soup recipe is one of my favorite go-to's. It comes together with just a handful of ingredients, involves minimal preparation and cleanup, and it's customizable, so you can easily sneak in your veggies!
What is Dutch Oven Ham and Bean Soup?
Dutch oven ham and bean soup is a delightful combination of smokey ham, hearty beans, tender vegetables, and the perfect blend of herbs and spices. In this recipe, onions, carrots, and garlic are sautéed in a Dutch oven before adding in the ham, beans, spices, and stock. It's then simmered together, creating a dish that's big on flavor and absolutely drool-worthy! 
How Do I Store Dutch Oven Ham and Bean Soup?
This soup can be stored in the fridge or in the freezer to be enjoyed in the future.
FRIDGE: This soup stores well in the fridge and makes for great leftovers! Once the soup has cooled, you can store this soup in an airtight container in the fridge and enjoy it for up to 4 days.

FREEZER: You can freeze ham and bean soup to be enjoyed in the future. Once fully cool, store the soup in freezer-safe containers or freezer bags and store it in the freezer for up to 3 months. If I'm freezing soup, I like to freeze it in individual servings for quick defrosting.

TO REHEAT: There are two easy ways to reheat this soup. You can reheat individual portions in the microwave, or put the Dutch oven on the stovetop and reheat the entire pot. Keep in mind the second method takes longer but it's great when feeding a group!
Can I Freeze Dutch Oven Ham and Bean Soup?
This is a great freezer recipe and will keep for up to 3 months in the freezer. Once the soup has fully cooled, store it in airtight containers or freezer bags before placing it in the freezer. If you're freezing the soup in a container, I recommend storing it in plastic as glass can sometimes crack when frozen with liquid. It would be a shame to lose all that soup!
What is a Dutch Oven?
A Dutch oven is a heavy-bottomed pot with thick walls and a tight-fitting lid. They're usually made of seasoned cast iron, ceramic, or cast aluminum and spread heat evenly when cooking, making them great for soups and stews. If you don't have a Dutch oven, there's no need to worry! You can make this soup in any heavy-bottomed pot.
Can I Make Ham and Bean Soup in the Crockpot?
This Dutch oven recipe can easily be made in the Crockpot if you want to set it and forget it! To make this fantastic soup in the slow cooker, saute the vegetables and garlic in olive oil in a pan. Once sauteed and softened, transfer them to a slow cooker with the rest of the ingredients. Cook on low for 4 to 6 hours or high for 2 to 3 hours and enjoy!
Tips for Making Dutch Oven Ham and Bean Soup
If you don't have a Dutch oven, any heavy-bottomed soup pot will work just as well.
If you prefer a creamier soup, try mashing or pureeing some of the beans in a blender, then add them back into the soup and stir to combine. Continue to puree the soup in batches until you reach the desired consistency. You can also simmer the soup longer than the recipe calls for with the lid off to reduce the broth and create a thicker soup.
Don't forget to remove the bay leaves before serving! While they add a lot of flavor and aroma to the soup, they're unpleasant to bite into.
Recommended
Instant Pot Corn Soup
Instant Pot Southwest Chicken Soup
Instant Pot Lentil Soup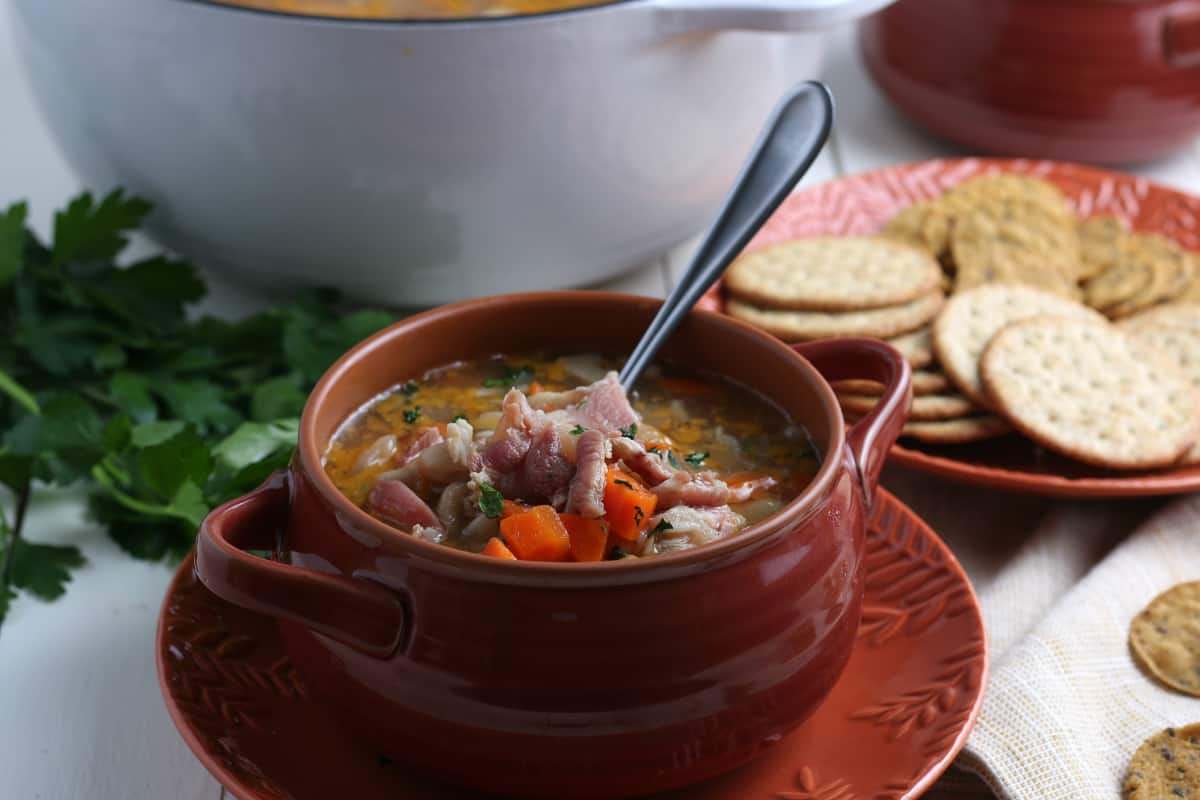 Substitutions
Beans: You can also use dry beans in this recipe. Be sure to soak them for 6 to 8 hours before adding them to the pot.
Spice: Try adding spice to this dish by adding cayenne pepper to the soup in Step 3.
Vegetables: This soup is a great way to eat more veggies! Potatoes are delicious in this recipe and can be cubed and cooked in the broth. Spinach and kale are also great additions to this soup. You can add them shortly before serving and they will wilt in the heat of the soup.
More Hearty Recipes You'll Enjoy
If you enjoyed this satisfying Dutch oven ham and bean soup, try these other hearty recipes!

Cowboy Crockpot Potatoes
Crockpot Red Beans and Rice
Slow Cooker Chicken Pot Pie
Instant Pot Lasagna Soup
Ground Beef Stroganoff
Yield: 8-10 Servings
Dutch Oven Ham and Bean Soup
Enjoy this simply satisfying Dutch oven ham and bean soup filled with smokey ham, beans, tender vegetables, and lots of flavor.
Ingredients
2 tablespoons olive oil
1 yellow onion, diced
3 carrots, peeled and diced
2 garlic cloves, minced
1 ham bone
9 cups chicken OR beef stock
2 bay leaves
½ teaspoon thyme
½ teaspoon paprika
3 cans white beans, drained and rinsed
Instructions
Heat olive oil in a Dutch oven over medium-high heat.
Cook the onion and carrot for 4-5 minutes, stirring occasionally, until soft. Add garlic and cook for an additional 30 seconds.
Then add the ham bone, thyme, paprika, and bay leaves.
Add stock and beans to the Dutch oven.
Cover and bring to a boil.
Once boiling, reduce the heat to low and simmer for 30 minutes, stirring occasionally.
Remove the ham bone and strip any remaining ham off it. Add this ham back into the Dutch oven.
Serve with toppings of your choice.
Notes
If you want more control over this recipe's salt content, use low-sodium broth. 
As it sits, the flavors mix even more, making this soup so delicious the next day!