Feta Cheese Covered Olives
These feta cheese covered olives are a super easy and delicious appetizer to make! Are you tired of having sweet treats for snacks all the time? Are you craving something salty and savory? If yes, then you should try this feta cheese-covered olive recipe! It's quick, it's delicious, and it's everything you want for a cheesy snack.
Inspired by Mediterranean cuisine, this serve as great appetizers or a quick snack, especially for calorie-conscious people. It's a fun recipe that involves covering black pitted California olives in lip-smacking feta cheese and cream cheese mixture and coating it with nuts. The perfect balance of salty and briny!
And the best part is that the feta cheese-covered olive recipe requires only 5 ingredients! Yes, just 5 basic ingredients, and you have a tasty snack ready to devour in less than 10 minutes!
Serve them as appetizers, give them to your kids as a snack, place them on a cheese board, or toss them in a salad. These feta cheese-covered olives are great no matter how you eat them!
Why We Love Feta Cheese Covered Olives?
Everyone loves snacks! But if you have a snack that can be prepared in less than 10 minutes and requires no cooking or baking, it becomes an instant favorite!
This easy olives recipe is the perfect snack or appetizer option that is full of flavor, taste, and nutrition. Plus, everyone loves it! This amazing recipe is quite versatile as well. It is the perfect snack for people who are watching their calories or want a light snack during the day.
It also makes for a good lunchbox idea for parents who want their kids to enjoy healthy snacks in school. Moreover, if you're hosting a party, you can add feta cheese-covered olives to the charcuterie board or serve them as appetizers! The possibilities on how to serve these olives are endless!
As for the preparation, you legit don't have to go near a stove! Just make a mixture of cream cheese, feta cheese, and dill. Mold it around the olives in the shape of a ball, and roll each cheese olive ball in chopped nuts. You can have it just like that or place it in the refrigerator to set and cool a bit before serving.
These may be a quick recipe, but it is considered quite a fancy snack or appetizer option.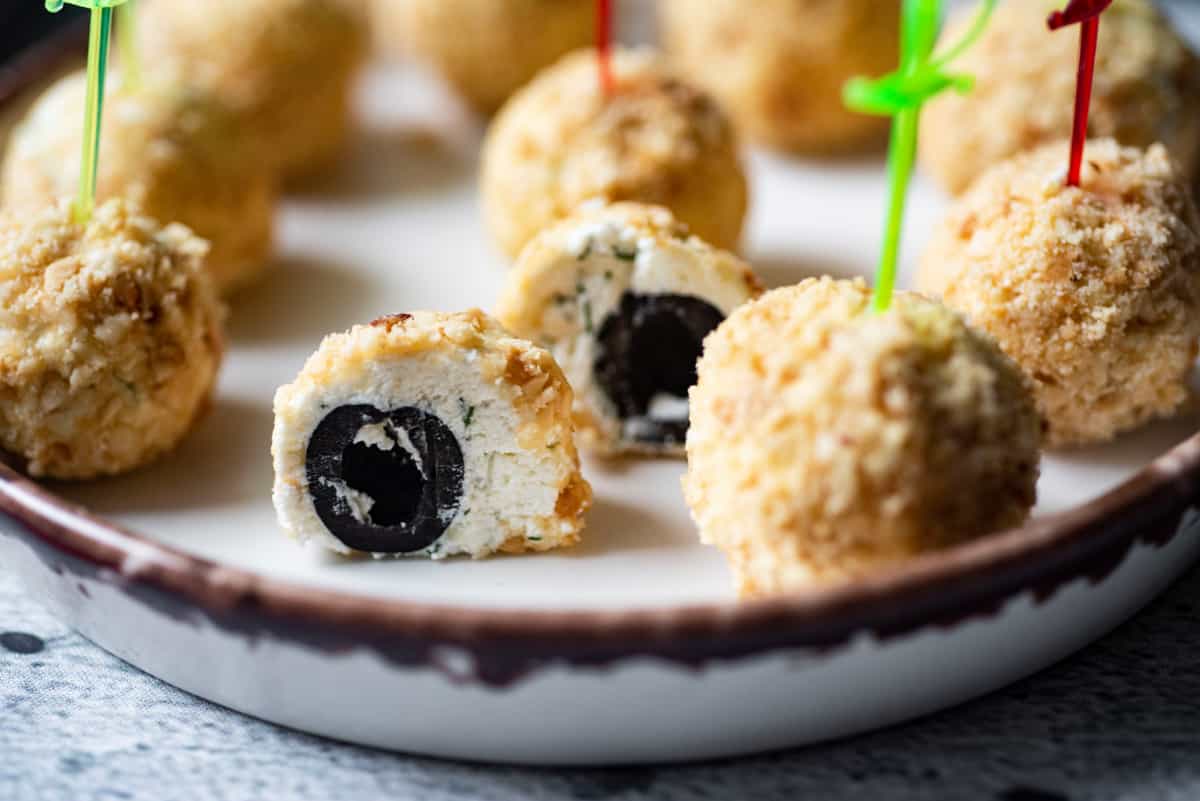 Ingredients for Feta Cheese Covered Olives Recipe
½ cup black California Olives: Make sure they are ripe and pitted. You can use kalamata, manzanilla, or any other available olives.
8-oz soft cream cheese: Cream cheese holds the mixture together and helps mold it around the olives seamlessly.
1 cup crumbled feta cheese: Feta cheese adds texture to the coating and helps it hold its shape. It is also the main ingredient!
2-3 teaspoons finely chopped fresh dill: Adds a grassy, tangy, and earthy flavor to the recipe.
1/2 cup finely crushed hazelnuts or any type of nuts: To give the cheese coating an extra crunch and balance out the tanginess with saltiness.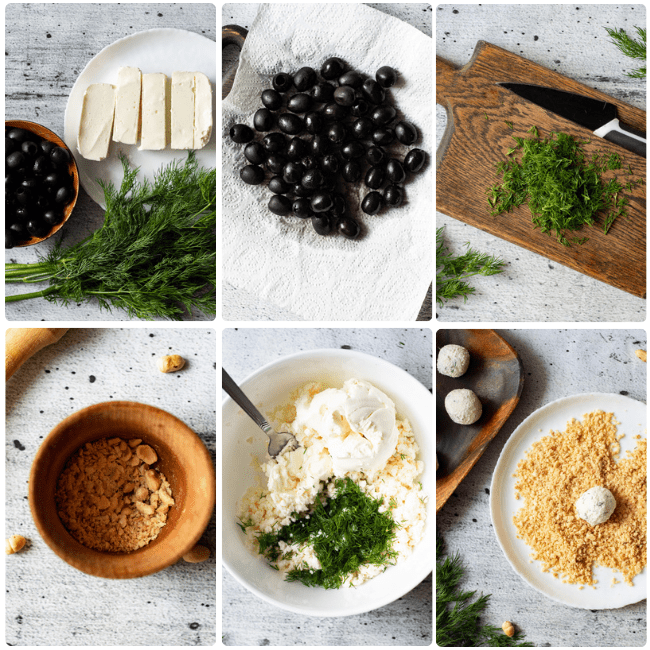 Frequently Asked Questions (FAQs)
You have many queries swarming your head whenever you try a new recipe. Therefore, I picked the most common questions and answered them so you can be clear when making the feta cheese-covered olives!
Q. Are feta cheese and olives healthy?
Feta cheese is made using goat or sheep milk. It is rich in nutrients and gives your recipe a delicious salty, tangy, and creamy flavor. Olives, on the other hand, are rich in vitamin E and antioxidants and have several health benefits.
Q. What cheese goes well with olives?
I have used feta cheese and cream cheese in this recipe to coat the olives. However, clothbound cheddar, chevre, Fromage blanc, and long-aged gouda goes pretty well with olives too.
Q. Which type of olives are best for the feta cheese-covered olives recipe?
I have used black California olives for this recipe; however, you can use kalamata, manzanilla, castelvetrano, Gaeta, or any other available olives.
Q. How to store feta cheese-covered olives?
You can store them in an air-tight container in the fridge for 5 to 7 days and the freezer for up to a month.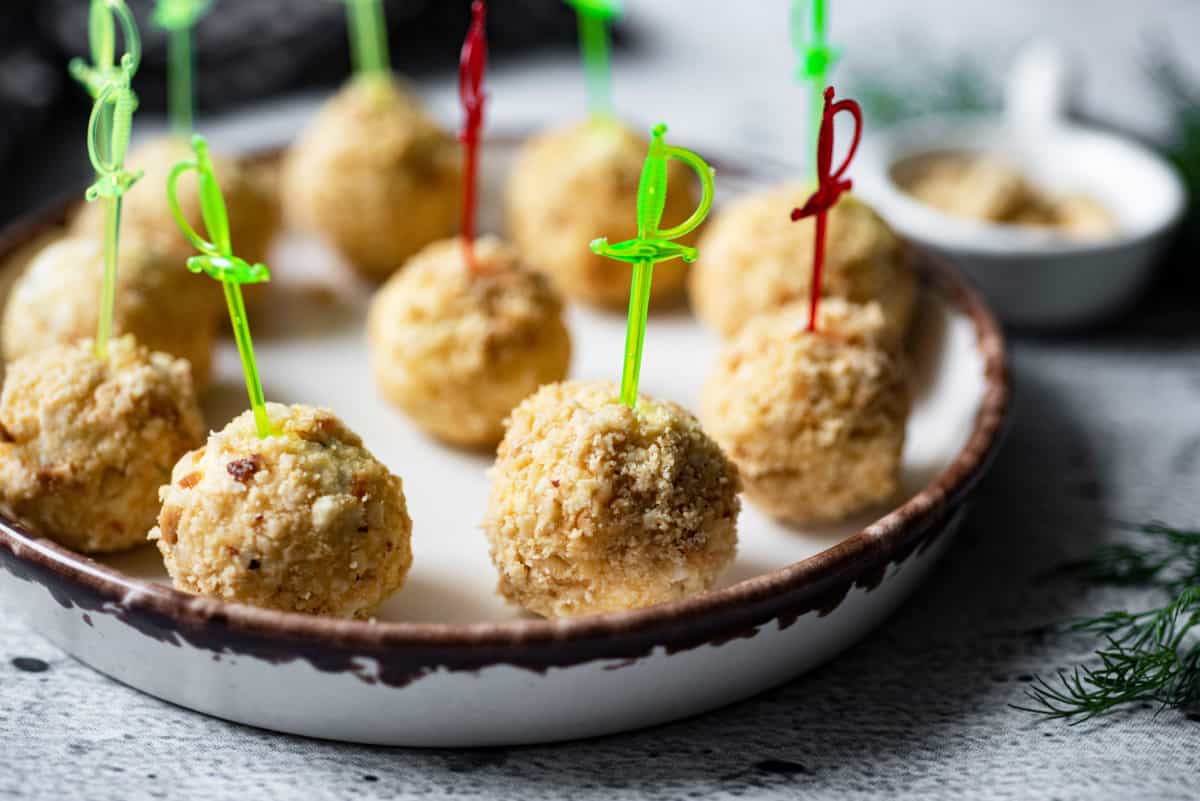 Tips and Tricks
Here are some useful tips and tricks:
1. Make sure to dry the olives with a paper towel before covering them with the cheese mixture.
2. Use pitted olives for the recipe.
3. You can use different olive types for a special assorted appetizer or snack board.
More Easy Recipes to Enjoy Making!
Yield: 12-14
Feta Cheese Covered Olives
Looking for an easy and fun appetizer? These Feta cheese covered olives are sure to be a huge delicious hit!
Additional Time
30 minutes
Ingredients
½ cup black California Ripe Olives (pitted)
8-oz soft cream cheese
1 cup crumbled feta cheese
2-3 teaspoons finely chopped fresh dill
1/2 cup finely crushed hazelnuts or any type of nuts
Instructions
Dry olives with paper towel. Set aside.
Combine cream cheese, feta cheese and dill together.
Mold 1 teaspoon cheese-mixture around each olive; shape into a ball.
Roll each cheese olive ball in chopped nuts
Refrigerate for 30 minutes and serve