25 Easy Back To School Lunch Recipes
Trying to become creative with an easy back to school lunch recipes can be a real brain drain. I totally feel your pain, and wanted to help us both out by trying to find some amazing and simple back to school lunch (es) to make. The thing about easy back to school lunch ideas is that they need to be easy, quick, and something that your child will like.
Make easy back to school lunches this year and your child will have the coolest lunch boxes at school. And you will be the parent with the most creative easy back to school lunch ideas around. I hope these easy back to school lunches inspire you in your next meal for the kiddos!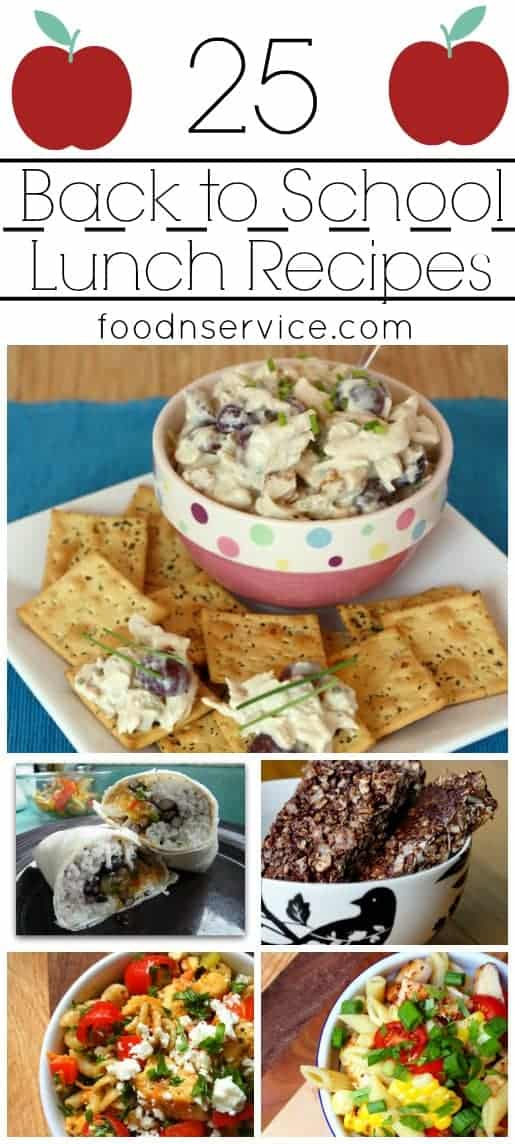 25 Easy Back To School Lunch Recipes You'll LOVE
School is coming back into session, and for some…the daily grind of getting your little (or big) ones ready for their day. One of the biggest concerns with all parents is what your children eat for lunch at school.
Let's face it, not all schools have a well-balanced meal plan. This issue has been brought to light on more than one occasion, and not just from the different media outlets…but out from the mouth of your children. The bigger issues parents face is actually trying to find the time to make lunches for their children to take to school. It seems as if there is just not enough time in a day to make it happen.
My mom was a single parent, so her time was crucial between us, work and her going to school to get a better education. So, most days were filled with PB&J sandwiches with a side of cheerios in a Ziploc bag…and I'm so not complaining about it. I happen to love PB&J sandwiches! Though, I sure do wish there were blogs around for my mom to read to find other easy lunches to make for all of us. Something to help break our norm of what we knew that we were going to get.
With that goal in mind, I was able to find some pretty amazing and easy recipes for any parent to make. The best part? These don't take long to make at all. I love time-saving recipes, and I'm sure that you're going to love these!
Easy School Lunch Recipes
1. Ham and Mac and Cheese Lunchbox Muffins
Ham and Mac and Cheese Lunchbox Muffins are best for lunch. They have cheese in them, so they are delicious! You can use any leftovers that you have at home to make these muffins.
Waldorf Chicken Salad with Grapes and Walnuts is a healthy recipe because you use Greek yogurt instead of mayo. It uses up leftover chicken, so it's good for your lunch. You can eat it in lettuce wraps or on sandwiches.
3. Turkey Cheddar Apple Pinwheels
You can make these pinwheels if you put turkey, cheddar cheese, and spinach in a tortilla. Add apples and mustard. They taste good!
4. Whole Grain Spelt Mini Pitas
These are good options for people who want to stop eating bread. There are two recipes: "Greek Pizzas" and "Stuffed Mini Pitas," which you can make if you want a new and exciting meal idea.
5. Crescent Roll Hot Dog Pockets
Crescent Roll Hot Dog Pockets are a good idea for families with little ones. They work like Mummy Dogs, but these come in a smaller size that is pressed in the sandwich maker.
6. Healthy Homemade Mango Fruit Roll-Ups
Skip store-bought snacks in favor of homemade ones. The Homemade Mango Fruit Roll-Ups are made with just one ingredient: fruit! They will keep you satisfied until your next meal, thanks to their fiber and vitamin content.
7. Egg Salad
Egg salad is the perfect lunch for school or work. Make it in batches and store them separately so that you can grab one on your way out.
Kids love Lunchables but many moms want something healthier. Try this No-Bake Fruit Pizza idea for your kids' lunch box. The recipe is easy and fast, and the "pizza" tastes delicious too!
Chicken pot pie biscuits are a great way to make use of leftover chicken salad. They're really easy and only need one cup of chicken salad!
Cheesy baked broccoli bites are great for lunch. Healthy vegetables will give you protein and calcium. You won't get hungry until dinner time.
11. Cinnamon Apple Fruit Leather
Cinnamon Apple Fruit Leather is a healthy treat. It is made out of healthy food, and it doesn't have any sugar or fake flavors in it.
12. Homemade Chocolate Granola Bars
Homemade chocolate granola bars are a good way to make healthy snacks. They are always fresh and you know what goes in them. Add an ice pack when packing their lunch boxes if it may get too warm at school!
These mini corn dog muffins are great for kids. They taste really good and they are the perfect size for lunch. Kids will love them!
These apple pies are perfect for tiny hands and for lunchboxes. You can make them the night before, then they will be cool in the morning when it is time to pack up your bag. They are also great because you can swap out fruit to make different flavor combinations like a pie with cherries or blueberries instead of apples.
15. Mini Taco Cups
Who doesn't love tacos? These mini tacos are perfect for lunch.
Japanese Sloppy Joe Curry is a great variation on the famous sloppy joe. It is even better to pack for lunch! Add this recipe to your lunchtime routine with some hearty bread or bagels.
17. Aloo Veg Grilled Sandwiches
Aloo veg grilled sandwich, also known as Bombay sandwich. This Indian-style dish is a great way to take your taste buds on an exciting journey through the aromatic flavors of India with its spices and chutneys!
18. BLT Pita Pockets
Pita pockets are for sandwiches and wraps, but you can also use them for BLTs. They're fluffy and able to have more of the bacon's crispiness.
19. Pizza Kabobs
Pizza Kabobs are a fun way to eat. You can put any toppings you like on the pizza and skewer it for eating.
20. Grilled Chicken and Corn Pasta Salad
Grilled chicken and corn pasta salad is healthy and has a lot of flavors. The corn adds a sweet taste to the dish but it balances out the spices that are added. Tomatoes add freshness to the dish without adding too much acidity.
A basic chicken pasta salad is a way to save money. You can make it for dinner the first day and then have lunch ready-made on the second day.
22. Spicy Vegetable Toast [Vegetarian]
Spicy vegetable toasts are healthy and delicious. They can be made in any shape you want. Kids will love them!
You can always have a hard-cooked egg for lunch. There are 2 types of dippers that you can have it with – ready in 25 minutes!
24. PB&J Sushi
Think of your favorite sandwich. Then, imagine it as a sushi roll. You can make PB&J Sushi by yourself at home and take them with you for lunch.
Greek pizza muffins are the perfect bite-size treat that adults and kids alike can enjoy. These savory muffins have all of your favorite Greek flavors, making them a delicious meal or sweet snack!
Do you have any favorite recipes that you like to make for your children that are awesomely easy? Please send them my way! Check out my other great recipes: My Favorite Recipes List.
There are lots of ways to make your own easy back to school lunches and snacks. If you stock up on groceries before school starts, you will be able to get a jump start on satisfying hunger pains when they arise. Next time that you are trying to put together an easy lunch for work or school, do not hesitate because there are lots of great recipes to choose from.