Crock Pot Red Beans and Rice
This Crock Pot Red Beans and Rice recipe provides plenty of Southern flavor and is one of the easiest, most mouth-watering recipes around. It might seem like it's complicated, but cooking red beans is actually pretty easy! This juicy dish is the perfect blend of red beans, smoked sausage, herbs, and veggies for a Cajun meal you won't want to pass up. 
What are Red Beans and Rice?
Red Beans and Rice is a traditional Louisiana creole dish with red beans and sausage mixed with vegetables and Cajun spices simmered and served over rice. It's definitely one of my most favorite recipes to make! It's literal food for the soul, and smells like home.
How Do I Store Red Beans and Rice Once cooked in a Slow Cooker?
You can store the leftover Red Beans and Rice in an airtight container in the fridge for up to 4-5 days. It's best to allow it cool off to room temperature before placing in the fridge.
To reheat, place contents into a pot on the stove until hot. You can reheat in the slow cooker on the "keep warm" setting or microwave on half power for 30 seconds or until it reaches the desired temperature.
Can I Freeze Red Beans and Rice?
Yes! You can freeze Red Beans and Rice. Keep frozen for up to 3 months (without the rice). Then, defrost in the fridge, cook new rice, heat the beans, and enjoy. Before freezing, be sure to allow recipe to come to room temperature.
What goes well with Crock Pot Red Beans and Rice? 
What goes better with red beans and rice than cornbread like this Delicious Cheddar Jalapeno Cornbread? It's so delicious, and it's perfect for scooping up every last drop of juice!
Tips for Making Red Beans and Rice
Using a fork, smash some of the beans on the side of the slow cooker before setting it on LOW. Crushing the beans will release their juices and thicken the whole dish.
Depending on how much "heat" you want in your Red Beans and Rice, you might consider opting for a spicier sausage like Andouille. Cut it into smaller chunks, so it's not too much heat all at once.
Garnish Red Beans and Rice with green onion and parsley.
Recommended
Instant Pot Chili Lime Steak Bowl
Instant Pot Pineapple Chicken
Instant Pot Sausage and Peppers
Notes
Before you enjoy this tasty Red Beans and Rice recipe, here are a few helpful tips:
Be sure to remove the bay leaves from Red Beans and Rice. Bay leaves give a nice aromatic flavor (but let's face it, no one enjoys a mouthful of bay leaf).
Try adding a splash of cider vinegar to the slow cooker to brighten up the flavor of the beans.
Red Beans and Rice can pack a ton of spice or just a little. Feel free to adjust the Cajun seasoning to your family's taste.
Substitutions
Sausage: If you're looking for a lower-fat protein or milder meat flavor, you can substitute the smoked sausage with turkey sausage, which will still taste great!
Chicken Broth: You can use water instead of chicken stock in this Red Beans and Rice recipe. You can always throw a couple of chicken bouillon cubes in the water for added flavor.
Cajun seasoning: If you don't have Cajun seasoning on hand, you can make your own using cayenne pepper, paprika, garlic powder, black pepper, and oregano. Mix these ingredients in a jar and cover it with a lid. Homemade Cajun seasoning should keep for about a year.
More Yummy Southern-Style Recipes You'll Enjoy
If you like this Red Beans and Rice recipe, you'll want to try some of our other easy Southern comfort foods! Try any from the list below.
Southern Squash Casserole Recipe
Cheddar Buttermilk Biscuits Recipe
Mini Pecan Tarts Recipe
Deviled Egg Potato Salad
Broccoli & Mushroom Casserole
Yield: 6-8 servings
Crock Pot Red Beans and Rice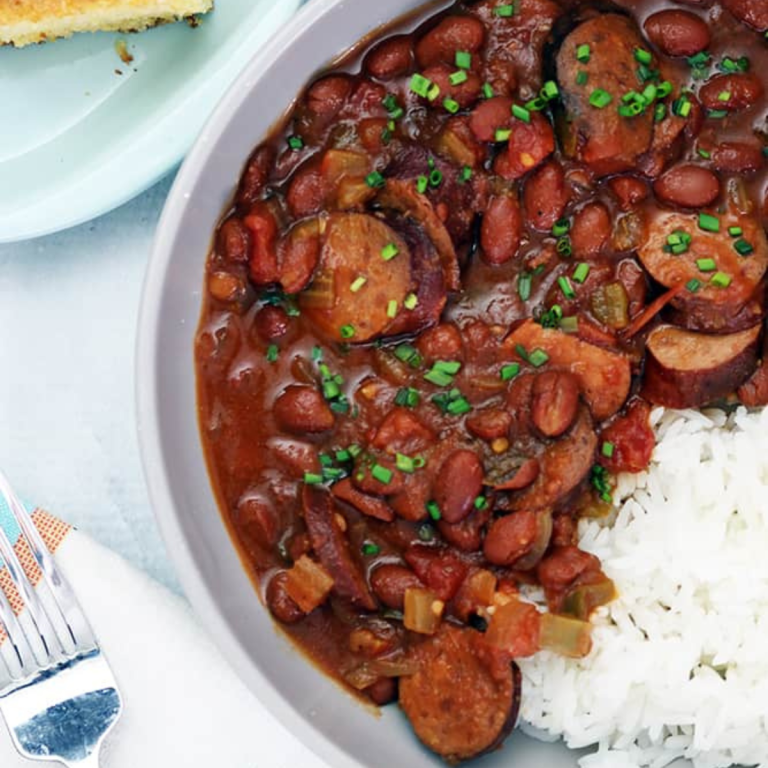 This juicy dish is the perfect blend of red beans, smoked sausage, herbs, and veggies for a Cajun meal you won't want to pass up. 
Total Time
4 hours
15 minutes
Ingredients
1/3 cup onion chopped
1/2 teaspoon garlic powder
2 celery stalks diced
2 can 15oz red beans, rinsed and drained
2 dried bay leaf
1 can 15oz tomato sauce
1 can 14.5oz diced tomatoes
1 cup chopped green bell peppers
1/2 teaspoon thyme
1 tablespoon Cajun seasoning
1 lb fully cooked smoked sausage, sliced into 1/2" pieces
2 cups low sodium chicken broth
3-4 cups cooked rice
Instructions
In a 6-quart slow cooker, place onion, garlic, celery, beans, tomato sauce, diced tomatoes, bell peppers, thyme, Cajun seasoning, and sausage. Gently stir. Add bay leaves on top.
Cover and cook on low heat setting 8-10 hours or HIGH for 6-7 hours.
Serve over rice, and enjoy!
Notes
•If you want more spice, you can use fully cooked smoked Andouille sausage.
•If you want less liquid in your red beans, then you can use just 1 cup of low sodium chicken broth. I use 2 cups to create a richer flavor as noted below. If you're using 1 cup of chicken broth, cook on low for 7-8 hours or high for 4-5 hours.
•If you richer sauce and a more robust flavor, then cook on low for 10-12 hours, stirring once in a while so it doesn't scorch.
•I LOVE cornbread with my red beans and rice, so indulge!