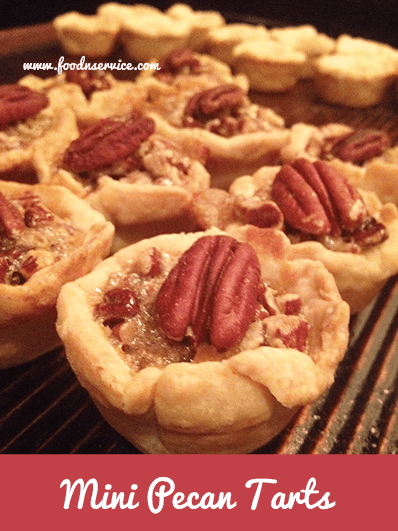 Mini Pecan Tarts Recipe
As most of you know, I am from the deep south dirt roads of Georgia. I miss home a lot, but I am able to make a lot of great recipes that remind me of my amazing dirt roads. There's nothing better to say "I love home" than having some kind of pecan pie variation! The problem is that I can eat a whole pecan pie by myself and not share it with anyone else. So, I decided to make tarts out of them to be able to share with my friends and family!  
To help expedite the recipe, I'm going to break it down into two recipes. One for the crust that you can get from another post of mine, and then the main recipe in this post. Of course, you can use store bought crust to make life easy. I won't judge you, unless you're just being lazy to make an amazing crust! No judgement here, of course. If you would like to make your own crust, then feel free to visit my Mini Apple Dumpling recipe to grab it from. Let's move on to the base of the pecan filling recipe!

Yield: 24
Mini Pecan Tarts Recipe
Prep Time: 30 minutes

Cook Time: 20 minutes

Total Time: 50 minutes
Ingredients
2 Large Eggs (lightly whipped on the side)
1/4 Cup Light Brown Sugar
1/2 Cup Light Corn Syrup
1 Tablespoon of Salted butter (room temperature)
1 Teaspoon of Vanilla Extract
1 Tablespoon All Purpose Flour
1 Cup toasted & chopped pecans
24 Pecan half pieces (toasted)
Instructions
Pre-heat oven to 375
It's important to know that this is a 2 step cooking process. You will cook the tart shells at 375 until lightly brown (10-12 minutes) and then finish cooking them at 350 for approximately 10 minutes. Please be sure to give the oven time to cool down before putting tarts in for the 2nd round or they will be overcooked.
In a large bowl, place lightly whipped eggs, brown sugar, corn syrup and vanilla extract and mix together. If you're using a hand held mixer, mix on a low speed. You don't want to over mix the eggs.
Once your mixture is blended together, add in your toasted pecan pieces.
Spoon pecan mixture into cooked tart shells and then place a 1/2 pecan piece on each tart on top. Then you will bake for 10 minutes at 350.


I hope you enjoy this recipe and my many others! What's your favorite southern dessert? I would love to know and get a chance to make one or several!