Instant Pot Chili Lime Steak Bowl
I fell in love with this instant pot chili lime steak and avocado bowl! I've been wanting to try to make a steak recipe in my instant pot for a while, so I was super happy when I thought about making this. If you're on the Ketogenic Diet, then this is a great companion for you to add to your recipe list!
I've been eating so many starchy foods because of the cold weather, including my Instant Pot Chicken Parmigiana recipe, Instant Pot Cheesy Chicken and Pasta, and my Instant Pot Cheesy Chicken and Potato soup. It's the nature of the beast to eat hearty and soul comforting food, but my body has been craving something with a little few carbs in it. I was also craving avocados in a non-guacamole form.
Seriously though, this instant pot chili lime steak and avocado bowl was delicious…and the meat was just perfect. What's better than a delicious recipe? How ridiculously easy it is to make. PLUS it always helps that my nephews and Angela LOVED it and scraped the pot clean! That's a win in my book.
Do you cook the Avocado in the Instant Pot?
No, you don't! You save you will dice it up and serve along side the dish. Please don't cook your avocado in the Instant Pot. It will turn out horribly gross, and then you're going to throw it away.
Here's the recipe, and I hope you enjoy it!
Yield: 4
Instant Pot Chili Lime Steak Bowl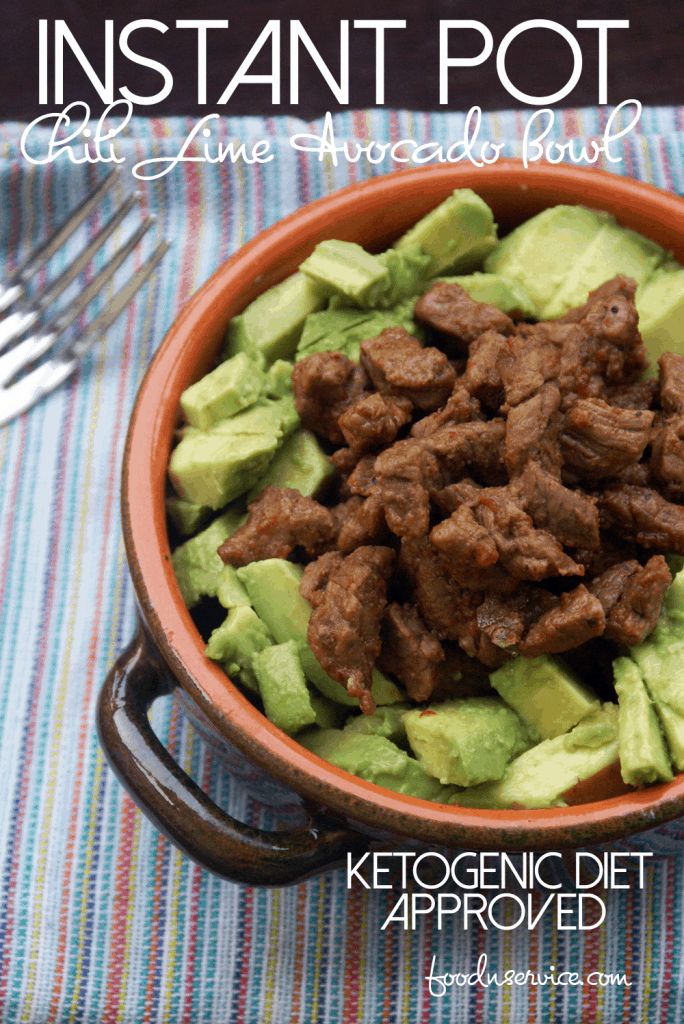 My Instant Pot Chili Lime steak bowl is a winner every time! Delicious, easy to make, and healthy.
Additional Time
6 minutes
Ingredients
1.2-2 pounds of fajita steak strips (cut into cubes)
1 tablespoon of water
1 teaspoon minced garlic
1 tablespoon of EVOO
2 teaspoons of lime juice
1/2 teaspoon chili powder
1/2 teaspoon sea salt
1/2 teaspoon cracked pepper
1 teaspoon of Cholula
2-3 Avocado diced
Instructions
Turn your IP on sauté and add olive oil.
Once hot, add garlic and cook until a golden color.
Then add all remaining ingredients, EXCEPT AVOCADO! (You do not add avocado to the Instant Pot at all.) Mix ingredients well with wooden spoon.
Place lid on, and put on Manual High Pressure for 10 minutes. Do a QPR.
Once pressure is released, removed lid.
Turn pan back onto sauté mode, and stir the meat to break it up into little chunks.
Keep on sauté mode until liquid has been reduced by half.
Allow to cool and serve in a bowl, and then surround it with your diced avocado. Yum!
Recommended Products
As an Amazon Associate and member of other affiliate programs, I earn from qualifying purchases.
Stay tuned for more of my fabulous Instant Pot recipes coming your way! Remember, I try out each and every recipe to make sure that they are accurate before I share them with you. Enjoy!
More Easy Instant Pot Recipes Your Family will Enjoy: