Blackened Mahi Mahi Tacos
These Blackened Mahi Mahi Tacos are a go-to snack or meal for almost every occasion! Are you out for a day trip? Have some tacos! Feel like having a yummy afternoon snack? Tacos! Arranging a potluck supper? Make some tacos! Going to a BBQ? Take some tacos!
In short, tacos are an all-time favorite meal item for kids and adults alike!
And what makes tacos so deliciously tempting? The filling and the toppings! Therefore, for the love of tacos, I tried making the blackened Mahi Mahi tacos for a Mexican twist. And what do you know, they were an instant hit at home!
Why We Love Blackened Mahi Mahi Tacos?
Everything about the blackened Mahi Mahi tacos is delicious, from the tortilla wraps to the Mahi Mahi filling, cabbage slaw, and cilantro lime sauce topping!
Starting from the filling, the mildly sweet Mahi Mahi, when mixed with black seasoning, results in a flavorful and tastebud tantalizing combination. Next, the cilantro lime sauce topping adds a tangy and citrusy taste to the whole thing. The cabbage slaw is a balancing addition that evens out the sharpness of the cilantro lime sauce and the blackened seasoning.
With so many delectable ingredients, I'm sure you must think this recipe takes ages to make! You'd be surprised to know that you can whip up the blackened Mahi Mahi tacos in under 30 minutes!
That's right! Just 30 minutes, and you have a wholesome, nutritious, and healthy meal ready to devour.
Recommended
Pesto Crusted Chilean Sea Bass
Air Fryer Coconut Shrimp
Chilled Herb-Crusted Tuna Salad Recipe
Ingredients for Blackened Mahi Mahi Tacos Recipe
For the Fillet
4 Mahi Mahi filets: The filets should be around 6 oz each. Mahi mahi has a very mild and sweet flavor profile, and a has a mild bit of density to it's texture. It doesn't have an over-whelming fish taste!
1 tbsp olive oil: To help the seasoning stick to the filet.
2 tbsp butter: For frying the seasoned Mahi Mahi filets to the perfect golden-brown color.
For the Blackened Seasoning
1 tsp garlic powder: For a strong garlicky flavor in the seasoning.
1 tsp paprika: Parkika adds an earthy and sweet taste to the blackened seasoning.
½ tsp thyme, 1 tsp oregano, 1 tsp kosher salt, and ½ tsp pepper: For a blend of an earthy, sweet, savory, minty, and woodsy flavor.
1 ½ tsp onion powder: Onion powder is essential to add savoriness to the seasoning.
For the Cilantro Lime Sauce
12 oz sour cream: For a creamy consistency and a unique briny taste.
2 cloves garlic: Use minced garlic cloves to extract more flavor.
1 bunch of cilantro: It's the main ingredient to pack the sauce with tanginess.
2 tbsp lime juice: Make sure to use freshly extracted juice for that citrusy punch.
3 tbsp olive oil: Adds velvety smooth texture to the cilantro lime sauce.
For the Tortillas
8-10 small corn tortillas for the tacos: You can use flour or beetroot tortillas too, and if you choose to double the tortillas for each taco, use twice the amount of tortillas.
Shredded cabbage slaw mix for topping: You can use store-bought shredded cabbage slaw.
Frequently Asked Questions
Here are some common queries regarding the blackened Mahi Mahi tacos recipe:
Q. How can I store the leftover cooked Blackened Mahi Mahi?
You can store the cooked mahi-mahi in an air-tight container in the refrigerator for up to 3 days and the freezer for up to 2 months.
Q. What can I do with the leftover blackened Mahi-mahi filling?
Blackened Mahi Mahi filling is quite versatile. So, if you have some leftover filling, you can eat it with cooked rice or on its own.
Q. What can I use instead of sour cream?
If you don't have sour cream at hand, or if you don't like it, you can use shredded cheese or cream sauce instead.
Q. Can I add other toppings to the blackened Mahi Mahi tacos?
Yes, you can add any toppings of your choice to the blackened fish tacos in place of cilantro lime sauce and cabbage slaw. For instance, sour cream, guacamole, salsa, and Mexican cheese make amazing toppings.
Tips and Tricks
Follow these tips and tricks to die for delicious fish tacos:
1. Make sure to pat dry the mahi-mahi filets before coating them with seasoning so that they adhere properly.
2. Cook each side of the mahi-mahi filet for 4 to 5 minutes or until golden brown. If you accidentally overcook the fish, it will turn out dry. 3. Set up a taco station with the fillings and toppings placed separately so that people can make their own tacos based on their liking
More Great Recipes to Make
Yield: 4-6 servings
Blackened Mahi Mahi Tacos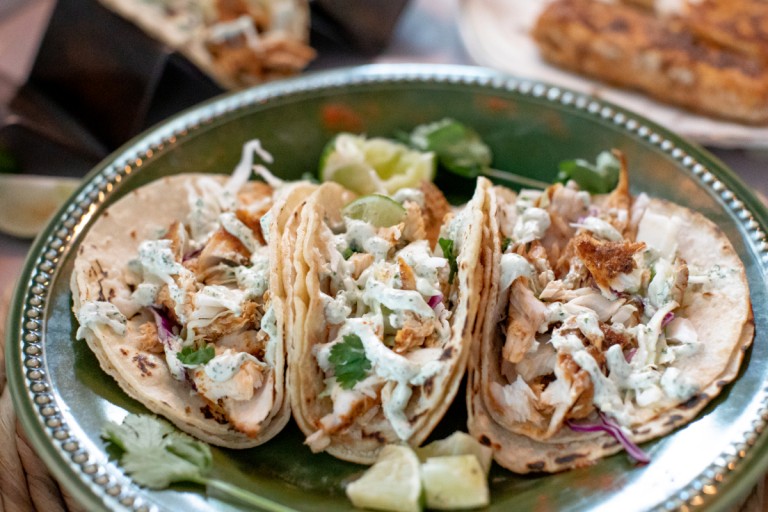 These blackened mahi mahi tacos are a perfect recipe for any taco Tuesday night!
Ingredients
Mahi Mahi
4 mahi mahi filets, 6 oz each
1 tbsp olive oil
2 tbsp butter
1 lime or lemon cut into wedges
Blackened Seasoning
1 tsp garlic powder
1 tsp paprika
½ tsp thyme
1 tsp oregano
1 ½ tsp onion powder
1 tsp kosher salt
½ tsp black pepper
Cilantro Lime Sauce
12 oz sour cream
2 cloves garlic, minced
1 bunch cilantro, chopped
2 tbsp lime juice, fresh
3 tbsp olive oil
Salt to taste
Tortillas - Store bought
8-10 small corn tortillas for the tacos - optional: double the tortillas for each taco (use twice the amount of tortillas).
Non-stick cooking spray
Shredded cabbage slaw mix for topping - Store bought
Instructions
In a small bowl, add all of the ingredients for the seasoning and mix well. Set aside.
Gently pat the mahi mahi with paper towels until dry to touch.
Season the fillets on one side by pressing the blackened mix onto the fish.
Turn the fillets over and repeat.
Add the butter and oil to a large skillet and heat over medium-high heat until melted.
Add the fillets to the skillet and cook approximately 5 minutes per side or until golden brown.
Transfer fillets to a serving plate and squeeze the lime or lemon wedge over them, let rest for about 3 minutes.
Cut the fillets into bite-size pieces to add them to the tacos.

Cilantro Lime Sauce
Add all of the ingredients to a food processor and mix until smooth.

Tortillas
Spray a medium size skillet with the non-stick cooking spray and cook the tortillas over medium heat, adding two or three tortillas to the skillet at a time. Let them cook approximately 30 seconds on each side or until golden brown.

Assemble the tacos beginning with the mahi mahi, top with shredded cabbage slaw and cilantro lime sauce. Serve warm
Notes
Additional toppings include avocado slices, guacamole, shredded mexican cheese and sour cream.

Flour tortillas pair well with this dish if you are not a fan of corn.

Refrigerate leftover mahi mahi within two hours of cooking in an airtight container, or wrap tightly with heavy duty aluminum foil.

Leftover mahi mahi should be safe for you to eat for a maximum of 3 days after it has been cooked.

These filets reheat nicely in an air fryer at 350 for 3-5 minutes.