Chilled Herb-Crusted Tuna Salad Recipe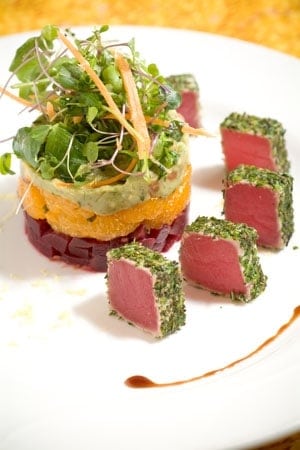 (Photo Credit: Bobby Trigg)
Herb Crusted Tuna Salad Recipe
This is another one of my favorite copy cat recipes from an amazing chef, Bobby Trigg from the Ferry House Restaurant. His recipes are very intricately detailed and many different steps involved in creating his masterpieces, but I'm going to give you a run down version of it and keep the simplicity of it. You are DEFINITELY going to enjoy this if you love Tuna! I'm a HUGE Sushi Grade Tuna fan, and could probably eat it every single day. This Tuna Salad Recipe is palate pleaser for everyone. Before starting the recipe, you are going to need to make the Avocado Salsa Recipe I have. Enjoy!

Yield:

2
Chilled Herb-Crusted Tuna Salad Recipe
Ingredients
2 Tablespoons minced fresh parsley
2 Tablespoons minced fresh chives
2 Tablespoons minced fresh tarragon
1 Tablespoon Kosher salt
1 Sushi-grade tuna steak, about 1 inch thick
2 tablespoons canola oil
12 ounces red beets, peeled and finely diced
1 small can chilled mandarin orange segments (drained)
Avocado Salsa (see recipe on blog)
1 Metal chef ring for structuring salad (2 inch diameter)
Instructions
In a small bowl, combine parsley, chives, tarragon and kosher salt. Stir to blend.
Rub mixture into both sides of the tuna.
In a Large Sauté pan, heat the oil over high heat until pan is smoking.
Add the tuna and sear for 1 minute on each side.
Remove from heat, transfer to plate and refrigerate immediately and chill for approximately 30 minutes before serving and preparing plates.
Place metal ring in center of plate. Spoon a layer of beets on the bottom of plate. Slight press into place. Then add a layer of mandarin orange segments. Finally, add a layer of avocado salsa on top.
Cut the tuna into 1/4 inch slices and stand on side around the molded salad. You can garnish the top with some micro greens and shredded carrots.
When I prepare salads for my guests, I always like to chill my salad plates before hand in the refrigerator. Nothing is better than eating a cold salad off of a cold plate. It just adds to it. It's so much better than eating a cold salad off a hot or warm plate.