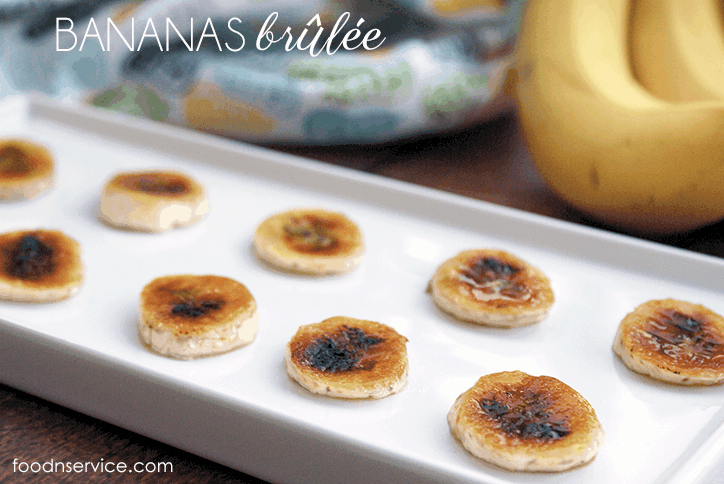 In the effort with trying to have fun with food and simple ingredients, I present to you a yummy gluten free delicious treat: Bananas Brûlée! It's a fun twist that I took from the classic dessert, the creme brûlée. It really only has 2 ingredients, but it's super funny and makes a great treat for everyone to talk about! Who knew something so simple could be so cute and delicious at the same time?
What's even better is that it's all organic! Of course, you can absolutely use traditional white sugar on top of the banana; however, organic sugar is a little more coarse and will hold up better. When you cut the banana into diagonal thin slices, moisture will be released from it. I like to call it nature's glue!
With the traditional sugar, you're going to have to coat extra well and will probably have to add just a little bit of extra sugar on top to help make that delicious crunch of the burnt sugar topping. Though, if you use pure organic sugar then this will be a great clean eating recipe for you to enjoy!
So, if someone is having a sweet tooth, you can now make them this! If you're looking to host a party, and want a cute garnishment on a dessert…then this would be fabulous for it! I hope you enjoy!
Ingredients
1 -2 Bananas sliced thin on an angle
Small bowl of Organic sugar
Kitchen blow torch
Instructions
Coat the top of each banana slice with your organic sugar that's in the bowl and then place on a baking sheet.
Turn your blow torch on, and brown each banana slice. It will take about 15 seconds before you start seeing the browning effect happen. Even thought he sugar is bubbling and it looks brown, take it just a little bit further. Looks are deceitful, and it won't be as brown as you'd like. If not, you can always take the torch back over each banana slice to add coloration.
Recommended Products
As an Amazon Associate and member of other affiliate programs, I earn from qualifying purchases.