Roasted Red Pepper, Mozzarella, and Avocado Appetizer Recipe
Roasted Red Pepper, Mozzarella, and Avocado Appetizer Recipe is incredibly easy to make with only three main ingredients! Each fresh ingredient is added to an appetizer skewer, perfect to be served on a charcuterie board as a fresh and delicious summer appetizer.
Easily double or triple this recipe when catering to a larger crowd!
WHAT YOU SHOULD KNOW ABOUT PEPPER, MOZZARELLA, AND AVO APPETIZERS
These roasted red pepper, mozzarella, and avocado appetizers consist of 3 simple layers of roasted red pepper strips, mozzarella cheese, and chunks of avocado that are skewered on toothpicks or mini skewers.
WHAT PAIRS WELL WITH THESE SUMMER APPETIZERS?
Serve these delicious appetizers on a platter or charcuterie board alongside deli meats (sliced ham, salami, prosciutto, and coppa), crostini, olives, crackers, pretzels, nuts, fresh fruit, and cheese!
CAN I STORE THESE ROASTED RED PEPPER APPETIZERS?
Yes, you can store these appetizers in an airtight container in the fridge, but I recommend only storing them for a day at most for the best flavor and texture.
Don't freeze these appetizers – they won't hold up well, and the texture will be significantly affected.
HOW DO I STOP THE AVOCADO FROM TURNING BROWN?
Avocado will naturally turn brown when it's in contact with air (oxidation). To slow this process down, lightly spray the freshly cut avocado chunks with lemon juice or toss the avocado in a shallow bowl of lemon juice.
It's also best to only cut the avocados just before assembling these easy appetizers to prevent discoloration on the avocado when serving to friends and family.
CAN I ROAST THE RED PEPPERS MYSELF?
Absolutely! I've used a jar of Mezzetta Roasted Red Peppers for convenience, but you could roast your red peppers instead. Here are the steps to roast red peppers:
Preheat the oven to broil.
Wash the red peppers and pat them dry with a clean kitchen towel or paper towel.
Place the red peppers on a baking sheet lined with parchment paper and roast for 5-7 minutes until the skin blisters and chars.
Turn the red peppers over with tongs and continue to roast for another 5-7 minutes until the other side is also blistered and charred.
Remove the red peppers from the oven and transfer them to a heat-safe bowl and cover the bowl to steam the peppers, which will allow the skin to peel off easier.
Allow the peppers to rest for 15 minutes, then carefully peel off the skin.
Once peeled, slice the peppers open to remove the stem, seeds, and membranes, and then slice the peppers as directed by the recipe.
TIPS FOR MAKING ROASTED RED PEPPER, MOZZARELLA, AND AVOCADO APPETIZER RECIPE
These summer appetizers are made with minimal ingredients. It's important that these ingredients are fresh and high-quality for the best flavor and texture.
Try to use uniform-sized strips of roasted red pepper, mozzarella, and avocado. This will make your appetizers look neat and eye-catching.
Add some variety to the appetizers using a mixture of red and yellow roasted peppers.
Serve these mini red pepper appetizers at room temperature. They are best enjoyed immediately after assembling.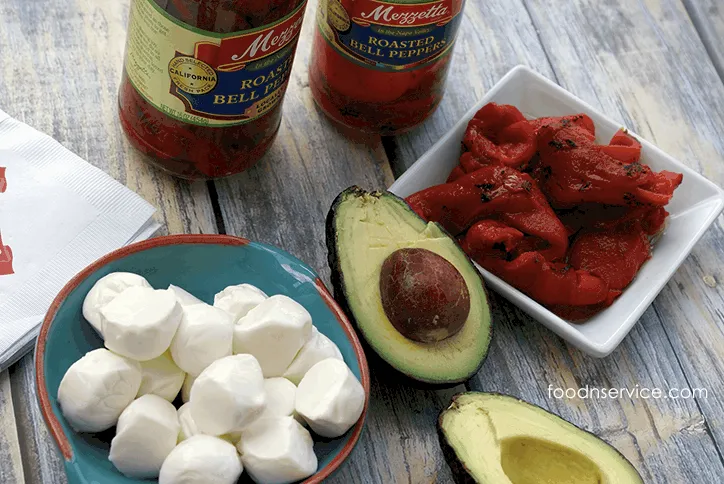 You'll love those other to make easy appetizer recipes! From vegetarian to meat loving, there's something for everyone!
Yield: 20 - 25
Roasted Red Pepper, Mozzarella, and Avocado Appetizer Recipe
These Mozzarella bites make a perfect party appetizer for any time of the year! Made with roasted red peppers, fresh avocado, and min mozzarella balls...they're delish!
Ingredients
1 Jar of Mezzeta Roasted Red Peppers (Large or Small, depends on how many you are making!)
1 package of mini organic Mozzarella balls
2 to 3 Avocados (chilled)
Instructions
This process is going to work better if you layout all of the mozzarella balls out on a tray before combing the other two ingredients and sticking a toothpick in it.
Slice small vertical strips from your Mezzetta Roasted Red Peppers and lay them across the mozzarella balls.
Slice your avocado open, deseed it, and scoop out each half of avocado onto a cutting board. Make medium sized vertical slices. From there, lay the avocado slices on their sides and cut into 3-4 chunk style pieces. Refer to the different images as a visual example.
Place a toothpick through the top to the base, and you're ready to serve!