Roasted Red Pepper, Mozzarella, and Avocado Appetizer Recipe
I love simple and delicious these Mozzarella bites are to make! Not only are they super cute to look at, but they're totally easy to make, too…with 3 simple ingredients!
Everyone is planning their summer vacations, including me. I've decided to a "staycation" this year! What's a staycation? Well, I'm not going to do any kind of traveling. I'm gonna stay home with Stephen, Angela, and the puppies. However, we're totally gonna have other friends and family members over to play board games and eat a lot of food! If you now me at all, I'm going to be make a ton of different amazing food, without necessarily having to do a lot of cooking.
I love making food with super simple and fresh ingredients. With this recipe, I'm using Mezzetta's Roasted Red Peppers! I could eat roasted red peppers all of the time on just about anything and in anything. Of course, you can easily roast your own red peppers, and it will take no time at all to do!
So, let's talk about this delicious appetizer that you're going to make, and that your friends and family members are going to eat up by the pounds! Be sure to make a lot of them.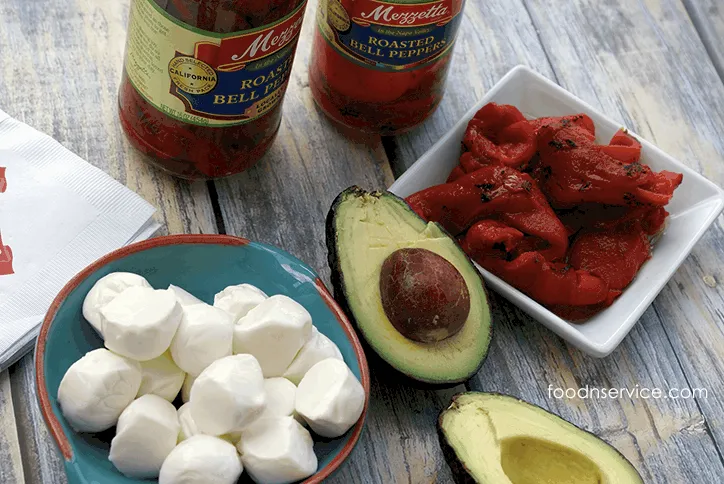 Yield: 20 - 25
Roasted Red Pepper, Mozzarella, and Avocado Appetizer Recipe
These Mozzarella bites make a perfect party appetizer for any time of the year! Made with roasted red peppers, fresh avocado, and min mozzarella balls...they're delish!
Ingredients
1 Jar of Mezzeta Roasted Red Peppers (Large or Small, depends on how many you are making!)
1 package of mini organic Mozzarella balls
2 to 3 Avocados (chilled)
Instructions
This process is going to work better if you layout all of the mozzarella balls out on a tray before combing the other two ingredients and sticking a toothpick in it.
Slice small vertical strips from your Mezzetta Roasted Red Peppers and lay them across the mozzarella balls.
Slice your avocado open, deseed it, and scoop out each half of avocado onto a cutting board. Make medium sized vertical slices. From there, lay the avocado slices on their sides and cut into 3-4 chunk style pieces. Refer to the different images as a visual example.
Place a toothpick through the top to the base, and you're ready to serve!
This appetizer is super great to pass around on a tray, or just leave on this awesome Mezzetta Cutting board! Oh wait, would you just love one of these beautiful babies?? Well, you can enter to win one of the many Summer Survival kits that Mezzetta is giving away this Summer! Mezzetta sent me off a fabulous survival kit, and this is just one of the many awesome items in it!