Oven Broiled Chicken Thighs
Deliciously juicy oven broiled chicken thighs are ready in less than 25 minutes. With hints of lemon and garlic, this easy, low-carb chicken thigh recipe is great for a weeknight dinner.
Pound for pound, Oven Broiled Chicken Thighs are one of the most cost-effective, delicious meals you can make. When it comes to chicken, thigh meat costs an average of ⅓ the price of boneless, skinless, chicken breasts.
Not many things smell better than chicken cooking in the oven! All you need is a little oil, some lemon, and a few spices to perfectly season your chicken thighs for broiling up a 30-minute, mouth-watering meal.
As a kid, I absolutely LOVED the smell of chicken cooking in the oven and today is no different. This recipe will fill your house with those amazing smells of spices, lemon, and chicken getting crispy and golden in the oven. Yum!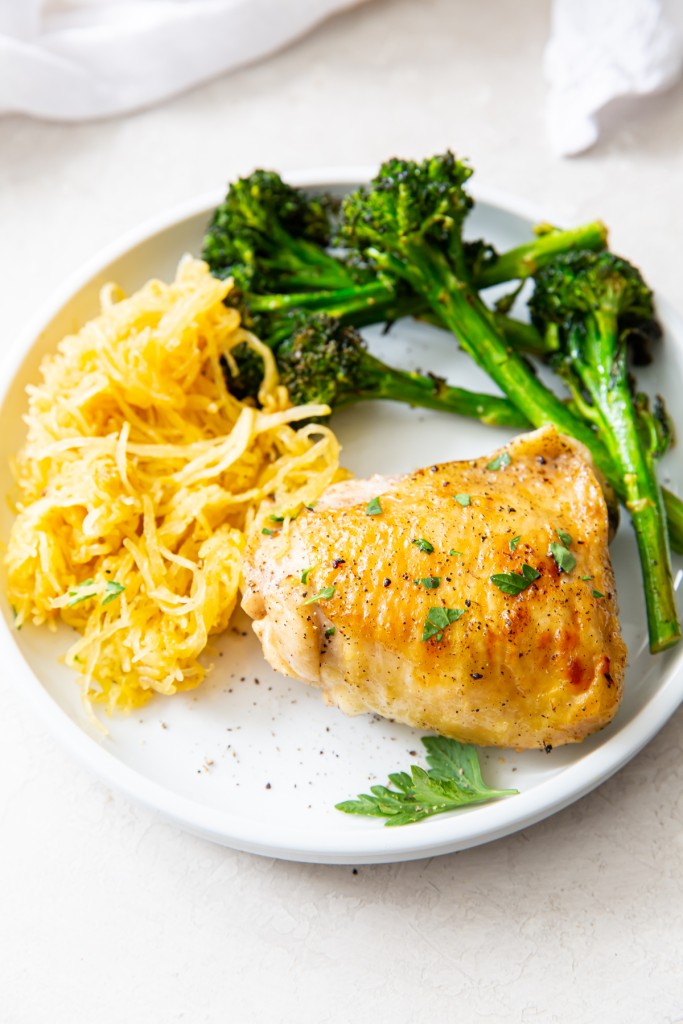 What are Oven Broiled Chicken Thighs?
Oven broiled chicken thighs are a family favorite meal made of seasoned chicken thighs cooked uncovered in the oven. Chicken thighs are the upper, dark meat portion of a chicken leg. Thighs are often preferred because they tend to be more juicy and tender than white meat and they contain healthy fats.
Broiling is the method of exposing food to direct heat. Food placed in your oven's broiler is subjected to 500-550 degree heat. This high temperature gives the same quick sear as a grill to your beef and works to lock in the juices. It also carmelizes the fats in the chicken skin and in your oil and spice mixture to bring out all of the sweet flavors of your dish.
How Do I Store Oven Broiled Chicken Thighs?
After your chicken thighs have cooled, wrap them tightly or store them in an airtight container on the top shelf of your refrigerator, away from other raw meat. Cooked chicken is best used up in 2-3 days.
How Do I Freeze Oven Broiled Chicken Thighs?
Keeping cooked chicken in an airtight container or tightly wrapped is critical. Label it and date it, so you remember what it is and when it was frozen. Frozen chicken is best used up within 4 months' time.
Use the defrost setting on the microwave or leave chicken overnight in the refrigerator to thaw before reheating. You can turn cooked chicken into a new meal and freeze it again to enjoy another time.
Do I need to preheat my broiling pan before cooking my chicken?
The hot surface of a preheated pan will allow the bottom of the chicken to sear and cook more quickly. This eliminates the need to flip the meat during the broiling process. This will also help the grease and fat to drip away.
Tips for Making Oven Broiled Chicken Thighs
Some chicken that you buy in the grocery store is injected with water. This excess moisture will keep chicken from browning up as it cooks in a pool of water. Try placing thighs on an oven-safe cooling rack while they broil so that excess liquid can drain off.
Pound to slightly flatten the chicken thighs for more even and quicker cooking.
Pull the skin that might be wrapped around the bottom of the thighs and spread it out on the pan. We all know that well-cooked chicken skin is the best part!
Try to make sure that all of the chicken is covered by the skin to prevent dryness.
Recommended
Instant Pot Thai Chicken Thighs
Marry Me Chicken
Instant Pot Butter Chicken
Notes
Get creative with leftover chicken by adding it to a casserole or to a soup.
Cold chicken thighs can be pulled apart to make delicious chicken sandwiches.
Keep it low cal by serving with grilled vegetables.
Grilled corn or lemon and garlic roasted asparagus pair well.
Substitutions
Boneless, skinless chicken thighs can be used. However, cooking chicken with the skin on helps to keep it moist and flavorful. Keep a close eye on skinless chicken so it doesn't burn.
Change the flavor by basting the chicken with your favorite barbeque sauce, or marinade, or baste it with tasty garlic butter.
More Yummy Chicken Recipes You'll Enjoy
If you like this delicious Oven Baked Chicken Thighs recipe, you'll want to try some of our other easy chicken meals! Try any from the list below.
Chicken Flatbread
Instant Pot Tuscan Chicken
Instant Pot Chicken Enchiladas
Crockpot Sweet Chili Chicken
Yield: 4
Oven Broiled Chicken Thighs
Deliciously juicy broiled chicken thighs are ready in less than 25 minutes. With hints of lemon and garlic, this easy, low-carb chicken thigh recipe is great for a weeknight dinner.
Additional Time
5 minutes
Ingredients
4 chicken thighs
2 tbsp avocado oil
½ tsp salt
¼ tsp black pepper
3 cloves garlic minced
Juice of 1 lemon
Parsely
Instructions
Preheat the oven to broil. Make sure the oven rack is in the middle. If it's too high, the chicken will burn.
Grease the bottom of a 9x9 casserole dish. Place chicken thighs skin side up in the casserole dish.
Combine the avocado oil, salt, pepper, garlic and lemon juice in a small bowl. Brush the chicken thighs with the oil mixture, saving some for basting.
Broil for about 22-24 minutes, flipping around the 7-8 minute mark and again at the 13-14 minute mark. Baste with the oil mixture after turning. Remove from the oven when the chicken reaches 165° degrees. Let the chicken rest about 5 minutes before serving. Garnish with parsley.