Pumpkin – Sweet Potato Tarts With Nutmeg Whipped Cream Recipe

Pumpkin – Sweet Potato Tarts With Nutmeg Whipped Cream
As you all know, I have the biggest weakness for desserts. Now, I've heard the idea toyed around with mixing sweet potatoes and pumpkins together…so I decided to do just that. Though, I don't like cool whip as a traditional topping. I like making my whipped cream, but I like to spicen up my whipped cream to enhance the flavors of what I'm eating. Don't get me wrong, I LOVE traditional home made whipped cream…but this just called for a something with a little bit more oomph. So…I used nutmeg! I can't say that I was disappointed by at all…because I wasn't, and I I'm sure you won't be either! Enjoy.
To get started with, you're going to need a pie shell crust. Yes, you can absolutely use store bought pie crust. I just prefer in making my own. To find my recipe for my crust, please be sure to visit this other amazing recipe: Mini Apple Dumpling Recipe. After you make the crust recipe, then you may follow onto the recipe for the tart!

Yield: 10
Pumpkin - Sweet Potato Tarts With Nutmeg Whipped Cream Recipe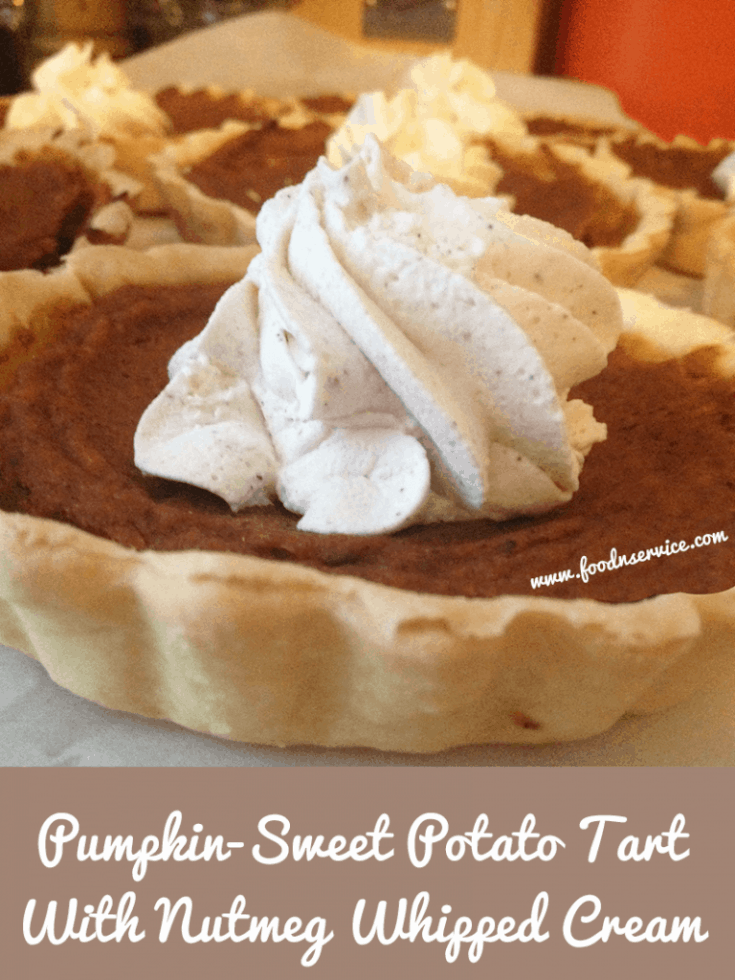 Ingredients
1 1/2 cups of fresh pumpkin puree (you may use canned, if you wish)
1 1/2 cups of mashed sweet potato (I don't recommend using caned, but you can)
1 Large Egg
1/4 Cup Light Brown Sugar
1/2 tsp salt
1 tsp nutmeg
1/2 tsp allspice
1/2 teaspoon Pumpkin spice
Instructions
Preheat oven to 375.
Form the dough into your pastry shells and bake for approximately 8-10 minutes (or until lightly brown).
Allow to cool while mixing your ingredients for the filling.
In a large bowl, mix the pumpkin and sweet potato together and mix until well blended.
Add in the rest of the ingredients and mix on low speed to mix well. But don't over mix.
Spoon mixture into cooled tarts and place back in the oven for approximately 12 - 14 minutes (different altitudes will require different cooking times).
Once done, allow to cool.
Before serving, take tarts of their molds and add whipped cream on top. My whipped cream recipe is below!
Nutmeg Whipped Cream Recipe:
Ingredients:
1 Cup of Heavy Cream
1 Teaspoon of Vanilla Extract
1 Tablespoon of Sugar
1/2 teaspoon of ground nutmeg
Directions:
In a large bowl, mix all ingredients.
You may use a hand mixer or a whisk (I prefer a whisk, takes longer but filled with more love!)
Whip your mixture until you get super thick peaks. NOT light small ones. I mean big.
For the whipped cream, I actually put mine into a pastry bag with a big tip to add a more decorative touch. If you're not worried about all the foo-foo stuff, then just spoon this delicious whipped cream on top. The more the better! I can't wait to cook up some more stuff with you!