DIY Gift Bag with NJ Lottery Holiday Games
This is a sponsored post on behalf of Blog Meets Brand for New Jersey Lottery. Blog Meets Brand gave me a stipend to purchase lottery tickets, and are responsible for payment.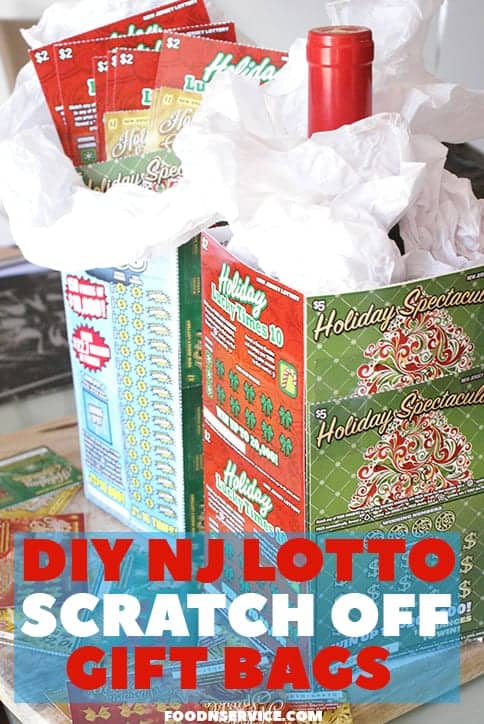 Everyone that knows me knows that I am a Christmas fanatic. I listen to Christmas music all year long! That's how much I love it. Besides all of the amazing music, food, and family coming around, I also love to play the New Jersey Lottery Holiday Games and giving them away as gifts and stocking stuffers!
The New Jersey Lottery is introducing 4 new Holiday Instant Games: $1 Holiday Sparkle, $2 Holiday Lucky Times 10, $5 Holiday Spectacular, and $10 $10,000 Bonus! You can easily find them at any WaWa or 7-11. I found them at the Quaker Bridge Mall! Nothing like shopping and getting some Christmas fun to scratch off yourself or to put this tutorial together for a gift.
Of course, I don't just hand people lottery tickets and call it a day. That's totally not my style. I'm that guy that's pulling out his roll of tape, glue dots, hot glue gun, and confetti to make something pretty fabulous of it. Over the last few years, I've made a Christmas tree and a Christmas wreath out of NJ lottery holiday games scratch off tickets.
To push my creative juices, I was thinking of doing something out of the box…well, out of the bag! Yes, I made gift bags out of them. They turned out super cute, and discovered that I could even use them for a wine bag cover. Throw in some tissue paper, and you can fill your NJ Lottery Holiday Games tickets! Now that's a Christmas present sure to sparkle.
Let me show you how super simple it is. All you need is NJ Lottery Holiday Games tickets and tape. That's how easy it is to do.
Here's what you'll need to get the bags created:
a roll of tape (not the transparent type. I used packaging tape)
10 – $1 Holiday Sparkle Tickets
2 – $10 $10,000 Bonus Tickets
Extra tickets to fill it up!
DON'T TEAR ALL OF YOUR TICKETS APART! You need them in groupings of 2. Tape 2 sets of joined tickets together at the seam along the sides. Repeat this step for the other sets until you have 2 sets of 4, and then you'll have an extra 2 tickets leftover, that are still joined together.
Then you're going to alternate tickets. Place a $10 ticket in between the set of tickets and one at the end. Tape them all in the back together.
Close your bag with a piece of tape inside at the seams, and then tape the last two tickets at your base of the bag.
When you're done, you can see that it's even collapsible! That's one of the coolest parts when you're trying to put of these together. The best part of all of this? Even if your friends or family members don't win anything from the scratch off tickets, they can always submit them for the Million Dollar Replay! So they still have a chance to be a big winner! I love the sound of that.
So who is the luck person (or people) that you'll be giving this to? You know where I live, so feel free to make one and drop it on by! You know that Angela will be excited to see you, and Stephen will have a glass of wine ready to go great you at the door.
DISCLAIMER: Must be 18 or older to but a lottery ticket. Please play responsibly. If you or someone you know has a gambling problem, call 1-800-GAMBLER®. Parents are urged to think twice about gifting lottery tickets to children. For more information visit New Jersey Lottery.