Making almond flour isn't this huge daunting task that you would think that it is. Almond flour is definitely easier to make if you have the MockMill KitchenAid attachment! It makes life so much easier, and I love having gluten free flour around the house; instead of having to buy it all of the time.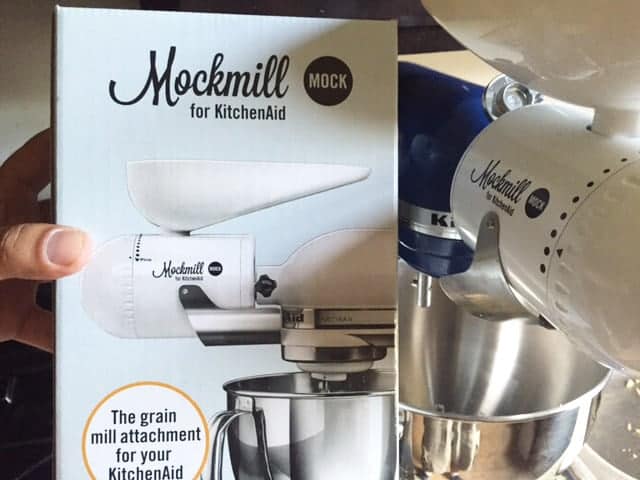 Wolfgang Mock wants to help change the way you get your flour to make your dough! It's so much easier than what you think it is, and you can truly trust the ingredients that are actually in your flour. What's even more amazing is that MockMill has given me an AMAZING coupon code for you to use on their site! You can save $80 off one of their packages when you use coupon code: foodnservice during your check out!
If I were you, I would totally try their Gluten Free variety package! It's normally $259, but you can get it for $179 with that coupon code I gave you! I have a lot of friends and family members that try to live a gluten free life, so this will definitely help me expand my horizon of recipes for me to bake for them.
The MockMill attachment for more oily types of products, like cashes, almonds, walnuts, etc. However, with a little bit love and the right settings…you'll be able to produce soft & yummy almond flour – meal. First, here's a small intro video:

When you're ready to mill up your almonds into a flour/meal consistency, then take a look at my next video below. However, you have to make sure you're almonds are the correct types. I love dealing with fresh almonds. In preparing them, you need to blanch them…and then let them dry for about 24-48 hours before using them in the mill. This will help ensure that it is completely dry and the majority of the water content has left.
The one major thing to note is that almonds have natural oils, and the Mockmill isn't meant for products that have a higher oil content than that of natural oats and grains. That means it takes a little bit of love to get that amazing flour. You also have to have it on the right settings. I found that on the speed of 7 and the dial open to its highest settings worked just fabulous for me! The only thing is that you have to do one of two things: Tap the mill light or wiggle the intake tube at the top. Shaking the top tube seems to work the best for me. If you don't, you could wind up with almond paste…which is just as delicious by itself lol!

Honestly, I had a lot of fun with this…and it really takes no time at all! For a great recipe, you should really try my gluten free almond flour Eponges recipe! They are so super amazing, light, and delicious.
Now, go and grab your MockMill today before you miss out on this amazing discount!