Thanksgiving Deviled Eggs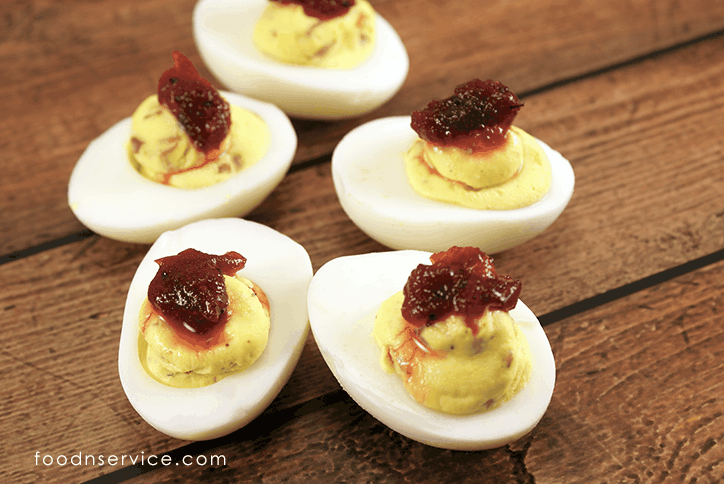 We all love enjoying all of the different varieties of flavor that comes making Thanksgiving! Yes, we hate the cleanup process…but I LOVE cooking everything! Another great part about Thanksgiving? ALL OF THE LEFTOVERS! Of course, you can just make your own little plates of food…and relive the day all over again, or you can do something super fun and creative. I was really trying to think outside of the box, and then I was like, "WHOA!! I know what I can make!"
Deviled Eggs. Who doesn't love deviled eggs?? They're delicious; easy to make; easy to eat in one bite. At least that's how I eat them — one bite. So, I immediately ran to the fridge (okay…I slowly walked. I don't run) and went prowling around through all of the leftovers we had to see what would work best. OH! Honey cured ham and some organic cranberry sauce from Trader Joe's.  Once I did my little magic, and put all of the ingredients together; I immediately one…two…three…four…amazing!! I was truly hoping that the cranberry wouldn't be too much, but it wasn't. It added just the perfect amount of acidity to the deviled eggs.
Okay, let's get that super easy and delicious recipe!

Yield: 24
Thanksgiving Deviled Eggs
Prep Time: 10 minutes

Cook Time: 15 minutes

Total Time: 25 minutes
Ingredients
12 Eggs
3 Tablespoons of Mayo
2 Teaspoons of Yellow Mustard
1 1/2 Teaspoons of Spicy Brown Mustard
1/2 Cup of Ham (I used honey cured spiral cut ham)
2 Tablespoons of Pickle juice
1/4 Cup of Cranberry Sauce from Trader Joe's (Or use whole cranberry sauce of your choice)
sea salt & pepper to taste
Instructions
Boil eggs and cool under cold water until completely chilled. Slice in half and separate cooked yolks and egg white halves.
Dice and cube your ham into confetti shape. You want them to be small, and not chunky. It will eat better.
In a small pan on medium heat, add your ham. You want to heat the ham to help release the sugars and give a small caramelization.
Add ham, may, both mustards, and pickle juice to the cooked egg yolks with a fork. Mash the yolks and mix everything together well. You may want to add a little bit more mayo to create the consistency that you like the most. I don't like mine too loose. Add salt & pepper to your own liking.
Once mixed well, add your yolk mixture in a pastry bag (you can use a zip lock bag and cut the tip off), and fill each egg white half.
Then add a little bit of cranberry to the top of each deviled egg. Allow to chill for about 10-15 minutes in the fridge, and you're all set to dive in!


Here's a bonus tip for boiling the perfect eggs! Add all of the eggs into a pot, and then fill with water. Fill with just enough water to cover the top of the eggs. Place over a high flame until the water boils. Once the water is boiling, turn the flame off and cover with a lid for 14 minutes. Your eggs will be perfectly cooked! You're welcome for this tip!
I hope you enjoyed this recipe and my many others! Be sure to sign up for my email newsletter to stay on top of my latest recipes, product reviews, kitchen tips, and so much more!